PETER PRUDEN (1807-1889)
JOSEPHTE "SUZETTE" JOLICOEUR (1811-1891)
(Last Updated: August 18, 2017)
Peter PRUDEN was born in August of 1807 at Acton House (near Rocky Mountain House, Alberta), the second eldest son of Nancy (a Cree Indian) & John Peter PRUDEN (1778-1868), an Englishman.
** MORE ABOUT JOHN PETER PRUDEN
Note: Some genealogists confuse this Peter with his younger brother, John Peter PRUDEN born in 1829.
By 1810 the PRUDEN family was at Carlton House (HBC post SW of Prince Albert, SK), where his father was the Chief Trader. Peter spent most of his younger years there.
Peter moves to Red River and marries Josephte JOLICOEUR
1827-1829
By 1827 Peter had moved to Red River and on May 7, 1829 he married at St Johns (Red River) to Josephte JOLICOEUR (born c1810 at Lac La Biche, AB), Métis daughter of Suzette (a Cree Indian) & Louis JOLICOEUR (born c1772), a French Canadian. Around 1830 son John was born.
On Jan 14, 1833 son William was born in the Mackenzie River district. I have no idea what Peter was doing up there that winter. All the rest of his children were born in St Andrews, Red River. In 1836 son Louis was born at St John (Kildonan).
In 1837 when his father retired to the Kildonan (St Johns) area, Peter was about 30 years old. His mother (Nancy) died in the fall of 1838, and in 1839 his father re-married to Ann ARMSTRONG, a teacher at the Red River Academy.
In 1844 son John died; only about 14 years old. By this time the family was living along the "Inner Road" near the "Grand Rapids" (Lockport) as shown on the map below.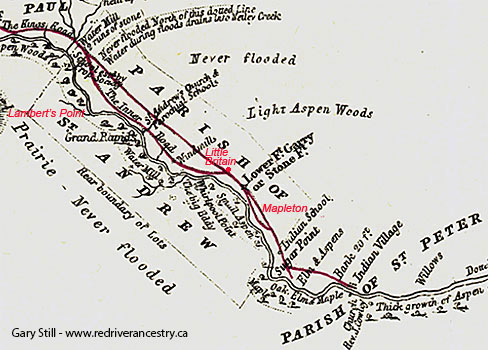 Part of Henry Hind's Map based on his observations of 1857
Narrow river lots extend two miles east and west of the river
On Mar 29, 1854, eldest living son, William, married at St Andrews to Sarah TRUTHWAITE, daughter of Elizabeth VINCENT & Jacob TRUTHWAITE (1786-1873) who lived just down the road.
** MORE ABOUT JACOB TRUTHWAITE
Their last child (Thomas) was born in 1855 Peter's family was complete; nine living children, namely William (age 22, married), Louis (age 19), Edward (16), Albert (14), Sarah (13), James (8), Andrew (6), Caroline (3) and baby Thomas.
The Old St Andrews Anglican Church (built by 1849) and
Miss Davis School (Red River Academy) built in 1858
Both built by Duncan McRae
Stonemason Duncan McRAE (1818-1898) had been busy for over 10 years now. Impressive stone structures were changing the landscape along the Red River. There were now stone walls around Lower Fort Garry (featured in the header at the top of this page).
In 1860 son Edward married in West St Paul to Mary ISBISTER, daughter of Fanny SINCLAIR & John ISBISTER (1794-1884). ** MORE ABOUT JOHN ISBISTER

In 1862 son Peter (age 19) married in St Boniface to Mary DUCHARME, daughter of Marguerite & Jean Baptiste DUCHARME.
Around 1863 son Louis married his sister-in-law, Fanny ISBISTER, daughter of Fanny SINCLAIR and John ISBISTER (1794-1884) from the Orkneys of Scotland, the Hudson's Bay Company (HBC) post master at Norway House.
In 1864 daughter Sarah married Olivier COURTEOREILLE, son of Francoise & Louison COURTEOREILLE. They moved to Lac La Biche, Alberta.
Canadian Confederation and a Red River Rebellion
Creation of the Province of Manitoba
1867-1870
On July 1, 1867 the British colonies in North America were united under the British North American Act to become the Dominion of Canada.  Sir John A MACDONALD (1815-1891) was appointed as Canada's first Prime Minister. William McDOUGALL (1822-1905) became the Minister of Public Works, and he began negotiations to acquire Rupert's Land from the HBC.
On Mar 19, 1868, son Albert married at St Andrews to Catherine THOMPSON.
On May 28, 1868 Peter's father, John Peter PRUDEN died.
In 1869 daughter Caroline married Roger Ryder LARSON.
In August of 1869, John Stoughton DENNIS (1820-1885) arrived in Red River with a Government survey party to prepare for an expected influx of settlers. They introduced a new system of land surveys; townships, ranges and meridians, replacing the long narrow river lot system.
On Oct 11, 1869, Louis RIEL (1844-1885) placed his foot on the surveyors' chain to tell them their work was finished! This marked the beginning of another Red River Métis Rebellion. When it was all over, RIEL's Provisional Government accepted the terms of the Manitoba Act and on July 15,1870 Manitoba became the fifth province of Canada, the Canadian Government having acquired the territory previously governed by the HBC.
On Apr 15, 1870 son James married Catherine MILLER, daughter of Elizabeth SETTER & Robert MILLER (1802-1867) from the Orkneys.** MORE ABOUT ROBERT MILLER
Red River Census of 1870
In December of 1870 a Census of Red River was completed. The results recorded 5, 757 French-speaking Métis; 4, 803 white settlers and 558 Indians in the census region. This information would be later used to determine who would be eligible for Land Grants and Scrip. Peter PRUDEN was recorded on Lot 68, just north of the old St Andrews Church.
In the Census of 1881 Peter was recorded as a 73 year old fisherman; wife Suzette, age 70. Son Andrew (age 28) is with them and next-door is the family of son James (age 31) and his wife Catherine.
On July 4, 1889, son Louis married (in Alberta) to Annabella Jane BROWN, daughter of Harriet LUCIER & George BROWN (b-c1853).
Peter PRUDEN died on Aug 17, 1889 St Andrews, Lockport. Suzette died Jan 16, 1891; buried at St Clements (Mapleton). 
Please post comments & queries at this link: FORUM FOR DISCUSSING  the PETER PRUDEN FAMILY
============================ Family Details ============================
Children:
1. c1830 JOHN PRUDEN (Died age 14)
2. Jan 14, 1833 WILLIAM PRUDEN (m1. Sarah TRUTHWAITE, m2. Mary HART)
3. July 7, 1836 LOUIS PRUDEN (m1 Fanny ISBISTER. Annabelle Jane BROWN)
4. Mar 14, 1839 JOHN EDWARD PRUDEN (m. Mary ISBISTER)
** MORE ABOUT JOHN EDWARD PRUDEN
5. Apr 16, 1841 CHARLES ALBERT PRUDEN (m1. Catherine THOMPSON)
6. Nov 1, 1842 PETER PRUDEN JR (m. Mary DUCHARME)
7. c1843 SARAH PRUDEN (m. Olivier COURTEOREILLE)
8. c1843 EMMA PRUDEN (Died 1846, age 3)
9. Aug 1, 1847 JAMES PRUDEN (m. Catherine MILLER)
10. Dec 18, 1849 ANDREW PRUDEN (m1. Mary Jane DESJARLAIS)
11. June 22, 1852 CAROLINE PRUDEN (m. Roger Ryder LARSEN)
12. 1855 THOMAS PRUDEN