JACOB "JAKE" TRUTHWAITE (1786-1873)
ELIZABETH VINCENT (1802-1875)
(Last Updated: August 18, 2017)
Jacob TRUTHWAITE was born around 1786, probably at Gloucester House in the Albany district, son of an Indian woman named Elizabeth POCATHEA and Englishman Matthew TRUTHWAITE (1753-1793), a carpenter with the Hudson's Bay Company (HBC). ** MORE ABOUT MATTHEW TRUTHWAITE
His father died either at Albany House or Gloucester House in 1793 when Jake was only about seven years old.  Thereafter his widowed mother POCATHEA raised him in the life-style and culture of an Indian more so than that of a white man. He spoke fluently in both Cree and English.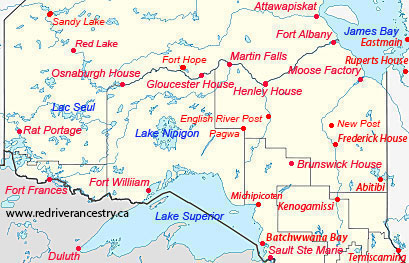 Old Forts in the Albany District

(Base map from Yahoo with modifications by G.N. Still)
Jake becomes a Hudson's Bay Company Employee
1800
Around 1800 Jacob, as a teenager, began to work as a carpenter for the HBC at Fort Albany, an apprentice to Shipwright James THOMPSON. In the years that followed he also worked as a voyageur (canoe oarsman and laborer; eventually a steersman), frequently travelling river routes to and from inland trading posts.
In 1810 the HBC divided Rupert's Land into two new jurisdictions, the Northern and Southern Departments. William AULD (1770-1830) was appointed Superintendant of the Northern Department (Churchill, York Factory, Winnipeg and Saskatchewan Districts). Thomas THOMAS (1765-1828) was appointed Superintendant of the Southern Department (Fort Albany, Moose Factory and Eastmain Factory). Thomas VINCENT (1776-1832), his future father-in-law, became the HBC Chief Factor at Albany.
Union with Elizabeth VINCENT
1814-15
In 1814-15 Thomas VINCENT became Governor Locum Tenens at Moose Factory, then at Fort Albany (Southern Department). It was during this period that Jake began a connubial relationship with his daughter Elizabeth, barely in her teens. ** MORE ABOUT THOMAS VINCENT
Around 1815 during an inland voyage, Elizabeth gave birth to Jake's daughter Jane at Brandon House.
Jacob would spend the rest of his HBC career as an Interpreter and Assistant Trader in the Southern Department. Daughter Isabella was born in 1818 and a son Tom was born in 1820 at Albany. 
NWC - HBC Union
1821
In 1821 union of the North West Company (NWC) and the Hudson's Bay Company (HBC) occurred, ending years of bitter rivalry for dominance of the fur trade in Western Canada. After the merger, almost 1,300 employees lost their jobs since the single HBC organization that emerged had no need for most of the voyageurs and retired fur traders.
In June of 1826 Elizabeth's father (Thomas VINCENT) was retired; he returned to England to stay until he died in 1832.
The TRUTHWAITE family moves to St Andrews
1829
It seems that Jake escaped the cut-backs until he was retired around 1829. By that time he was about 43 years old; Elizabeth about 27 years old. They had five children by then, Jane (age 13), Isabella (age 11), Thomas (age 9), Mary (age 6) and Elizabeth (age 4). For his Company service, he was granted a river lot in the Red River Settlement. The family journeyed south from Albany by canoe, travelling west along the Albany River, English River and Winnipeg River to Lake Winnipeg; from there up the Red River to their new farm site at what was known as "The Grand Rapids" in the Parish of St Andrews.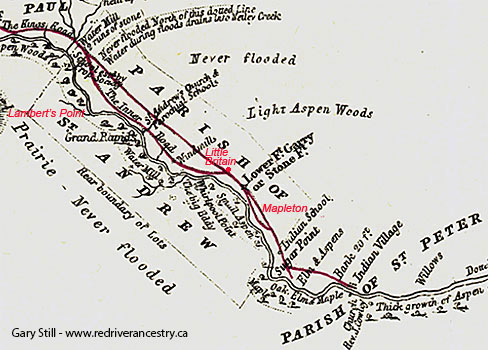 Part of Henry Hind's Map based on his observations of 1857
Narrow river lots extend two miles east and west of the river
On Mar 12, 1830, Jake and Elizabeth were church-wed at St Johns, by Archdeacon William COCKRAN (1798-1865). Their five children were all baptized that same day.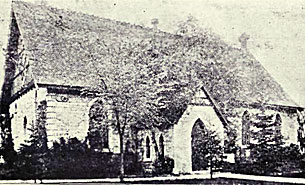 St John's Log Church Dedicated Nov 26, 1834
On Nov 4, 1830 Jake acquired a river lot of 100 acres with a frontage of 6 chains (Lot 46). This later became Lot 104 in St Andrews Parish (1870). This is just south of present day Stevens Avenue and the Lockport Bridge.
On Jan 31, 1831, a daughter Harriet was baptized. This child apparently died in infancy.
Manitoba Historical Society (MHS) - Truthwaite House, Lockport:  Five generations of TRUTHWAITEs have lived in this house. The three now within the stone walls carefully preserve a faded piece of paper that declares Jacob TRUTHWAITE to be the owner of one hundred acres of land on Red River. The faded brown inked document, dated 1831, is in the handwriting of Sir George SIMPSON (1786-1860), governor-in-chief of Rupert's Land. Mrs. H. M. ROSS, Mrs. William H. HART and Dorothea HART combined to tell the story of the document. "See, the place is described as two miles below the Rev. William COCKRAN's, so he was the best known person along the river." Jacob purchased seventy-five acres from his employers, the HBC, at seven shillings and sixpence an acre - $140, and was given twenty-five more acres free of charge."  The first house was replaced about 1878 by the present one. Much of the material was used again, the doors, for instance, and stock locks, the white painted kitchen cupboards and table, all in use well over a hundred years now.
In 1831 Rev William COCKRAN established the first (log) Anglican Church referred to as "The Rapids Church". The stone church (St Andrews) wasn't built until the 1840's. Jacob TRUTHWAITE, an experienced carpenter, was instrumental in the construction of this church. A day school was built as well. It was opened in November that year. The schoolmaster was William Robert SMITH (1797-1869) and teachers were Mrs COCKRAN and Donald GUNN (1797-1878). There were 17 boys and 6 girls whom Mr SMITH described as regular in attendance.
In 1832 two daughters were married at St John's. Daughter Jane married James ANDERSON, son of Mary (Indian) and James ANDERSON SR (1775-1856).
Daughter Isabella married John NORQUAY, son of Jane MORWICK & Oman NORQUAY (1773-1820), step-son of James SPENCE (1778-1857). ** They would become the parents of Manitoba's first Premier, John NORQUAY (1841-1889).
On Dec 30, 1833, daughter Sarah was baptised.
In 1835 Jacob was recorded on Lot 96 in St Andrews. There were six people in his household. He had 14 cattle, two farm implements and a cart. He had nine acres under cultivation.
On Feb 26, 1839, daughter Ann was baptised. Ann would be their last child.
Death of Daughters Jane (ANDERSON) and Isabella (NORQUAY)
1843
In 1843, daughter Isabella (Mrs. John NORQUAY) died, leaving her husband, (John NORQUAY) with four young children in need of care. Baby Tom NORQUAY and two young daughters (Jane & Mary Ann NORQUAY) were taken in by their TRUTHWAITE grandparents (Elizabeth & Jacob) while their son John NORQUAY went to live with his paternal grandmother Jane (nee MORWICK) and her 2nd husband, James SPENCE (1778-1857).  
Daughter Jane (Mrs. James ANDERSON) also died in 1843 and in 1844 son-in-law James ANDERSON remarried to Harriet SMITH, daughter of Mary (Indian) & John James SMITH (1791-1850).
Around 1845 daughter Mary married Thomas MOWAT, son of Margaret (Indian) & Edward MOWAT (1786-1860).
Also around 1845 daughter Elizabeth married James RICHARDS, son of Eleanor THOMAS & William RICHARDS (1785-1811), both half-breeds.
On Dec 18, 1845, son Tom married Catherine McDERMOT, daughter of Sarah McNAB, a half-breed, and Andrew McDERMOT (1791-1881), an Irishman.
In 1846 son-in-law John NORQUAY remarried to Nancy WARD, daughter of Angelique BRUYERE & Jacques John WARD (1810-1916).
On Mar 29, 1854 daughter Sarah married in St Andrews to William PRUDEN, son of Josephte JOLICOEUR & Peter PRUDEN (1807-1889). ** MORE ABOUT PETER PRUDEN
On Apr 26, 1860 daughter Ann married in Winnipeg to Andrew McDERMOT JR., son of prosperous businessman Andrew McDERMOT SR. (1791-1881).
On Jan 8, 1873, Jacob TRUTHWAITE died in St Andrews; wife Elizabeth died in 1875.
On July 29, 1875, a Posthumous Scrip Claim was made at St Andrews by son Tom indicating Jacob's sole heirs as children:  Tom, Sarah (wife of William PRUDEN), and Ann (wife of Andrew McDERMOT Jr).
Please post comments & queries at this link: FORUM DISCUSSING the JACOB TRUTHWAITE FAMILY
========================== Family Details ==========================
Children:
1. 1816 JANE TRUTHWAITE (m. James ANDERSON)
2. 1818 ISABELLA TRUTHWAITE (m. John NORQUAY)
3. Mar18, 1820 THOMAS TRUTHWAITE (m. Catherine McDERMOT)
** MORE ABOUT THOMAS TRUTHWAITE
4. c1823 MARY TRUTHWAITE (m. Thomas MOWAT)
5. 1825 ELIZABETH TRUTHWAITE (m. James RICHARDS)
6. c1830 HARRIET TRUTHWAITE (Died in infancy)
7. Nov 22, 1835 SARAH TRUTHWAITE (m. William PRUDEN)
8. Jan 17, 1839 ANN (NANCY) TRUTHWAITE (m. Andrew McDERMOT JR)