OMAN NORQUAY (1773-1820)
JANE MORWICK (1794-1874)
(Last Updated: July 08, 2013)
Oman (Omand) NORQUAY was born around 1773 in South Ronaldshay (in the Orkneys of Scotland).
Oman's wife-to-be, Jane MORWICK was born in 1794 somewhere in Rupert's Land, the daughter of an Indian Woman and James MORWICK who was born around 1753 in the Orkneys of Scotland (exact origins unknown at this time).
In 1791 Oman was hired by the Hudson's Bay Company (HBC). He sailed from Stromness on the ship Seahorse to York Factory to begin his career as a Laborer there. ** MORE ABOUT OMAN NORQUAY in HBC ARCHIVES

In 1795 Oman began to travel inland as a voyageur.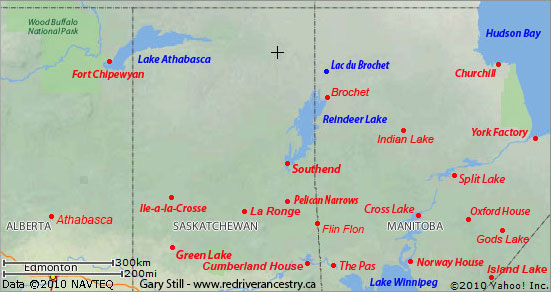 Cumberland House – Fort Edmonton
Marriage to Jane MORWICK
1802-1811
From 1802 to 1811 Oman was based at Cumberland House and Fort Edmonton. It was during this period that he met and married around 1807 to the aforementioned Jane MORWICK. Around 1808 daughter Isabella was born.
From 1811 to 1818 Oman was working in the Saskatchewan (River) District.
Last years in Birsay Village (Orkney Town)
1818-1820
In the winter of 1817-18, jobless and weary from their thankless toil and strife, a group of Orkney canoe men who had been fired sought a more pleasant and peaceful environ to retreat with their families. For a short period this would be a little settlement that was named Birsay Village or "Orkney Town"; named after his homeland by Magnus SPENCE (1765-1845), the elder who led them there. ** MORE ABOUT MAGNUS SPENCE and BIRSAY VILLAGE
In 1818-19 Oman NORQUAY retired from the HBC and settled in the Birsay Village.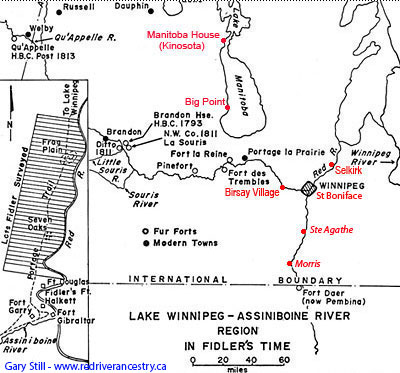 Birsay Village, located along the Assiniboine River, later became St Francois Xavier
 (Between Lyon Island and Kettle Plain, north of White Horse Plains)
In 1819 Orkney Town (Birsay Village) was nearly deserted owing to crop being destroyed by grasshoppers and several dying of whooping cough and Measles.  James SANDISON lost 2 children on Aug 4, Oman NORQUAY lost one child about the same time, and Oman himself, one of the elders of the settlement died shortly afterwards.  It would appear that eventually most Orkney freemen joined the Red River Settlers.
In 1820 Oman NORQUAY died, leaving Widow Jane with three surviving young children. These (with approximate ages) would have been Isabella (age 12), John (11) and Henry (10). Her two youngest children, James (and William died very young, probably as a result of the whooping cough or measles outbreak previously mentioned.
My Note: For a long time I thought Omand's Creek in Winnipeg was named after our Omand NORQUAY. Not so, it was rather named after John OMAND (1823-1905) who didn't arrive in St James as a homesteader until the 1840's.
North West Company – HBC Union
George SIMPSON becomes Governor of Rupert's Land
The 1821 union of the North West Company (NWC) and the Hudson's Bay Company (HBC) occurred, ending years of bitter rivalry for dominance of the fur trade in Western Canada. After the merger, almost 1,300 employees lost their jobs since the single HBC organization that emerged had no need for most of the voyageurs and retired fur traders. At the time of the HBC-NWC union, (Sir) George SIMPSON (1786-1860) became the Governor of Rupert's Land.
Jane remarries to James SPENCE
1822
On June 17, 1822 Widow Jane NORQUAY re-married to James SPENCE (1778-1857), also from the Orkneys.  James, a Tailor, was also a widower.  His native wife Mary had died in 1821 leaving him with a large, young family as well.

The Rest of the Story: ** JANE MORWICK & JAMES SPENCE
Please post comments and queries at this link: FORUM DISCUSSING the OMAN NORQUAY FAMILY
========================= Family Details =========================
Children:
1. c1808 ISABELLA NORQUAY (m. John MORWICK)
2. c1810 JOHN NORQUAY (m1. Isabella TRUTHWAITE, m2. Nancy Anne WARD)
3. c1810 HENRY NORQUAY (m1. Anne SPENCE, m2. Mary Polly ANDERSON, m3.  Mary MONKMAN)
4. 1813 JAMES NORQUAY (Died in infancy, age 10)
5. 1815 WILLIAM NORQUAY (Died in infancy, age 8)