THOMAS TRUTHWAITE SR (1820-1899)
CATHERINE McDERMOT (1823-1907)
(Last Updated: February 21, 2016)
Thomas TRUTHWAITE was born March 18, 1820 at Fort Albany, son of half-breeds Elizabeth VINCENT & Jacob TRUTHWAITE (1786-1873), an HBC carpenter, voyageur and interpreter. ** MORE ABOUT JACOB TRUTHWAITE
In 1829 Jacob (age 9) and the entire TRUTHWAITE family journeyed south from Albany by canoe, travelling on the Albany River, English River and Winnipeg River to Lake Winnipeg; from there up the Red River to their new farm site in St Andrews Parish.
Marriage to Catherine McDERMOT
1845
On Dec 18, 1845 Tom married Catherine McDERMOT in Upper Church, the daughter of Sarah McNAB, a half-breed, and Andrew McDERMOT (1791-1881), a wealthy Irish businessman.
** MORE ABOUT ANDREW McDERMOT in DCBO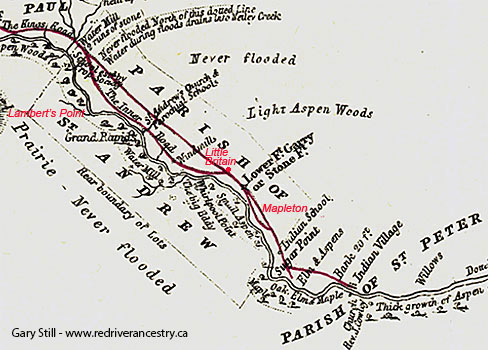 St Andrews Parish from Hind's Map of 1857
Canadian Confederation
A Red River Rebellion
Manitoba becomes a Province
1867-1870
On July 1, 1867 the British colonies in North America were united under the British North American Act to become the Dominion of Canada.  Sir John A MACDONALD (1815-1891) was appointed as Canada's first Prime Minister. William McDOUGALL (1822-1905) became the Minister of Public Works, and he began negotiations to acquire Rupert's Land from the HBC; surveyors were sent to Red River to prepare the way for an expected influx of settlers.
In 1867 the St. Thomas Anglican Church was founded as a Chapel of Ease for the Elderly, to accommodate a number of elderly persons in the area who found it difficult to get to St. Andrews. A little log chapel was built in 1868 on land donated by Robert STEVENS (1838-1921) and Thomas TRUTHWAITE (1820-1899).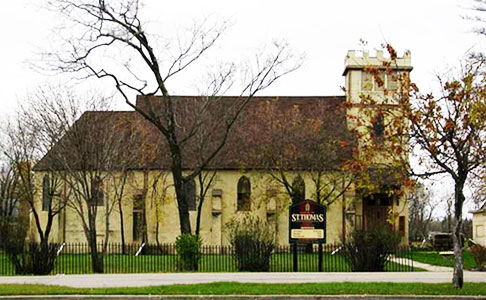 St Thomas Church at Lockport
On Oct 11, 1869, Louis RIEL (1844-1885) placed his foot on the surveyors' chain to tell them their work was finished! This marked the beginning of the historic Red River Métis Rebellion.
On July 15, 1870 the Rebellion ended when RIEL's Provisional Government accepted the terms of the Manitoba Act and Manitoba became the fifth province of Canada.
Alex Begg's Journal:  Jan 14, 1870, "Mr Thos. TRUTHWAITE arrived in town from St Andrews and reports that the people there do not feel inclined to move one way or another at present - they are too jealous and frightened." 
Census of 1870 in St Andrews Parish (Lot 104): Thomas TRUTHWAITE, age 50; wife Catherine, age 40. Children: Thomas (age 23), Andrew (21), Sarah (19), Jane (17), Jacob (15) and Harriet (age 13). In the census record he is listed next to his parents, Elizabeth (age 60) and Jacob TRUTHWAITE (age 80) who are on Lot 102.
In 1871 eldest daughter Sarah married Charles SPENCER at St John's (Winnipeg), son of Anne SINCLAIR and John Hodges SPENCER (1790-1881). ** MORE ABOUT JOHN HODGES SPENCER
In 1872 Charles SPENCER died at the young age of 27.
In 1873 Tom's father (Jacob); in 1875 his mother died.
In 1874 eldest son Thomas Jr. married Caroline PRUDEN at St Andrews, daughter of Sarah ROSS and John Peter PRUDEN (1829-1897). ** MORE ABOUT JOHN PETER PRUDEN
1874-76, Tom applied for Patent for Lots 104 and 105 St Andrews Parish (north of Lockport Bridge, Little Britain area).  He made a Scrip affidavit on July 29, 1875, wherein he indicates his mother's name as Elizabeth PRINCE (?).  He received his patents for those lots on July 19, 1876.
In 1875 widowed daughter Sarah re-married at St John's to John McDOUGALL (1846-1929) from Scotland.
In 1877 son Andrew married Hannah McDONALD in Winnipeg, the daughter of Isabella TAIT and Duncan McDONALD (1825-1895).
On July 26, 1878 Tom received patent to Lot 176 St Andrews Parish (south of Lockport Bridge on east side).  1878-1884 his Claim to part of N1/2-29-13-4-EPM (west of Selkirk). In 1880 he received patent to Park Lot Ddd, 176.8 acres, outer 2 miles, Parish of St Andrews.
Census of 1881 in St Andrews:  Thomas TRUTHWAITE, age 61; wife Catherine, age 54.  With them are: daughters Jane Mary (age 27) and Harriet (age 24).  Also daughter Sarah (age 29) and son-in-law  John MacDOUGALL (age 35) and their baby Thomas Truthwaite MacDOUGALL (7 mos old).  Also in household are:  Alex Alf SPENCER, age 9 (this is their grandson, son of daughter Sarah & Charles SPENCER);  John BIRD (age 11)  and Mary BIRD (age 9).
In 1881 Tom was one of the first men to turn sod for the foundation of the old St Andrews Church.
On Feb 16, 1882 Tom received patent to Lot 40, 153 acres, Parish of St Clements. 
In 1882 daughter Harriet became the second wife of Thomas SINCLAIR in St Andrews, the son of Hannah CUMMINGS and Thomas SINCLAIR SR (1810-1870). ** MORE ABOUT THOMAS SINCLAIR SR
In 1883 Tom received share of patents to several Lots (312 acres) in the Parish of Baie St Paul. 
In 1884 son Jacob married his sister-in-law, Sarah McDONALD in St Andrews, daughter of daughter of Isabella TAIT and Duncan McDONALD (1825-1895).
In 1887 Tom received patent to Lot 91 in Parish of St Peters.
Census of 1891 in St Andrews: Thomas TRUTHWAITE, age 71; wife Catherine, age 63; daughter Jane M, (age 37). Grandchildren: Catherine 13; Sarah (Sally) age 12.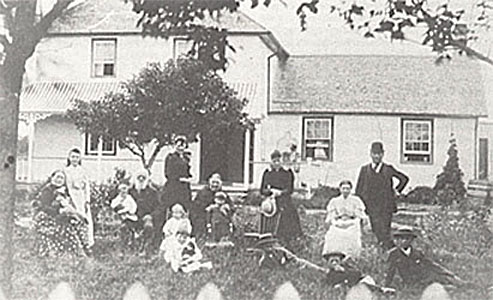 Gathering at Jacob Truthwaite home 1893, Lockport
Standing: Sally (Truthwaite) Wlliamson, Mary Truthwaite, Harriet (Truthwaite) (Sinclair) Ross, Alfred Spencer
Seated: Harriot (MacDougal) (Milne) Pearson – holding Sarah (Truthwaite (Spencer) McDougal,
Thomas Truthwaite – holding Allan MacDougal, Catherine (McDermot) Truthwaite holding Grace (MacDougal) Harriot, Birdie (Truthwaite) Vincent.
Front:  Irene (Sinclair) Hart, Anne MacDougal, Cuthbert Sinclair, Cuthbert Sinclair (Cousin),Thomas Sinclair
In 1898 daughter Harriet (widow of Thomas SINCLAIR) re-married to Malcolm ROSS in St Andrews, the son of Catherine BRELAND & George ROSS (1797-1874) from Scotland.
Thomas TRUTHWAITE Dies
1899
On July 13, 1899, Thomas TRUTHWAITE died in St Andrews.
Census of 1901 in St Andrews: Widow Catherine TRUTHWAITE (age 73), daughter Jane M (age 47). Daughter-in-law Caroline (nee PRUDEN) TRUTHWAITE (age 46). Grand-daughters: Catherine A TRUTHWAITE (age 23); Sarah J TRUTHWAITE, age 22 ( (Jacob TRUTHWAITE's daughter); Irene SINCLAIR (Harriet's daughter), age 12. Niece Jessie RM TODD. Lodger: George BUTCHART, Teacher, age 34.
Census 1906:  Lot 105 Lockport: Widow Catherine TRUTHWAITE, age 79; daughter Jane, age 52; daughter-in-law Caroline 51 (son Tom's wife); granddaughter Catherine Ann TRUTHWAITE 28; granddaughter Sarah J TRUTHWAITE 26; grandson Cuthbert SINCLAIR 21; granddaughter Irene SINCLAIR 17.
On Sep 13, 1907 Catherine (nee McDERMOT) TRUTHWAITE died.
Comments and queries at this link: FORUM DISCUSSING the THOMAS TRUTHWAITE FAMILY
========================== Family Details ==========================
Children:
1. July 27, 1847 THOMAS TRUTHWAITE JR (m. Caroline PRUDEN)
2. Sep 20, 1849 ANDREW TRUTHWAITE SR (Hannah McDONALD)
** MORE ABOUT ANDREW TRUTHWAITE
3. 1851 SARAH ANN ELIZABETH TRUTHWAITE (m1. Charles A SPENCER, m2. John McDOUGALL)
4. Jun 14, 1853 JANE MARY TRUTHWAITE
5. July 27, 1855 JACOB TRUTHWAITE (m. Sarah McDONALD)
6. 1858 HARRIET MARIE (MAUD) TRUTHWAITE (m1. Thomas SINCLAIR JR, m2. Malcolm ROSS)
7. 1861ALEXANDER TRUTHWAITE (Died in infancy 1864)