THOMAS "OLD TOM" SINCLAIR (1810-1870)
HANNAH CUMMINGS (1812-1846)
CAROLINE PRUDEN (1830-1908)
(Last Updated: March 08, 2017)
Thomas SINCLAIR, often referred to as "Old Tom", was born around 1810 at Oxford House, son of Margaret NAHOVWAY NORTON and William SINCLAIR (1766-1818). ** MORE ABOUT WILLIAM SINCLAIR
In the spring of 1818 Tom's father (William SINCLAIR) died at York Factory.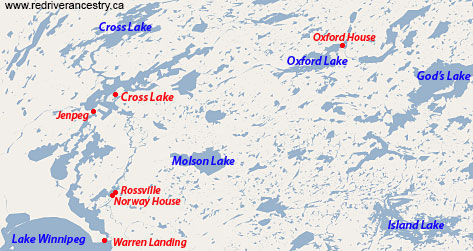 Union of the North West Company with the Hudson's Bay Company
1821
In 1821 the union of the North West Company (NWC) and the Hudson's Bay Company (HBC) occurred, ending the years of bitter rivalry for dominance of the fur trade in Western Canada. George SIMPSON (1786-1860) became the Governor of Rupert's Land.
In 1823 Tom, his mother (Nahovway) and his two siblings, Mary & Colin were living at Oxford House. Colin was sent to the Orkneys for schooling that year. In 1824 the family convinced Widow NAHOVWAY to move to Red River with her youngest children (Tom and Mary). On Feb 1, 1825 Tom and Mary were baptized at St Johns by Reverend David JONES (1796-1844).
By 1827 Nahovway had re-married to John FORBES (born c1789) and they were settled in St Andrews Parish on Lot 175. Tom was about 17 years old then.
Marriage to Hannah CUMMINGS
1832-1846
On Feb 9, 1832 Tom married Hannah CUMMINGS, daughter of Suzette and Cuthbert CUMMINGS (1787-1870).
An 1835 map of St Andrews Parish shows Thomas SINCLAIR as the owner of River Lot 79, just south just south of the old St Andrews Church.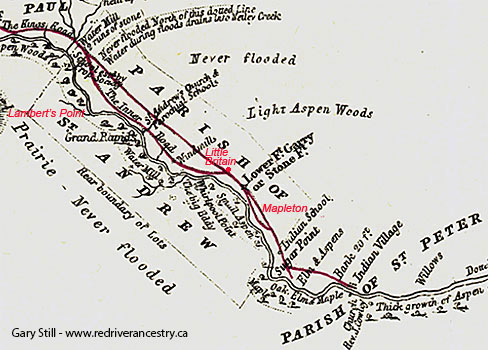 St Andrews Parsh from Hind's Map of 1857
On Oct 23, 1846 Hannah (nee CUMMINGS) SINCLAIR died (Buried in the St Andrews Cemetery).
Nahovway pg 265: Three years later (1849) Tom purchased another lot (a woodlot) across the river for the same sum - - built a home, stable and wind-mill on his west-side property.
Tom re-marries to Caroline PRUDEN
1850
In 1850 Tom re-married to Caroline PRUDEN (1830-1909) at St Johns, daughter of Nancy (Indian) and John Peter PRUDEN (1778-1886).** MORE ABOUT JOHN PETER PRUDEN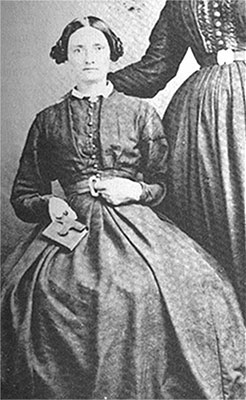 Caroline Sinclair – Reputed to be the most beautifual girl in Red River
Women of Red River (WRR):  Harriet SINCLAIR (Mrs COWAN) b-1832 pg 35-36: When Tom and Caroline PRUDEN were married; they went to York Factory on their wedding journey. On their way back, the bells for St Andrews Church down at the Rapids - - were brought in one of the boats.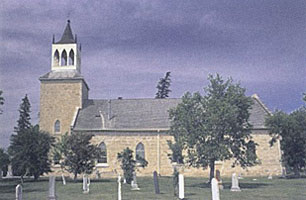 The old St Andrews Church on the Red River
In 1856 son William married Jennie McDONALD in St Andrews, daughter of Jane BEAUDRY and Donald McDONALD (1794-1876) from Scotland.
In 1857 Tom's mother, NAHOVWAY (then Mrs. Margaret FORBES), died in Winnipeg.
In 1861 daughter Margaret married James Robert CLARE (1827-1867).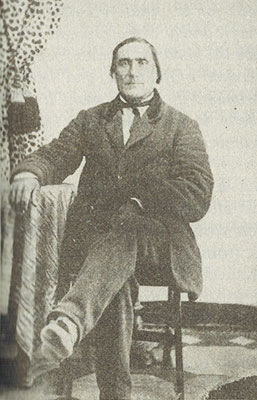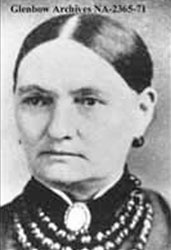 Thomas Sinclair (Archives of Manitoba) – Caroline Pruden (Glenbow Archives)
Canadian Confederation
A Red River Rebellion
Manitoba becomes a Province
1867-1870
On July 1, 1867 the British colonies in North America were united under the British North American Act to become the Dominion of Canada.  Sir John A MACDONALD (1815-1891) was appointed as Canada's first Prime Minister. William McDOUGALL (1822-1905) became the Minister of Public Works, and he began negotiations to acquire Rupert's Land from the HBC; surveyors were sent to Red River to prepare the way for an expected influx of settlers.
On Oct 11, 1869, Louis RIEL (1844-1885) placed his foot on the surveyors' chain to tell them their work was finished! This marked the beginning of the historic Red River Métis Rebellion.
RIEL and John BRUCE attended a meeting at the home of magistrate Thomas SINCLAIR in the parish of St Andrews, in an unsuccessful attempt to persuade English-speaking mixed-bloods to oppose McDOUGALL's entry.
On Mar 7, 1870 daughter Ann Harriet married Andrew STRANG in St Andrews, son of Janet FERRIE and Struthers STRANG (1806-1856).
On March 22, 1870 Thomas SINCLAIR died in St Andrews Parish.
On March 23, 1870 Mr. W. COLDWELL was appointed clerk of the Legislative Assembly of Assiniboia. On the same date it was noted that Thomas SINCLAIR, councilor of St. Andrews had died. He had filled the offices of Post-master, Justice of the Peace and President of the Petty Court of the district. There was a motion to appoint Mr. Thomas SINCLAIR JR in his place. The motion was withdrawn by BANNATYNE on the ground that making of such appointments pertained wholly to the Executive.
On July 15, 1870 the Rebellion ended when RIEL's Provisional Government accepted the terms of the Manitoba Act and Manitoba became the fifth province of Canada.
Census of 1870 in St Andrews Parish (Lot 58-59): Widow Caroline SINCLAIR, age 41. Children: John (age 17), James (13), Caroline (10), Frederick (6) and Louisa (age 3). Also daughter Margaret CLARE, age 28, and her children (father as James CLARE): James CLARE (age 9) and Arthur CLARE (age 5). Also son William SINCLAIR, age 38; his wife Jane, and their children: Anna SINCLAIR (age 13), Margaret (8), Harriet (3) and Charles SINCLAIR (age 1). Also too, sons Thomas SINCLAIR (age 30) and Cuthbert SINCLAIR, age 35.
In 1871 daughter Margaret (widowed) re-married to John Beresford ALLEN (1840-1927) in Winnipeg, He was born in Ireland and came to Canada in 1853.
Widow Caroline remarries to Albert SARGEANT
1874
In 1874 Widow Caroline (nee PRUDEN) SINCLAIR re-married to Albert SARGEANT (1826-1908) in Winnipeg.
In 1875 son Thomas Jr. married Alice Matilda DAVIS in St Andrews, daughter of Catherine BIRSTON and George DAVIS (1824-1904). ** MORE ABOUT GEORGE DAVIS
On Dec 8, 1875 Albert SARGENT died in St Andrews.
In 1877 son Cuthbert married Mary Jane MOWAT at Norway House, daughter of Isabella McDONALD and Andrew MOWAT (1825-1911). 
In 1879 son James Alexander married Mary ROSS in St Andrews, daughter of Charlotte PEEBLES and George ROSS (1835-1912).
Census of 1881 in St Andrews: Widow Caroline SINCLAIR, age 49. Children: Son James (age 22) and his wife Mary (age 20), and grandson Fred CLARE (age 15). Fred would have been daughter Margaret's child by James Robert CLARE.
In 1882 daughter Caroline married in Winnipeg to Frederick Kirby HERCHMER (1855-1943) from England.
In 1882 son Thomas Jr. (widowed) re-married to Harriet TRUTHWAITE in St Andrews, daughter of Catherine McDERMOTT and Thomas TRUTHWAITE (1820-1899). ** MORE ABOUT THOMAS TRUTHWAITE
In 1883 son John Edward married Lydia McKENZIE in Prince Albert (SK), daughter of Sarah and Samuel McKENZIE (1813-1879).
Census of 1891 in St Andrews: Widow Caroline SERGEANT (age 59) in St Andrews Parish with son James SINCLAIR (age 31).
In 1895 son Frederick married Virginia McKAY in Prince Albert, the daughter of Sarah TAIT & George McKAY (1833-1884).
In 1896 son James Alexander (widowed) re-married to Emily PULLEN in Winnipeg. She was born May 12, 1872 in Oxford, England.
In 1898 son John Edward (widowed) re-married to Myrtle ARMSTRONG in Prince Albert, daughter of Hannah Matilda SMITH and Thomas ARMSTRONG (1827-1910).
Census of 1906 in St Andrews Parish: Widow Caroline SARGENT (age 72) with son James (age 48).
On Apr 30, 1908 Caroline (nee PRUDEN) SARGENT died.
Comments and queries at this link: FORUM DISCUSSING THE FAMILY OF THOMAS SINCLAIR
========================== Family Details ==========================
Children with Hannah CUMMINGS:
1. Dec 6, 1832 WILLIAM SINCLAIR (m. Jennie (Jane) McDONALD)
2. Nov 20, 1834 ELIABETH (ELIZA) SINCLAIR
3. Sep 21, 1836 CUTHBERT CUMMINGS SINCLAIR (m. Mary Jane MOWAT)
4. 1839 ANNE SINCLAIR (Died in infancy)
5. Apr 9, 1841 THOMAS SINCLAIR (m1. Alice Mathilda DAVIS, m2. Harriet Marie TRUTHWAITE)
6. May 23, 1844 MARGARET SINCLAIR (m1. James Robert CLARE, m2. John Beresford ALLEN)
7. May 27, 1846 CATHERINE SINCLAIR (Died in infancy)
Children with Caroline PRUDEN:
1. Aug 13, 1851 ANN HARRIET SINCLAIR (m. Andrew STRANG)
2. 1855 JOHN EDWARD SINCLAIR (m1. Lydia McKENZIE, m2. Myrtle ARMSTRONG)
3. Jun 5, 1858 JAMES ALEXANDER SINCLAIR (m1. Mary ROSS, m2. Emily PULLEN)
4. Mar 17, 1861 CAROLINE SINCLAIR (m. Frederick HERCHMER)
5. Jun 5, 1865 FREDERICK CLARE SINCLAIR (m.Virginia Adelaide McKAY)
6. Jun 5, 1868 MARIA LOUISE (LOUISA M) SINCLAIR (Died in infancy)