GEORGE DAVIS (1824-1904)
CATHERINE BIRSTON (1835-?)

(Last Updated: March 12, 2017)
George DAVIS was born April 25, 1824 at Moose Factory, youngest son of Ann Nancy HODGSON and John DAVIS(1785-1824) from England, a Chief Factor for the HBC. George's father died by drowning when George was only about five months old. ** MORE ABOUT JOHN DAVIS
In 1840 George's sister, Mathilda DAVIS became the first teacher at Miss Davis School, located south of the Old St Andrews Church. The school was first located in a frame house in St Andrews, the property of her brother (George), an HBC employee at Lower Fort Garry.
On Dec 2, 1852 George was engaged by the HBC at Red River as an interpreter until June 1, 1855, salary 35 pound.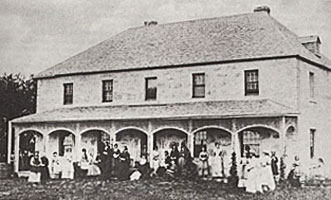 Miss Davis School 1858 (BGLFG)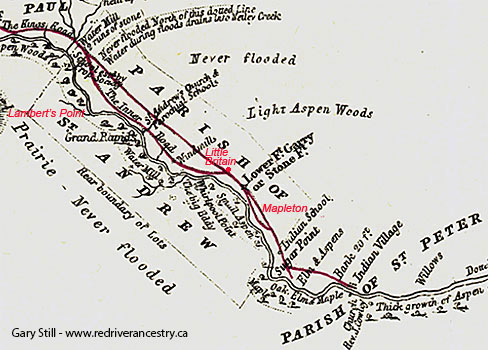 St Andrews Parish from Hind's map of 1857
Marriage to Catherine BIRSTON
1855
On Feb 15, 1855 George married in St Andrews to Catherine BIRSTON, daughter of Nancy & Magnus BIRSTON (1811-1875) from Mapleton.
George was employed until 1862, as an interpreter and storekeeper.
In July of 1866 George was Chief Clerk at Lower Ft Garry, and on Oct 1, 1867 he was in charge there.
Canadian Confederation
A Red River Rebellion
Manitoba becomes a Province
1867-1870
On July 1, 1867 the British colonies in North America were united under the British North American Act to become the Dominion of Canada.  Sir John A MACDONALD (1815-1891) was appointed as Canada's first Prime Minister. William McDOUGALL (1822-1905) became the Minister of Public Works, and he began negotiations to acquire Rupert's Land from the HBC; surveyors were sent to Red River to prepare the way for an expected influx of settlers.
On Oct 11, 1869, Louis RIEL (1844-1885) placed his foot on the surveyors' chain to tell them their work was finished! This marked the beginning of the historic Red River Métis Rebellion.
On July 15, 1870 the Rebellion ended when RIEL's Provisional Government accepted the terms of the Manitoba Act and Manitoba became the fifth province of Canada.
Census of 1870 in Portage la Prairie: George DAVIS, age 45; wife Catherine, age 35. Children: John (age 15), Matilda (13), Edith (11), Ann (9), George (5), Margaret (3) and William (age 2).
Riverlot Occupancy 1870 St Andrews Parish:  George DAVIS lived on Lot 51, between Lambert's Point and the old St Andrews Church, at the site where Miss Davis School was built.
On July 19, 1875, George received patent to Lot 61, 140.42 acres, Parish of St Andrews. On Jul 21, 1875 both George and Catherine claimed Half-breed Scrip for themselves and for their children as follows: John Thomas, Matilda Alice, Frances Edith, Ann Elizabeth, George, Margaret and William.
In 1875 daughter Alice Matilda married Thomas SINCLAIR in St Andrews, son of Hannah CUMMING and Thomas SINCLAIR SR (1810-1870).  ** MORE ABOUT THOMAS SINCLAIR SR
In 1879 daughter Frances Edith married her cousin, Albert HODGSON, in St Andrews, son of Catherine DAVIS and John HODGSON (1826-1898). ** MORE ABOUT JOHN HODGSON
Census of 1881 in St Andrews: George DAVIS, age 56; wife Catherine, age 44. Children: Ann (age 18), Margaret (14), William (12), Fred Chas (10), Catherine (8), Eleanora (5), Harriet Mary (4) and baby Beatrice (age 11 months).
Census of 1891 in St Andrews:George DAVIS, farmer, age 66; wife Catherine, age 54. Children: Annie (age 28), William H (22), Anthony H (20), Catherine F (17), Eleanor G (15), Harriet (14), Amma B (age 11). Also a sister Nancy DAVIS, age 74 (born c1817 in NWT).
Numerous sources indicate that Catherine (nee BIRSTON) DAVIS died on May 23, 1898 in St Andrews. ** However, the following census record seems to indicate she was still alive in 1901.
In 1900 daughter Florence married Donald McLENNAN in St Andrews, son of Ann SUTHERLAND & Murdoch McLENNAN (1825-1916) from the Orkneys. ** MORE ABOUT MURDOCH McLENNAN
Also in 1900, daughter Amy Beatrice married John Andrew McDOUGALL in Winnipeg, son of Sarah (nee TRUTHWAITE) SPENCER and John McDOUGALL SR (1846-1929).
Census of 1901 in St Andrews: George DAVIS, age 76; wife, Catherine, age 74. Children: William (age 31), Fred(30) and Hattie (age 23).  Also living with them is George's sister, (Nancy), aged 84, born June 30, 1816. 
In 1904 George DAVIS died in St Andrews, age 79.
In 1904 daughter Eleanora married Isaac Everett COVERT in Fernie (Cranbrook), BC, son of Annie HUBBELL and Isaac Cole COVERT(1848-1902).
By about 1916 daughter Hattie was the second wife of George CURRIE (1862-1951) in Alberta.
Comments and queries at this link: FORUM FOR DISCUSSING THE GEORGE DAVIS FAMILY
============================ Family Details ============================
Children re Tit/Rom/Rup/Scrip/Censuses:
1. Jan 6, 1856 JOHN THOMAS DAVIS (Died 1873)
2. Nov 23, 1857 ALICE MATILDA DAVIS (m. Thomas SINCLAIR)
3. Nov 12, 1859 FRANCES EDITH DAVIS (m. Albert HODGSON)
4. Dec 24, 1861 ANN ELIZABETH DAVIS
5. Feb 17, 1865 GEORGE DAVIS JR (Died 1873)
6. Jan 30, 1867 MARGARET DAVIS
7. Apr 12, 1869 WILLIAM HERBERT DAVIS
8. Jan 8, 1871 FREDERICK CHARLES DAVIS
9. 1875 ELEANORA GERTRUDE DAVIES (m. Isaac Everett COVERT)
10. Apr 2, 1877 HARRIET MARY "HATTIE" DAVIS (m. George CURRIE)
11. 1878 FLORENCE CATHERINE DAVIS (m. Donald McLENNAN)
12. Mar 18, 1880 AMY BEATRICE DAVIS (m. John Andrew McDOUGALL)