ALBERT HODGSON (1851-1921+)
FRANCES EDITH DAVIS (1859-1921+)

(Last Updated: March 12, 2017)
Albert HODGSON was born Oct 23, 1851 in St Andrews Parish, son of Catherine DAVIS and John HODGSON (1826-1898). ** MORE ABOUT JOHN HODGSON
Erin Millions: Albert HODGSON attended first Forest School in London (Walthamstow) and then The Nest Academy in Jedburgh (Scotland) in the 1860s. His Aunt Matilda DAVIS, owner of the Oakfield Academy for Young Ladies, paid for his education. His cousin Johnny DAVIS (son of George DAVIS & Catherine) also attended The Nest. Their education in England/Scotland was managed by their cousin Henry ROSSER (nephew of John DAVIS), who Matilda and Elizabeth DAVIS had grown up with in England. The boys also attended school at The Nest with the grandsons of Alexander CHRISTIE, and all of the boys spend time at the home of Alexander CHRISTIE SR in Edinburgh.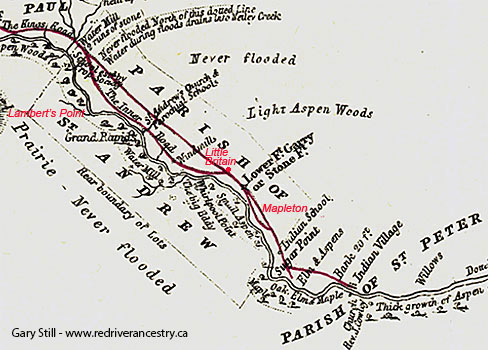 St Andrews Parish from Hind's Map of 1857
Canadian Confederation
Red River Metis Rebellion
Manitoba becomes a Province
1867-1870
On July 1, 1867 the British colonies in North America were united under the British North American Act to become the Dominion of Canada. Sir John A MACDONALD (1815-1891) was appointed as Canada's first Prime Minister. William McDOUGALL (1822-1905) became the Minister of Public Works, and he began negotiations to acquire Rupert's Land from the HBC, sending out surveyors to prepare the way for an expected influx of settlers.
On Oct 11, 1869, Louis RIEL (1844-1885) placed his foot on the surveyors' chain to tell them their work was finished. This marked the beginning of a Red River Metis Rebellion.
** MORE ABOUT the RED RIVER REBELLION in WIKIPEDIA
On July 15, 1870 Manitoba became the fifth province of Canada, the Canadian Government having acquired the territory previously governed by the HBC. The Rebellion was essentially over.
Census of 1870: Albert (age 20) with parents in St Andrews Parish (Lambert's Point).
In 1875 Albert (of St Andrews) claimed his Half-breed Scrip.
On Jan 10, 1878, he received a 240 acre allotment:  W1/2 of SE-34-12-5-E1 + SW-34-12-5-E1 (East St Paul area).
Marriage to Frances DAVIS
1879
On Dec 3, 1879 Albert marred his cousin,Frances Edith DAVIS in St Andrews, daughter of Catherine BIRSTON and his Uncle George DAVIS (1824-1904). ** MORE ABOUT GEORGE DAVIS
Census 1881:  St Andrews/Lisgar: Albert HODGSON, age 29, Deputy Registrar; Frances Edith b-c1860 (ge 21). Living with them is Ann DAVISb-1819, age 62, born Keewatin, NWT (this looks like their aunt Ann, daughter of Ann INDIAN & John DAVIS b-1795, an Englishman)
Prince Albert District of Saskatchewan
1883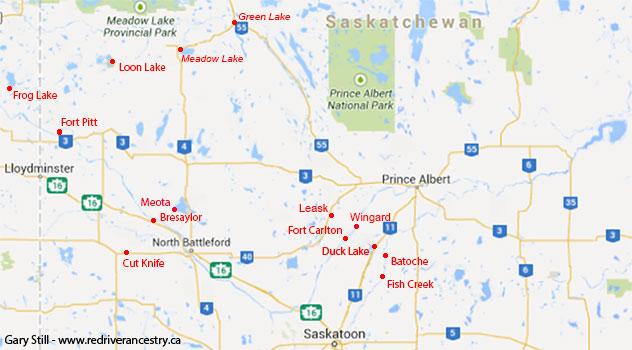 In 1883 daughter Eleanora was born in the Prince Albert district of Saskatchewan.
Census of 1891 in the Prince Albert District: Albert HUDSON, age 39; wife Frances Edith, age 31. Children: Eleanora (age 8), Herbert (7), Alice (5) and Ethel (age 2).
Census 1901 in the Duck Lake area: Albert HODGSON, age 47; wife Frances, age 41. Children: Eleanora F (age 18), Herbert (17), William (9), Arthur (7), Lewellyn (3) and John D (age 2).
Census of 1906 in Silver Grove (36-45-4-W3): Albert HODGSON, age 54; wife Frances E, age 46. Children: Eleanora (age 23), Herbert (22), William (14), Arthur (12), Victor (9), John (7) and Gertrude (age 5).** Silver Grove is located near Wingard (shown on the map above).
Around 1908 daughter Eleanora married William MOORE (born 1887 in England).
Census of 1911 in Chellwood (SK): Albert HUDGSON, age 58; wife Ida, age 50. Children: William (age 20), Arthur (17), Victor (14), John (12), Gertrude (10) and Blanche (age 4). ** Chellwood is also located near Wingard (shown on map above).
World War I
1914-1918
On Aug 4, 1914 Great Britain (Canada on Aug 5) declared war on Germany and Austria-Hungary to uphold treaties with France and Belgium which were under German attack. This marked the beginning of World War I.
In 1915 son William Joseph enlisted in Prince Albert, and son Arthur enlisted in Saskatoon.

In 1916 son Victor also enlisted in Saskatoon.
Census 1916: Prince Albert (#25), SD-13 (Town of Duck Lake), pg 18, HH-104 (4-2-W3): Albert HODGSON, Bookkeeper, age 62.
In 1917 son John Davis enlisted in Regina.
November 11, 1918, Armistice Day (Remembrance Day) marked the end of the First World War.
In Dec 20, 1920 son John Davis married Phoebe Permilla CHENEY, daughter of Katherine and Alvah CHENEY (1863-19440).
Census of 1921 near Silver Wingard (RM of Blaine Lake): Albert HODGSON, age 76; wife Edith, age 60. Children: William (age 28), Victor (24), John (23) and Gertrude (age 20). Daughter-in-law Phoebe HODGSON, age 22 (born 1899 in ON).
In 1925 son William Joseph married Mary LENS in Duck Lake. She was born 1907 in Russia.
Comments and queries at this link: FORUM for DISCUSSING THE FAMILY OF ALBERT HODGSON
======================= Family Details =======================
Children:
1. Mar 23, 1883 ELEANORA CATHERINE HODGSON (m. William MOORE)
2. Apr 1, 1884 HERBERT GEORGE HODGSON
3. 1886 ALICE HODGSON
4. 1889 ETHEL HODGSON
5. Aug 14, 1891WILLIAM JOSEPH HODGSON (m. Mary LENS)
6. Oct 8, 1893 ARTHUR HODGSON
7. May 21, 1897 VICTOR (LLEWELLYN) HODGSON
8. Mar 31, 1899 JOHN DAVIS HODGSON (m. Phoebe Permilla CHENEY)
9. 1900 GERTRUDE HODGSON