JOHN HODGSON (1826-1898)
CATHERINE DAVIS (1822-1909)
(Last Updated: August 18, 2017)
John HODGSON, a half breed, was born Oct 25, 1826 in St Andrews Parish, son of Charlotte YORKSTON and John HODGSON SR (1795-1875). ** MORE ABOUT JOHN HODGSON SR
John marries Catherine DAVIS
1849
On July 6, 1849 John married his cousin, Catherine DAVIS, daughter of Nancy HODGSON and John DAVIS (1785-1824). Catherine's mother, Nancy (nee HODGSON) DAVIS was a sister of John's father, John HODGSON (1795-1875).
** MORE ABOUT JOHN DAVIS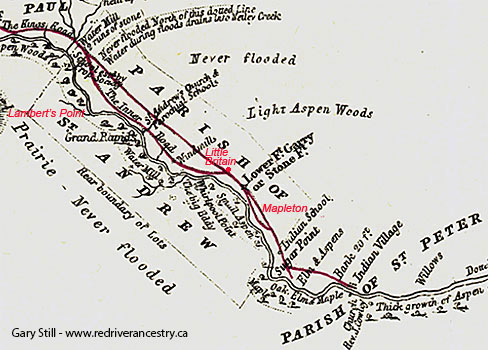 St Andrews Parish from Henry Hind's Map of 1857
Canadian Confederation
Red River Metis Rebellion
Manitoba becomes a Province
1867-1870
On July 1, 1867 the British colonies in North America were united under the British North American Act to become the Dominion of Canada. Sir John A MACDONALD (1815-1891) was appointed as Canada's first Prime Minister. William McDOUGALL (1822-1905) became the Minister of Public Works, and he began negotiations to acquire Rupert's Land from the HBC, sending out surveyors to prepare the way for an expected influx of settlers.
On Oct 11, 1869, Louis RIEL (1844-1885) placed his foot on the surveyors' chain to tell them their work was finished. This marked the beginning of a Red River Metis Rebellion.
** MORE ABOUT the RED RIVER REBELLION in WIKIPEDIA

On July 15, 1870 Manitoba became the fifth province of Canada, the Canadian Government having acquired the territory previously governed by the HBC. The Rebellion was essentially over.
In 1870 the family of John HODGSON was recorded on Lot 43 in St Andrews Parish (Lambert's Point); children as: John (age 21), Albert (20), Joseph (18), Edwin (14), Charles (12), Henry (9) and Elizabeth (age 5).
In 1875 both Catherine & John (of St Andrews) claimed their Scrip.
In 1879 son Albert married his cousin, Frances Edith DAVIS, daughter of Catherine BIRSTON and his Uncle George DAVIS (1824-1904). They later moved to Prince Albert, Saskatchewan. ** MORE ABOUT GEORGE DAVIS
Also around 1879 son Edwin was united with Jane Mary PRUDEN, daughter of Sarah TRUTHWAITE & William PRUDEN (1833-1914). Their daughter, Frances Jane was born on Dec 13 that year.
Around 1881 son Joseph married Elizabeth HALCROW, daughter of Sophia COOK and Joseph HALCROW (1825-1906). They also moved to Prince Albert.
Census 1881 at Lambert's Point: John HODGSON, farmer, age 54; wife Catherine, age 56 (born 1825 in ON). Children: Henry (age 19) and Elizabeth Frances (age 15). Also with them is son Edwin (age 20), his wife Jane Mary (nee PRUDEN; age 20) and their daughter, Frances Jane (age 1). There is also another five year old with them namely Sarah Catherine (age 5; b-1876) who must be a grandchild, but who were her parents?
In 1885 son Henry married Margaret McDONALD in Winnipeg, daughter of Elizabeth TAIT and Duncan McDONALD (1825-1895).
Census 1891 at Lambert's Point: John HODGSON, Carpenter, age 64; wife Catherine, age 67. Children: Elizabeth (age 25) and Sarah (age 16 ((granddaughter?). Widower son Edwin HODGSON, age 33 and his children: Frances (age 11) and Charles (age 6). Aunt: Widow Frances MOWAT, age 69 (born 1822 in NWT).
In 1892 daughter Frances Elizabeth married Stewart George MacRAE(of uncertain origins) in Winnipeg. In 1893 Frances died after giving birth to a daughter, Rose. Baby Rose was taken in by her grandmother (Catherine) and Uncle Edwin HODGSON (a widower).
On Apr 9, 1898 John HODGSON died in St Andrews, age 72.
In 1901 granddaughter (?) Sarah HODGSON married Henry ERASMUS in Winnipeg, son of Jane STEAD and Henry ERASMUS (b-1826).
Census 1901, 1906: Widow Catherine HODGSON (age 79, 82) with her son Edwin in St Andrews.
On Aug 9, 1909 Catherine (nee DAVIS) HODGSON died in St Andrews, age 87.
Comments and queries at this link: FORUM DISCUSSING the JOHN HODGSON FAMILY
======================= Family Details =======================
Children:
1. Apr 3, 1850 JOHN GEORGE HODGSON (Died 1876)
2. Oct 23, 1851 ALBERT HODGSON (m. Frances Edith DAVIS)
3. July 8, 1853 JOSEPH HODGSON (m. Elizabeth Jane HALCROW)
4. 1855 WILLIAM HODGSON (Died 1858, age 3)
5. 1855 SARAH JANE HODGSON
6. Mar 6, 1857 EDWIN HODGSON (m. Irene Jane Mary PRUDEN)
6. 1859 CHARLES HODGSON
7. Nov 17, 1861 HENRY ROSSER HODGSON (m. Margaret McDONALD)
8. Dec 29, 1865 FRANCES ELIZABETH HODGSON (m. Stewart George MacRAE)