JOHN HODGSON (1795-1875)
CHARLOTTE YORKSTON (1806-1877)

(Last Updated: January 27, 2017)
John HODGSON was born around 1795, probably at Fort Albany on James Bay, the son of a Cree woman and Englishman John HODGSON SR (1763-1826) who became the Chief Factor at Albany in 1800 .
** MORE ABOUT JOHN HODGSON SR
A Cooper with the Hudson's Bay Company
1809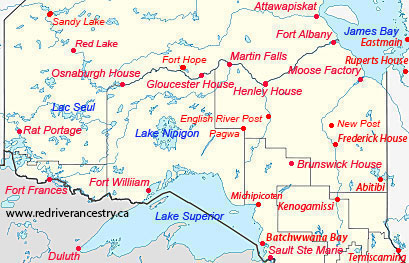 Early HBC Forts along the Albany River
In 1809 John began working as a Cooper for the Hudson's Bay Company (HBC) at Albany Post.
** MORE ABOUT JOHN HODGSON in HBC ARCHIVES
In 1810 John's father, John HODGSON SR retired from the HBC and settled in the vicinity of Lac des Chats on the Ottawa River. Most of his siblings left Albany with their father, except for John and his older siblings Nancy, James and Thomas.
In 1814 both of John's oldest brothers (James & Thomas HODGSON) departed from Albany to join their father in the Ottawa Valley. Around 1815 his sister Nancy married John DAVIS (1785-1824) at Albany.
Union of the North West Company with the Hudson's Bay Company
1821
In 1821 the union of the North West Company (NWC) and the Hudson's Bay Company (HBC) occurred, ending years of bitter rivalry for dominance of the fur trade in Western Canada.
John and Charlotte YORKSTON
St Andrews Parish
1825
Around 1825 John was united with Charlotte YORKSTON in St Andrews Parish, Red River, said to have been the daughter of an Indian woman named Helen and William YORKSTON born around 1763 in the Orkneys.
Franklin Expedition
1825-1827
From 1825 to 1827 John was sent on the Second Franklin Expedition to the Arctic, led by Sir John FRANKLIN (1786-1847).  ** MORE ABOUT SIR JOHN FRANKLIN in DCBO
On Oct 25, 1826 son John Jr. was born in St Andrews Parish, seemingly after John Sr. had departed on the Franklin Expedition.
John settles in Red River
1827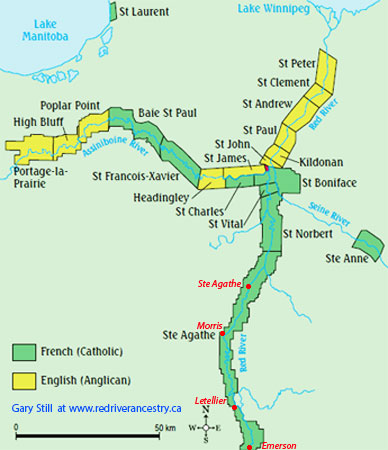 Red River Parishes in 1870
On Dec 4, 1827 John HODGSON and Charlotte YORKSTON were church-wed. In the census that year he was recorded as 30 years old, with a wife and one young son (John Jr.). He had two horses, a cow and a canoe, and he had one acre under cultivation.
In 1849 son William married Nancy Ann COOK, daughter of Isabelle GADDY and Samuel COOK (1800-1864).
** MORE ABOUT SAMUEL COOK
Also in 1849, son John Jr. married his cousin, Catherine DAVIS, daughter of Nancy HODGSON and John DAVIS (1785-1824). Catherine's mother, Nancy (nee HODGSON) DAVIS was a sister of John's father, John HODGSON (1795-1875).
** MORE ABOUT JOHN DAVIS
In 1859 daughter May Matilda married Joseph PAQUIN, son of Mary LAPOINTE & Joseph PAQUIN SR (1800-1896).
In 1870 John was recorded on Lots 67-69 in Portage la Prairie. None of their children were with them.
On Jan 8, 1875 John HODGSON died at the age of 80. He was buried in the St Mary's Church Cemetery in Portage la Prairie.
In 1875 Charlotte, living in Portage/ Marquette claimed Scrip as the widow of John HODGSON, listing his heirs as: herself; and their children: 1) John; 2) William; 3) Matilda (wife of Joseph PAQUIN or POCHA)
On July 2, 1877 Widow Charlotte (nee YORKSTON) HODGSON died.
Comments and queries at this link: FORUM for DISCUSSING the JOHN HODGSON JR FAMILY
======================= Family Details =======================
Children:
1. Oct 25, 1826 JOHN HODGSON JR (m. Catherine DAVIS)
2. c1828 WILLIAM HODGSON (m. Nancy Ann COOK)
3. May 31, 1831 MARY MATHILDA HODGSON (m. Joseph POCHA dit PAQUIN)
4. 1833 CHARLES HODGSON (Died 1843, age 10)