WILLIAM PRUDEN (1833-1914)
SARAH TRUTHWAITE (1835-1900)
MARY (nee HART) HAWES (1862-1941)

(Last Updated: August 22, 2017)
William PRUDEN was born Jan 14, 1833 in the Mackenzie River district, son of Suzette JOLICOEUR and Peter PRUDEN (1807-1889).  ** MORE ABOUT PETER PRUDEN
Marriage to Sarah TRUTHWAITE
1854
On March 29, 1854 William married Sarah TRUTHWAITE, daughter of Elizabeth VINCENT & Jacob TRUTHWAITE (1786-1873). ** MORE ABOUT JACOB TRUTHWAITE
Canadian Confederation
A Red River Rebellion
Manitoba becomes a Province
1867-1870
On July 1, 1867 the British colonies in North America were united under the British North American Act to become the Dominion of Canada.  Sir John A MACDONALD (1815-1891) was appointed as Canada's first Prime Minister. William McDOUGALL (1822-1905) became the Minister of Public Works, and he began negotiations to acquire Rupert's Land from the HBC; surveyors were sent to Red River to prepare the way for an expected influx of settlers.
On Oct 11, 1869, Louis RIEL (1844-1885) placed his foot on the surveyors' chain to tell them their work was finished! This marked the beginning of the historic Red River Métis Rebellion.
On July 15, 1870 the Rebellion ended when RIEL's Provisional Government accepted the terms of the Manitoba Act and Manitoba became the fifth province of Canada.
Census of 1870 in St Clements Lot 88: Wm. PRUDEN, age 40; wife Sarah, age 32. Children: Peter (age 15), Sara (13), Marie (12), Jacob (10), Bella (8), John (7) and Anne (age 5).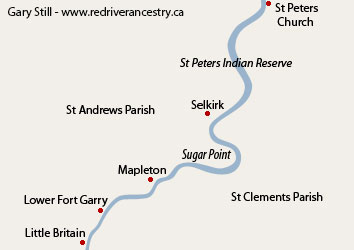 Both Sarah & William (late of St Clements) claimed Métis Scrip in 1875.  He received patent to Lot 33, 122 acres, Parish St Clements on July 19, 1876; received HB allotment at St Clements SE-19-13-7-EPM + N1/2 of NE-18-13-7-EPM (Tyndall area).
Around 1879 daughter Jane Mary was united with Edwin HODGSON, son of Catherine DAVIS and John HODGSON (1826-1909). ** MORE ABOUT JOHN HODGSON
By 1881 son John Peter was married to Elizabeth McDONALD, daughter of Sarah SETTER and John McDONALD (1834-1880).
Census of 1881 in St Andrews: William PRUDEN, age 49; wife Sarah, age 46. Children: John Peter (age 25), Elizabeth Ann (21), Elizabeth (19; John Peter's wife, Elizabeth McDONALD), William (18), Jacob (16), Tom (14) and Chas Albert (age 7).
In 1886 daughter Ann Elizabeth married Dr. Herbert BYERS in Winnipeg. He was born 1860 in England.
In 1887 son William Jr. married Alice LEASK in St Peters, daughter of Fanny COCHRANE and William LEASK (1839-1901).
In 1888 William PRUDEN is listed renting a pew at St Clements Church in Mapleton
Census of 1891 in Selkirk: Wm PRUDEN, age 58; wife Sarah, age 51. Children: Jacob (age 24), Thomas, (22) and Charles (age 16). Lodger: Mary DANIELS, age 12 (b-1879).
In 1895 son Tom married Isabella TAYLOR in Selkirk, daughter of Ellen ISBISTER and John TAYLOR (1844-1926) from Scotland.
On Apr 8, 1900 Sarah (nee TRUTHWAITE) PRUDEN died in Selkirk, age 66.
In 1900 son William Jr. died in Selkirk, and in 1903 his widow (Alice nee LEASK) remarried to David BRUCE, the son of Elizabeth Ann GARRIOCH and Reverend Patrick BRUCE (1848-1932). ** MORE ABOUT DAVID BRUCE
Census of 1906 in Selkirk (Eveline St): William PRUDEN, age 76.
Marriage to Mary (nee HART) HAWES
1908
On Jul 2, 1908 William re-married to Mary (nee HART) HAWES in Selkirk, the widow of Captain John HAWES (1842-1906) from England. ** MORE ABOUT CAPTAIN JOHN HAWES
On May 16, 1914 William PRUDEN died in Selkirk at the age of 81.
On Aug 2, 1941 Mary (nee HART) HAWES-PRUDEN died in Winnipeg.
Comments and queries at this link: FORUM FOR DISCUSSING THE WILLIAM PRUDEN FAMILY
========================== Family Details ==========================
Children:
1. Mar 20, 1855 JOHN PETER LEE PRUDEN (m. Elizabeth McDONALD)
2. June 7, 1857 SARAH PRUDEN
3. May 10, 1859 ANN ELIZABETH PRUDEN (Dr Herbert BYERS)
5. Jan 16, 1861 JANE MARY PRUDEN (m. Edwin HODGSON)
** MORE ABOUT EDWIN HODGSON
6. 1862 WILLIAM PRUDEN JR (m. Alice LEASK)
7. 1862 BELLA PRUDEN
8. 1864 JACOB PRUDEN (m. Catherine WADDELL)
9. 1866 THOMAS PRUDEN (m. Isabella TAYLOR)
10. 1869 RACHEL PRUDEN (Died in infancy)
11. Dec 23, 1873 CHARLES ALBERT PRUDEN