DAVID ALFRED BRUCE (1876-1969)
ALICE (nee LEASK) PRUDEN (1869-1919)

(Last Updated: August 22, 2017)
David Alfred BRUCE was born Jul 31, 1876 at Kinostoa, MB, son of Elizabeth Ann GARRIOCH and Reverend Patrick BRUCE (1848-1932). ** MORE ABOUT REVEREND PATRICK BRUCE
Census of 1901: David (age 24) with his parents in Poplar Park.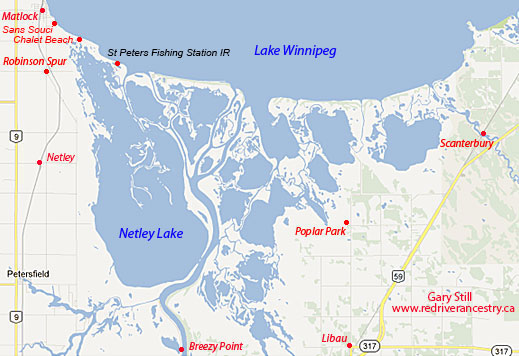 Marriage to Widow Alice (nee LEASK) PRUDEN
1903
On Jul 27, 1903 David married Alice (nee LEASK) in St Andrews Parish, the widow of William PRUDEN Jr who had died Feb 5, 1900 in Selkirk (age 37), leaving Alice with 6 young children. He was the son of Sarah TRUTHWAITE and William PRUDEN SR (1833-1914). ** MORE ABOUT WILLIAM PRUDEN SR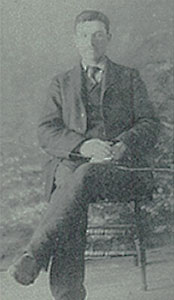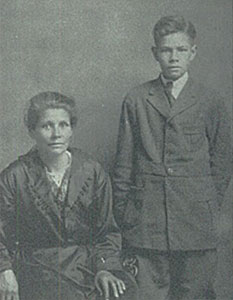 David Alfred Bruce (L) and Mrs. Alice Bruce (nee Leask) Pruden (R)
Does anyone know who the boy is?
(From Pat Buce in East Side of the Red)
Census of 1906 in Poplar Park: David BRUCE, age 30; wife Alice, age 35. Step-children: Lydia PRUDEN (age 13), Gordon (11) and Charlie PRUDEN (age 9); and Patrick BRUCE JR (age 2).
Census of 1911 in Poplar Park: David BRUCE, age 38; wife Alice, age 41. Sons Patrick BRUCE (age 6), Roy Russell (2) and baby Robert Wallace Warren BRUCE.  PRUDEN step-sons:  Alfred A PRUDEN (age 21), David Thomas (19), Gordon (16), Charles Albert (13) and Lydia PRUDEN (age 18).
In 1913 step-son David Thomas PRUDEN married Mary Elizabeth COOK in St Clements Parish, the daughter of Catherine SPENCE and William COOK (1870-1946).
In 1914 step-daughter Lydia PRUDEN married Percy BRUCE (her-step-father's son) in St Clements Parish, the son of Elisabeth Ann GARRIOCH and Rev Patrick BRUCE (1848-1932).
Census of 1916 in Poplar Park: David BRUCE, age 43; wife Alice, age 46. Children: Patrick (age 13), Roy (9), Robert (5) and Margaret (age 3).
In 1918 step-son Alfred Ambrose PRUDEN married Georgina MONKMAN in St Clements, the daughter of Elsie Gertrude BRUCE and George MONKMAN (1879-1995).
On May 12, 1919 Alice (nee LEASK) PRUDEN-BRUCE died in Libau (MB) 1919, only 49 yrs old.
Census of 1921: David BRUCE (age 44 and widowed) and his father (Patrick BRUCE) are with his brother, Victor BRUCE, in Poplar Park. Sons Patrick (age 17), Roy (12) and Robert (age 10), and daughter Margaret (age 8) are with their Aunt Lydia (nee PRUDEN) and Uncle Percy BRUCE in the Moose Jaw District (Hart Butte, SK).
In 1927 son Patrick BRUCE married Mary Catherine MILLWARD in Winnipeg. She was born in 1906 in England.
In 1931 step-son Charlie PRUDEN married Marie Eugene HALPIN in Winnipeg, the daughter of Flora Bella LEASK and Henry Ross HALPIN (1854-1930) from Ireland.
In 1931 son Roy BRUCE married Edith Mary HAY in Winnipeg, the daughter of Sarah ANDERSON and John HAY (1870-1915).
Daughter Margaret BRUCE married Henry YOUNG (1909-1995) from Germany.
In 1949 step-son Gordon PRUDEN married Edith Victoria McKAY in St Andrews, the daughter of Jane MILLER and Charles Albert McKAY (1879-1945).
On Nov 12, 1969 David BRUCE died at the age of 97.
Both Alice & David were buried in St James Anglican Cemetery in Poplar Park.

Poplar Park St James Anglican Church and Cemetery
NE 32-15-6 E, RM of St Clements
Comments and queries at this link: FORUM FOR DISCUSSING THE DAVID BRUCE FAMILY
======================= Family Details =======================
Step-Children (Childen of Alice LEASK & William PRUDEN):
1. Jan 4, 1888 WILLIAM WALTER WRIGHT PRUDEN (Died in infancy)
2. Jun 6, 1889 ALFRED AMBROSE AUGUSTUS PRUDEN (m. Georgina Victoria Ann "Georgie" MONKMAN)
3. Jun 8, 1891 DAVID THOMAS PRUDEN (m. Mary Elizabeth COOK)
4.  Jan 25, 1893 LYDIA "DIDDIE" PRUDEN (m. Percy BRUCE)
5. Mar, 1895 GORDON PRUDEN (m. Edith McKAY)
6. Jan 11, 1897 CHARLES ALBERT "CHARLIE" PRUDEN (m. Marie Eugenie HALPIN)
7. Jan 24, 1900 WILLIAM PRUDEN (Died in infancy)
Children of David BRUCE with Alice LEASK:
1. Jun 4, 1904 PATRICK "MIKEY" BRUCE (m. Mary Catherine "May" MILLWARD)
2. Oct 24, 1905 ROLAND BRUCE (Died at birth)
3. Jan 8, 1909 ROY RUSSELL BRUCE (m. Edith HAY)
4. Jun 17, 1911 ROBERT WALLACE VERNON "JIM" BRUCE
5. 1913 MARGUERITE "MARGE" BRUCE (m. Henry YOUNG)