CAPTAIN JOHN HAWES (1842-1906)
MARY HART (1863-1941)
(Last Updated: August 18, 2017)
John HAWES was born on July 14, 1842, Mary HART on Oct 26, 1863, both in England. As a young man, John HAWES worked for the Hudson's Bay Company (HBC) on ships trading between Livepool (England) and Hudson Bay (Fort Churchill and York Factory).
First Officer on the Ocean Nymph
1880
Geological Survey of Canada: On Sep 13, 1880 the bark (barque) 'Ocean Nymph' was lying in the middle of the Hayes River, opposite York Factory, all ready for sea, her company consisting of Captain John McPHERSON, commander; John HAWES, first officer; E.G, MILLER, second officer; a steward, cook, carpenter and eight seamen; and, as steerage passengers, the Right Reverend John HORDEN, Bishop of Moosonee, and Dr. Robert BELL (the writer). A barque is defined as a sailing vessel with three or more masts having a foremast rigged square and only the aftermast rigged fore-and-aft as shown below.
** MORE ABOUT ROBERT BELL in DCBO
** MORE ABOUT BISHOP JOHN HORDON in DCBO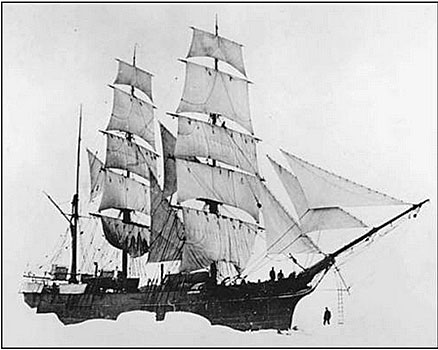 An elegant three-masted barque similar to the Ocean Nymph on which John Hawes served as the first officer
Around 1880 John HAWES married Mary HART in England. Their first child, Henry was born there in 1881.
Captain of the Lost Ship 'Cam Owen'
1883-1886
Dalton: The majority of the HBC sailing ships were built in Britain. One of the exceptions was the 'Cam Owen'. A product of Grand River, Prince Edward Island, in 1883, Cam Owen sailed under the command of Captain John HAWES with a crew of 13 men. Cam Owen made her final voyage to Hudson Bay in 1886. She was wrecked at the end of August when, almost within sight of Churchill, a gale slammed into her. Captain HAWES and his crew worked hard to keep the ship off shore, but the gale forced her into the land near Cape Churchill. She soon began to take on more water than the pumps could handle, making any attempt to sail away from the coast a suicidal exercise. HAWES took the only option possible. In a desperate bid to save the lives of his passengers and crew, he ran Cam Owen ashore at high tide about 20 miles south of Cape Churchill.
Captain HAWES was lucky that night. The tide rose full eight feet higher than normal, allowing him to take his ship over the reefs and settle her on the beach – damaged, but with all aboard alive and well. When the tide ebbed, the passengers and crew were able to clamber off the ship and walk to solid ground. - - Sometime later, the ice carried the Cam Owen away to a private burial at sea.
The HAWES family at the Port of Churchill
1891
About 1891 John brought his wife and son Henry to Churchill (MB) on Hudson Bay. In December of 1892 their second child, James Cyril, was born there, followed by Francis (Frank) in 1894 and Dorothy Mabel in 1896.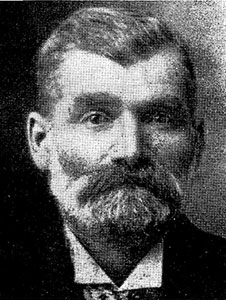 Captain John Hawes
Selkirk, Manitoba
Sailing Lake Winnipeg
1899
By 1899 Captain HAWES was sailing on Lake Winnipeg and his family was living on Eveline Street in Selkirk, Manitoba.
In the 1901 census the family was recorded as follows: John HAWES, Master Mariner, age 58; wife Mary, age 37. Children: Henry (age 19), James C (8), Francis C (6), Dorothea M (4), Alfred (3) and baby Ernest S.
On Feb 11, 1905 their last child, Harold was born.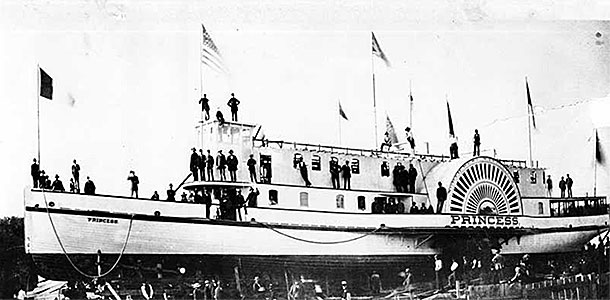 The Stamboat Princess, no date (Archives of Manitoba, L.G. Wilson Collection)
SINKING OF THE SS PRINCESS
August 26, 1906
On August 26, 1906 Captain John HAWES died by drowning when he went down with his ship, the 'SS Princess' which sank in a storm near Berens Island on Lake Winnipeg.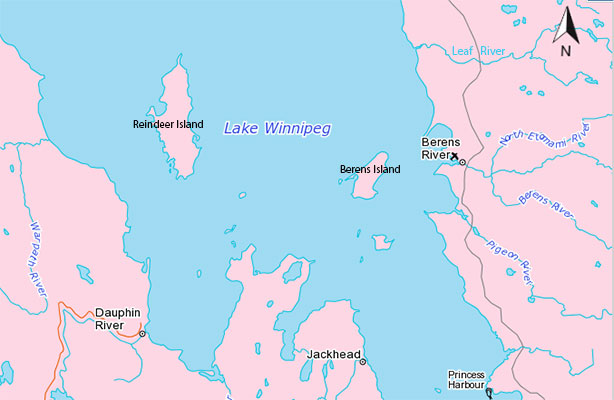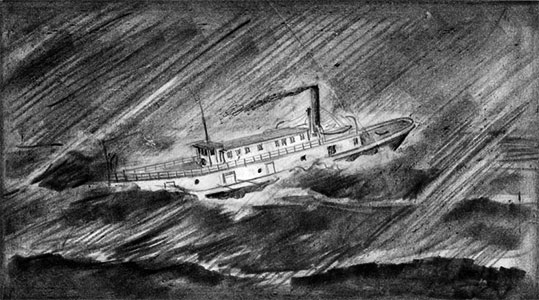 Sketch of the Steamboat Princess sinking in Lake Winnipeg, 1906
(Archives of Manitoba, L.G. Wilson Collection)
On August 24, 1906 (August 26 according to Winnipeg (Manitoba) Free Press reports) the SS Princess left from the Spider Islands and headed towards Little George Island carrying 1,600 boxes of fish. The weather was fine until, at about 6:00 pm, a strong northeastern wind rose. After Princess had rounded the Little George Island, Captain HAWES turned her for the Berens Island. As the winds turned into a storm the crew urged the captain to seek shelter from George Island.
Finally, as the storm grew stronger Captain HAWES ordered to turn the vessel around and ordered "full speed ahead." This double order proved to be her fate. As the vessel turned, and had turned about half-way around the hull was torn asunder by the fury of 8-metre (26 ft) waves, trapping three of crew below. The passengers and crew quickly moved into two small lifeboats, but Captain HAWES, 17-year-old cabin servant Flora McONALD of Selkirk, and 19-year-old cook Johanna PALSDOTTIR never made the last boat. Also lost were 19-year old sailor Johann JONSSON, Loftur GUDMUNDSSON of Gimli, and Charles GREYEYES, native Canadian.
Both lifeboats survived the storm. The first one landed on Berens Island, and the other one made it the shore near the Village of Berens River, where the survivors were picked up the next day by SS City of Selkirk.

MORE ABOUT CAPTAIN HAWES and the SS PRINCES in WIKIPEDIA

================================= // =================================
Widow Mary marries William PRUDEN
1908-1914
On Jul 2, 1908 Widow Mary HAWES (age 46) married Widower William PRUDEN (age 75), son of Suzette JOLICOEUR & Peter PRUDEN (1807-1889). ** MORE ABOUT WILLIAM PRUDEN
William PRUDEN was previously married to Sarah TRUTHWAITE, who died in 1900. She was the daughter of Elizabeth VINCENT & Jacob TRUTHWAITE (1786-1873). ** MORE ABOUT JACOB TRUTHWAITE
From the 1911 census at Lot 32 on Eveline Street, Selkirk: William PRUDEN,( age 78), wife Mary (age 48).  HAWES step-children:  Henry (age 29), Cyril (19), Francis (17), Mabel (14), Stanley (10) and Harold (age 6).
On Jan 5, 1913, according to Vital Stats, daughter Mabel HAWES gave birth to Myrtle HAWES. The father is unknown. Myrtle was essentially raised by her grandmother (Mary).
On May 16, 1914 William PRUDEN died in Selkirk at the age of 81.
================================= // =================================
World War I
1914-1919
On Aug 4, 1914 Great Britain (Canada on Aug 5) declared war on Germany and Austria-Hungary to uphold treaties with France and Belgium which were under German attack. This marked the beginning of World War I.
On May 28, 1914 son Frank married Lora Ann CAMPBELL in Winnipeg, daughter of Anna Maria HARRIOTT and Malcolm John CAMPBELL (1864-1902).
In 1915 eldest son Henry married Marguerite MORRISON in Selkirk, the eldest daughter of Mary LEASK and David MORRISON (1862-1942) from Scotland.
On Dec 29, 1915 son Stanley enlisted in Selkirk. He was only about 14 years old at the time.
On March 23, 1916 son Francis (Frank) enlisted for war service.
Census 1916: Selkirk (#10), SD-4 (Town), pg 25, HH-255 (Eveline St near Hospital): Widow Mary HAWES, age 51. Children: Cyril 22; Mabel 19; Stanley 15; Harold 11. Granddaughter: Myrtle HAWES, age 3 (daughter Mabel's child).
In 1917 son Cyril married Evangeline PRUDEN in Winnipeg, daughter of Annie SPENCE and Alexander Paul PRUDEN (1862-1943).
November 11,1919, Armistice Day (Remembrance Day) marked the end of the First World War.
In 1920 daughter Dorothy Mabel married Conrad PRUDEN in Winnipeg, son of Mary Jane DESJARLAIS and Andrew PRUDEN (1849-1928).
Census 1921: Winnipeg Centre (#38), SD-19 (City), pg 49, HH- 492 (455 Furby Street Apartment): Widow Mary PRUDEN, age 56 (born 1892 in England; immigrated 1892). Children: Stanley Ernest HAWES (age 20; Machinist), Harold HAWES (16, Cotton Weaver) and Myrtle HAWES (age 8).
In 1930 youngest son Harold married Phyllis Eva BOWLEY in Winnipeg.
On Aug 2, 1941 Mary HAWES-PRUDEN died in Winnipeg.
In 1957 daughter-in-law Laura (nee CAMPELL) died. Son Frank later re-married to Dorothy Gertrude SINCLAIR, daughter of Harriet HARRIOTT and Cuthbert Allan SINCLAIR (1885-1958).
Comments and queries at this link: FORUM DISCUSSING the FAMILY OF CAPTAIN JOHN HAWES
========================== Family Details ==========================
Children:
1. Aug 19, 1881 HENRY HAWES (m. Marguerite MORRISON)
2. Dec, 1892 JAMES CYRIL HAWES (m. Evangeline Belle PRUDEN)
3. Sep 27, 1894 FRANCIS (FRANK) CHURCHILL HAWES (m1. Laura CAMPBELL); m2. Dorothy SINCLAIR)
4. Jul, 1896 DOROTHY MABEL HAWES (m. Conrad PRUDEN)
5. Feb 23, 1898 ALFRED HAWES
6. Oct 31, 1900 STANLEY ERNEST HAWES
7. Feb 11, 1905 HAROLD HAWES (m. Phyllis Eva BOWLEY)