DONALD McLENNAN (1864-?)
SARAH ANNE ELIZABETH NORQUAY (1869-1889)
FLORENCE CATHERINE DAVIS (1875-?)
(Last Updated: August 24, 2013)
Donald McLENNAN was born Jan 20, 1864 in St Andrews Parish, Red River, a child of half-breed Ann Margaret SUTHERLAND & Murdoch McLENNAN (1825-1916) from the Orkneys. On Apr 14, 1864, his mother (Ann Margaret) died when Donald was only three months old. His father (Murdoch) was away on his second Rae Expedition when Donald was born. ** MORE ABOUT MURDOCH McLENNAN
It is difficult to determine who might have taken baby Donald in after his mother died.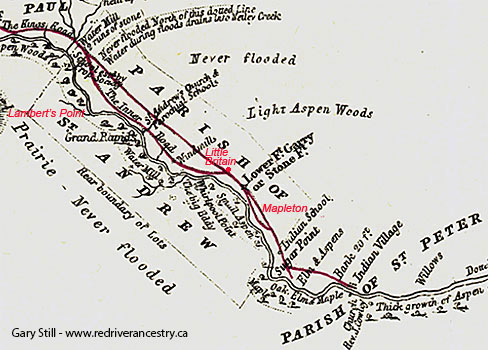 St Andrews Parish from  Henry Hind's Map of 1857
Around 1867 Donald's father (Murdoch) re-married to Annie BIRD, daughter of Isabella Sophie GIBSON & James BIRD (1824-1892). Donald's first step-sibling was Mary Ann, born in 1868.
On July 15,1870 Manitoba became the fifth province of Canada, the Canadian Government having acquired the territory previously governed by the HBC.
In 1870 Donald (age 6) was recorded with his father and step-mother (Annie BIRD) in St Andrews. The family was then living in the vicinity of Lambert's Point, south of the Old St Andrews Church. The area was named after the Patriarch of the LAMBERT Family, Michel LAMBERT (1792-1875), a French Canadian Voyageur from Quebec who married Margaret FAVEL, daughter of Sarah (TROUT), an Indian, and fellow Voyageur Thomas FAVEL (1781-1848), an English Half-breed. ** MORE ABOUT MICHEL LAMBERT
Feb 17, 1881 the Canadian Pacific Railway Act was formally announced. That year the railroad section from St Boniface through East Selkirk to Telford near the Ontario-Manitoba boundary was completed.
Around 1880-81 Donald's step-mother (Annie BIRD) died. Most of his young step-siblings were then taken in by their maternal grandparents, Isabella and James BIRD (1824-1891) who were living in St Peters Parish (near Clandeboye) at the time. His father, Murdoch McLENNAN was working a new section of the CPR Railroad line that extended from East Selkirk across to Telford near the Ontario-Manitoba boundary.
Donald apparently remained at Lambert's Point, where for a brief period he stayed with Widow Mary (nee LAMBERT) TATE, widow of James TATE (1810-1767) with whom he was recorded in the Census of 1881 as a 17 year-old.
On June 15, 1882 the Town of Selkirk was incorporated.
In 1885 Widow Mary TATE moved from Lambert's Point to Winnipeg.
Marriage to Sarah Anne NORQUAY
1889
On Feb 21, 1889 Donald married Sarah Ann Elizabeth NORQUAY in St Andrews, daughter of Elizabeth MILLER & Thomas NORQUAY (1843-1892). ** MORE ABOUT THOMAS NORQUAY
On Nov 11, 1896 daughter Christina was born, their last child together. ** Identified as a child in Manitoba Vital Stats records.
In the spring of 1899 Sarah died leaving Donald with three surviving children: Rebecca Pearl (age 8), Herbert (5) and Christina (age 2). ** Note: Daughter Christina does not appear with Donald and his second wife in later census records (1901 and 1906). Being a baby when her mother died, Christina may have been taken in by a relative (so far unable to find her whereabouts during that period.
Marriage to Florence DAVIS
1900
On Nov 29, 1900 Donald re-married to Florence DAVIS in St Andrews, daughter of Catherine BIRSTON and George DAVIS (1824-1904) who was the manager at the Lower Fort Garry Fur Trading Post. In the 1901 Census they were recorded with two children; Ruby (age 9) and Herbert (age 6).
It is said that MacLennan Crossing near Parkdale was named after Donald.
In the Census of 1906, Donald and his family were again enumerated in St Andrews Parish with children as Ruby (age 15), Herbert (6), Victoria (5) and Sarah (age 3). Also with them is Grandmother Widow Elizabeth CUMMINGS b-c1813 (age 93).  ** This would be Donald's maternal grandmother, Elizabeth (nee CALDER) who married James SUTHERLAND (1803-1844) and in turn was the mother of Ann Margaret SUTHERLAND who married Donald's father, Murdoch McLENNAN. In 1851 Widow Elizabeth CALDER-SUTHERLAND had remarried to Cuthbert CUMMINGS (1825-1896).
In 1909 daughter Rebecca Pearl married Edwin Charles HODGSON, son of Margaret McDONALD & Henry Rosser HODGSON (1861-1948).
The First World War
1914-1919
On Aug 4, 1914 Great Britain (Canada on Aug 5) declared war on Germany and Austria-Hungary to uphold treaties with France and Belgium which were under German attack. This marked the beginning of World War I.
On Jan 17, 1916 Donald's father, Murdoch McLENNAN died in Selkirk.
In 1917 we rediscover daughter Christina when she married Lawrence SMITH, son of Hannah Sarah FRANKS & William Robert Pemble SMITH (1855-1901).   
After 1906 Donald McLENNAN and his family seems to have disappeared from the census records; no trace of them anywhere. The only other clue regarding his whereabouts was the following:
In 1918 when son Herbert enlisted for war service he stated his next-of-kin as his father, Donald McLENNAN of Coxby, Saskatchewan. Coxby is located east of Prince Albert.
November 11, 1919, Armistice Day (Remembrance Day) marked the end of the First World War.
We have no other information after 1918. When and where did Donald McLENNAN die, and what became of the rest of his children? Help would be much appreciated (on the Forum as follows)
 Please post comments and queries at this link: FORUM DISCUSSING the DONALD McLENNAN FAMILY
============================ Family Details ============================
Children by Sarah Anne NORQUAY:
1. Dec 22, 1889 ELIZABETH "ANNE" McLENNAN (Died in infancy, 14 months)
2. Apr 5, 1891 REBECCA PEARL "RUBY" McLENNAN (m. Edwin Charles HODGSON)
3. Mar 29, 1893 MARY ELLEN McLENNAN (Died in infancy, 11 months)
4. Dec 10, 1894 HERBERT "BERTIE" McLENNAN
5. Nov 11, 1896 CHRISTINA McLENNAN (m. Lawrence SMITH)
Children by Florence DAVIS:
1. May 24, 1901 VICTORIA CATHERINE LOUISE "QUEENIE" McLENNAN
2. Feb 8, 1903 SARAH "SADIE" McLENNAN
3. Nov 15, 1904 NORA GLADYS McLENNAN