EDGAR LAWRENCE SMITH (1894-1957)
CHRISTINA McLENNAN (1896-?)
KATHERINE (nee GUIMOND) THOMAS (1901-1961)
(Last Updated: June 09, 2015)
Edgar Lawrence "Larry" SMITH was born Jul 19, 1894 in St Andrews, son of Hannah Sarah FRANKS & William Robert Pemble SMITH (1855-1901).   ** MORE ABOUT WILLIAM ROBERT PEMBLE SMITH
Lawrence grew up in the St Peters Reserve where he was recorded with his parents in the censuses of 1901, 1911 and 1916 (age 20).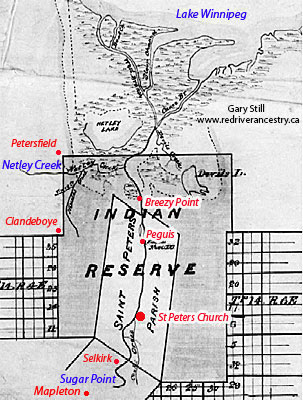 In 1907 the St Peters Indian Reserve was surrendered to the Crown, and by 1911 most of the native residents had been relocated to the New Fisher River Reserve north of Hodgson, MB. St Peters as an Indian Reserve ceased to exist and was now only referred to as St Peters Parish.
Marriage to Christina McLENNAN
1917
On Oct 10, 1917 Lawrence married Christina McLENNAN, daughter of Sarah Ann NORQUAY & Donald McLENNAN (b-1864). In 1889 Christina's mother (Sarah) died it seems that baby Christina must have been taken in and raised by foster-parents. After her father (Donald McLENNAN) remarried in 1900 to Florence DAVIS, Christina does not appear with her father and his new wife in later census records. ** MORE ABOUT DONALD McLENNAN
Details about Lawrence's children from his first marriage are uncertain at this time. They had at least one child, daughter Christina SMITH and I have seen a reference to a possible daughter named Beverly (?).
Around 1937 daughter Christina married Frank Lawrence FROST (1914-1998), son of Caroline TAYLOR and James Henry FROST (1869-1959). ** MORE ABOUT JAMES HENRY FROST
World War II
1939-1945
Ventrice THOMAS marries Irene (nee MOORE) ZELISKO
Lawrence SMITH marries Catherine (nee GUIMOND) THOMAS
On Sept 4, 1939 Canada and Britain declared war on Germany, and almost immediately new recruits began pouring into Winnipeg to sign up with the Winnipeg Grenadiers and the Royal Rifles of Canada.
Catherine GUIMOND was born around 1901 in the Fort Alexander (Sagkeeng) Indian Reserve, probably the daughter of Marianne FONTAINE and Joseph GUIMOND (b-1875).  Catherine was married to Ventrice THOMAS (1893-1985), an illegitimate child of Caroline SAYER and James FIDLER (1870-1929). At the age of five, Ventrice was adopted by Margaret MOORE and Thomas THOMAS (1845-1926) from which came the surname THOMAS.
** MORE ABOUT CATHERINE and VENTRICE THOMAS
When the War broke out, Catherine and Ventrice THOMAS had six children ranging in age from 20 year old Donald THOMAS down to five year-old Steven THOMAS. It was in the early 1940's there was a marital break-up.  Ventrice began a connubial relationship with Irene (born DICKINSON) MOOR, the estranged wife of Stephen ZELISKO (1910-1967).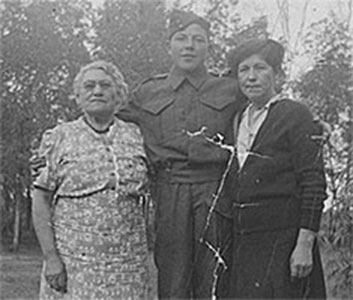 L-R: Caroline (nee Sayer) Waters, Raymond Thomas and Katherine (nee Guimond) Thomas-Smith
(Photo courtesy of Raymond Thomas Jr,)
A few years into the War, Catherine's three eldest children (Don, Peggy and Raymond THOMAS) became soldiers. Lawrence SMITH also became a soldier (details not available). It was probably through this soldierly fellowship that the relationship between Catherine and Lawrence SMITH began.
Around 1942 Lawrence SMITH and Catherine (nee GUIMOND) THOMAS became husband and wife. On March 30, 1943 daughter Sharon SMITH was born.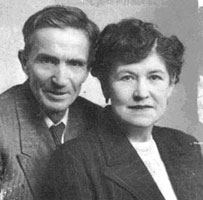 Lawrence SMITH & Catherine (nee GUIMOND) THOMAS
June 6, 1944: D-Day. 15,000 members of the Canadian Army as well as hundreds of members of the Royal Canadian Air Force and the crews of 60 vessels of the Royal Canadian Navy participate in the landings in Normandy as part of an invasion force of some 150,000 Allies (there were 1,074 Canadian casualties on D-Day, including 359 deaths).
On May 7, 1945 Germany surrendered and, the war in Europe ended; the next day, May 8, is declared VE Day. Om August 14, 1945 Japan surrendered - VJ Day. The Second World War is officially over.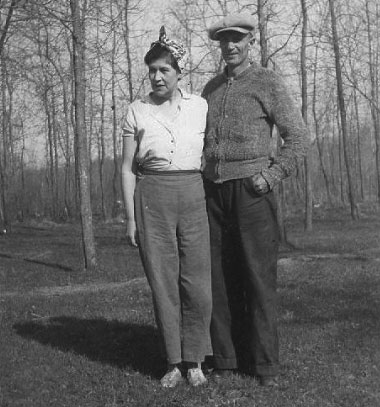 Catherine & Lawrence Smith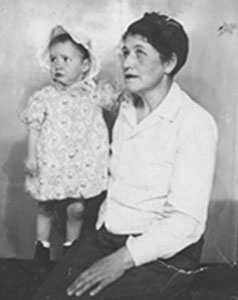 Catherine Smith and baby Sharon
(From Raymond Thomas)
Regardless of all the marital break-ups, the SMITH, ZELISKO and THOMAS children were all on very friendly terms in the years that followed, and they frequently socialized together.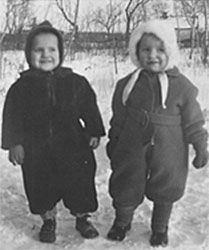 Patricia Thomas and Sharon Smith
On Aug 31, 1957 Lawrence SMITH died.
In 1961 Catherine (nee GUIMOND)-THOMAS-SMITH died (a car accident near Clandeboye).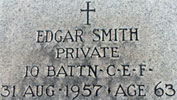 Daughter Sharon married Captain Frank MARSH (1943-2008). For many years Sharon suffered from Multiple Sclerosis until she died in 2012.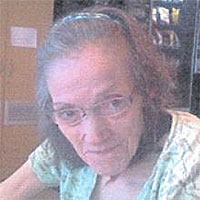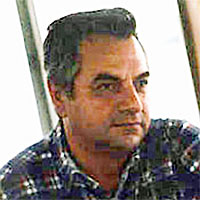 Sharon & Frank Marsh
Please post comments and queries at this link: FORUM DISCUSSING the LAWRENCE SMITH FAMILY
============================ Family Details ============================
Children of Lawrence SMITH & Christina McLENNAN:
1. c1920 CHRISTINA SMITH (m. Frank Lawrence FROST)
?2. BEVERLY SMITH
Child by Catherine GUIMOND & Lawrence SMITH:
1. Mar 30, 1943 HANNAH BARBARA SHARON SMITH (m. Captain Frank MARSH)