JAMES HENRY FROST (1869-1959)
CAROLINE TAYLOR (1871-1940)
(Last Updated: August 05, 2015)
James Henry FROST was born 1869 in Ontario, son of Annie BUTTERFIELD and Jonathan FROST (1834-1898), a farm Labourer from Belfast, Ireland. James was born and raised in Bastard & Burgess (between Ottawa & Kingston, Ontario).
In the census of 1891 we find James' father (Jonathan), age 50 and alone, living in the RM of Riverside, south of Brandon, Manitoba. That same year in the Ontario census we find James (age 20), enumerated as a "Domestic" in the household of Annie & Erastus CARSON in his hometown of Bastard & Burgess.
Marriage to Caroline TAYLOR
1894
By 1894 James had moved to Manitoba (Lockport), where he met Caroline TAYLOR, daughter of Eliza WALLER & Robert TAYLOR (1836-1919), a retired HBC voyageur. In the 1891 census Caroline (age 18) was living with her parents there. ** MORE ABOUT ROBERT TAYLOR
James later joined his father (Jonathan) in the Brandon, where he married Caroline TAYLOR on Feb 28 that year.On Oct 25, 1895 their first child, Edward Leslie, was born in the USA.
James & Caroline in East Mapleton
1896
In 1896 James moved his family to St Clements Parish, east of the Red River across from the St Clements Church, not far form Bunn House (shown on the map below).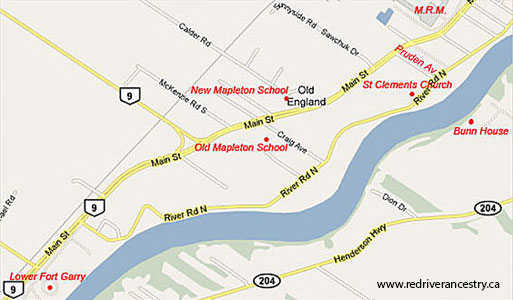 Railton's History of St Clements Church:  A goodly number of parishioners lived on the east side of the river - - in addition to attending Church, the children attended school on the west side.  By the year 1896, as many as 30 children were attending the school at Mapleton, the year the RM of St Clements agreed to pay half the costs of running the ferry across the river.  The ferry ran from the Thomas BUNN property to the foot of Pruden Ave.  The old cable was in evidence as late as 1936.  The ferry became redundant when the bridge was built at Lockport.  One of the old-timers said it was running as late as 1917.
In 1898 Caroline's brother, Edward TAYLOR (1870-1925) married Clara SPENCE, daughter of Annie GARDNER & Alexander SPENCE (1854-1942).
In the 1901 Census,enumerated in the location described above were James FROST, a "Builder" (age 30); his wife Caroline (age 29, Cree). Children: Edward (age 5); Byron (3) and Charles (age 1). Next-door are Caroline's parents (Eliza & Bob TAYLOR) and Caroline's brother (Edward TAYLOR). Other close neighbours are the families of Thomas BUNN (1874-1941) and William FIDLER (1845-1929).
The 1906 census records James at the same location with three additions to the family which now include Robert (age 5), James (3) and baby Annie Violet.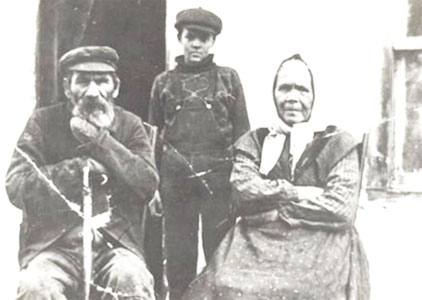 Robert Taylor, his wife Elise Waller and Grandson Leslie Frost (1895-1918)
This photo must have been taken around 1905-06
Move to Oak Hammock
1911
James & Caroline TAYLOR; later moved to Oak Hammock (west of Lower Fort Garry), where they settled on 80 acres bought from Thomas MOWAT (1865-1924). This was Caroline's brother-in-law; married her older sister, Mary Ann Jane TAYLOR. In the Census of 1911 they were recorded there on Section 34-13-3-Epm. Two more children had been added to the family, Melinda Viola (age 3) and Norman Frederick (age 1).
On Dec 29, 1911 son Edgar married Jessie Winifred SCOTT, daughter of Mary Josephine BRUCE & Edward SCOTT (1859-1927). They settled in Poplar Park, north of Libau (MB) near the marshes of Lake Winnipeg.
In 1913 daughter Edna was born only to die in infancy nine months later.
The First World War
Back to East Mapleton
1914-1919
On Aug 14, 1914, Great Britain (and Canada) declared war on Germany and Austria-Hungary, to uphold treaties with France and Belgium which were under German attack.
James and his family apparently only stayed a few years at Oak Hammock; by 1916 they were enumerated back in East Mapleton with their last child, Frank (age 2).
On Oct 20, 1918, son Leslie enlisted for War Service. On Oct 20, 1918 he died in England, only 23 years old.
In the spring of 1919, Caroline's father, "Old Bobby" TAYLOR died at the age of 83.
November 11,1919, Armistice Day (Remembrance Day) marked the end of the First World War.
Beyond the Gates of Lower Fort Garry: James FROST worked for the RM of St Clements as a Constable, Weed Inspector, Maintenance Man, also worked on hydro, roads, and drains;  worked on the boats, plying and freighting Lake Winnipeg. He was a Trustee for the Kitchener School District.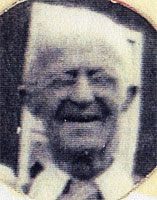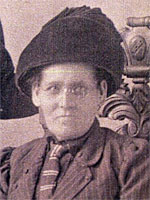 James and Caroline (nee Taylor) Frost
Caroline takes in the children of her deceased sister Clara
1921
On May 31, 1921 Caroline's sister, Clara (nee SPENCE) TAYLOR died in Lac du Bonnet (MB), six weeks after giving birth to a child. Clara was the wife of Edward TAYLOR (1870-1925). ** MORE ABOUT EDWARD TAYLOR
Caroline came to the rescue of her brother-in-law, taking the motherless TAYLOR family into her heart and home; raising them with loving care. These were Lawrence TAYLOR (age 24), Edward Jr. (16), Bill (13), Edith (8), Bob (age 7) and baby Thomas TAYLOR. Quite a burden for Caroline FROST, but she coped, raising her brother's children, who attended Kitchener, Happy Thought, and Selkirk schools. 
Son James FROST later married Alma BRUNEAU in Lac du Bonnet, daughter of Donalda COURVILLE and Louis BRUNEAU (1867-1939). ** MORE ABOUT LOUIS BRUNEAU
Around 1934 daughter Violet FROST married Jack KIRBY (1907-1973) from England.
In 1934 daughter Melinda FROST was a school teacher at the Kitchener School. She later married Richard Thomas TUMBER (1897-1976) from England.
Around 1938 son Frank married Christina SMITH, daughter of Christina McLENNAN & Lawrence SMITH (1894-1957).
In 1939 son Frederick Norman married Mary COCHRANE in Hamiota (MB), daughter of Irene Alice GLENN & Wesley Webster COCHRANE.
On July 22, 1940 Caroline FROST died.

On Sep 19, 1959, James FROST died in East Mapleton.
Please post comments & queries at this link: FORUM DISCUSSING the JAMES FROST FAMILY
============================ Family Details ============================
Children: 
1. Oct 29, 1895 EDWARD LESLIE FROST (Died in WW I, age 23)
2. July 17, 1897 BYRON EDGAR STANLEY FROST (m. Jessie Winifred SCOTT)
3. Jul 9, 1899 CHARLES HERBERT "CHARLIE" FROST
4. May 12, 1901 ROBERT "BOB" ALEXANDER FROST (Never married. died 1957)
5. Aug 5, 1903 JAMES DONOVAN FROST (m. Alma Antoinette BRUNEAU)
6. Oct 1, 1905 VIOLET ANN FROST (m. Jack KIRBY)
7. Aug 12, 1907 MELINDA VIOLA GRACE FROST (m. Richard Thomas "Dick"TUMBER)
8. Jun 22, 1909 FREDERICK WILLIAM NORMAN FROST (m. Mary Aleta Irene COCHRANE) 
9. 1913 EDNA ETHEL EVELYN FROST (Died at 9 mos)
10. Dec 2, 1914 FRANK LAWRENCE FROST (m1. Christina SMITH, m2. Irene LITTLE, m3. Doreen QUARRON)