LOUIS BRUNEAU (1867-1939)
BELANA LAFONTAINE (1870-1888)
EVA MARIE EDOUARDINE POULIN (1877-1896)
DONALDA COURVILLE (1877-1917)
(Last Updated: August 05, 2015)
Louis BRUNEAU was born on Jan 25, 1867 in Quebec, the son of Lucie BAILLARD and Antoine BRUNEAU (b-1846). ** This was the year of Canadian Confederation.
Marriage to Belana LAFONTAINE
1886-1888
On Oct 25, 1886 Louis married Belana LAFONTAINE in Quebec. They had one child, Emelia Delia, in 1887 and Belana died in 1868.
Marriage to Eva Marie Edouardina POULIN
1891-1896
On Nov 16, 1892 Louis (a widower) married Eva Marie Edouardina POULIN in Manitoba. They had three children: Cleophas, Clara and Lucy. It is said that Eva died on March 21, 1896 at Peguis in the St Peters Reserve.
Marriage to Donalda COUIRVILLE
1900
On Jan 25, 1900 Louis married a third time to Donalda COURVILLE in Quebec, daughter of Olive MONETTE and Frederick COURVILLE (b-1849).
Eldest daughter Emelia Marie married Arnold WEISS (1884-1961) who was born in Germany.
Lac du Bonnet, Manitoba
1906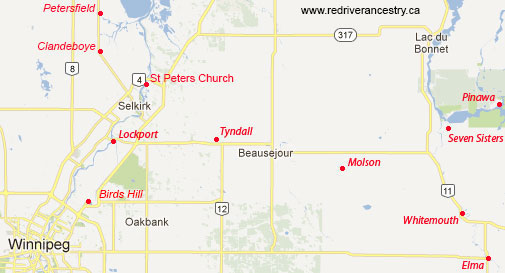 Census of 1906 in Lac du Bonnet (MB): Louis BRUNEAU, age 39; wife Donalda, age 29. Children (all born MB): Cleophas (age 13), Clara (12), Lucy (10), Florence (5), Amanda (4), Philomene (3), Godias (2) and Alexander (age 1).
Census of 1911 in Lac du Bonnet: Louis BRUNEAU, age 45; wife Donalda, age 34. Children: Cleophas (age 18), Clara (17), Lucy (14), Florence (11), Amanda (10), Philomene (7), Josias (6), Alexander (5), Clemee (4), Valentine (3), Charles (2) and baby Albert (age 11 months).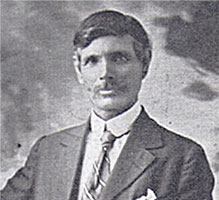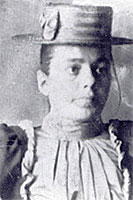 Louis Bruneau- Donalda Courville (From Eva Poulin)
In 1913 son Cleophas married Josephine GAGNON in Brokenhead, daughter of Rosalie MAINVILLE and David GAGNON (1844-1906).
In 1916 daughter Lucy married Louis PAYETTE of uncertain origins.
On July 13, 1917 Donalda (nee COURVILLE) BRUNEAU died in Lac du Bonnet at the age of 40.
In 1917 daughter Clara married Charles LECLAIR in St Boniface, son of Marguerite MERCREDI and Xavier LECLERC aka LECLAIR (1851-1932). ** MORE ABOUT XAVIER LECLAIR
In 1917 daughter Florence married Robert LAVOIE (1890-1972) from Quebec.
Census of 1921 in Lac du Bonnet): Louis BRUNEAU, age 54 and widowed. Children: Amonda (age 19), Philomena (17), Josias (16), Clemente (14), Valentine (13), Albert (11), Romeo (8), Maria (6) and Alma (age 5).
Daughter Amanda (Emma) married Leopold GAREAU (1905-1994) of uncertain origins.
In 1924 daughter Philomene married Joseph Xavier PLANTE (1902-1987) in Lac du Bonnet.
In 1929 daughter Valentine married in Winnipeg to Gustave Albert OLSON of uncertain origins.
In 1933 son Francis married Helen Bernice DOBRUCKI in Lac du Bonnet.
In 1938 son Alexander married Mabel MARTIN in Winnipeg, daughter of Jannie WILLERTON and Edmond MARTIN (1869-1958).
In 1938 daughter Alma married James Donovan FROST in Selkirk, son of Caroline TAYLOR and James Henry FROST (1869-1959). ** MORE ABOUT JAMES HENRY FROST
 On Jan 1, 1939 Louis BRUNEAU died in Selkirk at the age of 72.
Son Albert married Lucienne BARRAS, daughter of Mathilde GODARD and August BARRAS (1889-1957).
Daughter Maria married Joseph McDONALD of uncertain origins.
In 1950 daughter Alma and Donovan FROST were divorced, and 1952 Alma re-married to George CHEATER of uncertain origins.
Comments and queries at this link: FORUM DISCUSSING THE LOUIS BRUNEAU FAMILY
========================== Family Details ==========================
Child with Belana LAFONTAINE:
1. Oct 17, 1887 EMELIA DELIA MARIE BRUNEAU (m. Arnold WEISS)
Children with POULIN:
1. Aug 30, 1892 CLEOPHAS BRUNEAU (m. Josephine GAGNON)
2. Oct 20, 1893 CLARA BRUNEAU (m. Charles LECLAIR)
3. Oct 10, 1894 LUCY BRUNEAU (m. Louis PAYETTE)

Children with Donalda COURVILLE:
1. Apr 6, 1901 FLORENCE BRUNEAU (m. Robert LAVOIE)
2. Feb 15, 1902 AMANDA (EMMA) BRUNEAU (m. Leopold GAREAU)
3. 1903 PHILOMENE BRUNEAU (m. Joseph Xavier PLANTE)
4. Feb 14, 1904 JOSIAS BRUNEAU
5. Jan 25, 1905 ALEXANDER BRUNEAU (m. Mabel MARTIN)
6. Feb 22, 1907 CLEMENTE BRUNEAU
7. Apr 27, 1908 VALENTINE BRUNEAU (m. Gustave Albert OLSON)
8. May 8, 1909 CHARLES BRUNEAU
9. Jul 16, 1910 ALBERT BRUNEAU (m. Lucienne BARRAS)
10. Nov 14, 1912 ROMEO BRUNEAU (m. Bernice DOBRUCKI)
11. Feb 10, 1915 MARIA BRUNEAU (m. Joseph McDONALD)
12. Jun 13, 1916 ALMA ANTOINETTE BRUNEAU (m1. James Donovan FROST; m2. George CHEATER)