WILLIAM ROBERT PEMBLE SMITH (1855-1901)
HANNAH SARAH MAUDE FRANKS (1859-1932)
(Last Updated: January 06, 2017)
William Robert Pemble SMITH was born Oct 13, 1855, at Breezy Point in the St Peters Indian Settlement, Red River; son of Elizabeth MOORE & John Lee Lewis SMITH (1820-1910). ** MORE ABOUT JOHN LEE LEWIS SMITH
He was a grandson of half-breed Ann OMAND and Englishman William Robert SMITH (1797-1869).
** MORE ABOUT WILLIAM ROBERT SMITH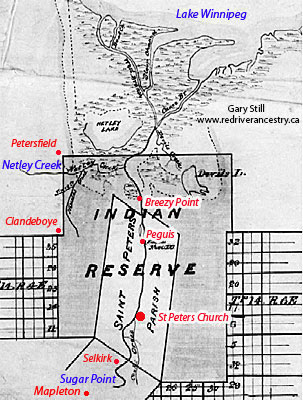 Marriage to Hannah FRANKS
1880
On Feb 12, 1880 William married Hannah FRANKS in Selkirk, daughter of Half-breed Sarah FLETT & James FRANKS (1813-1884), an HBC employee from England. Their first child, Sarah Mary was born on Nov 27, 1880.
It was in 1882 that Selkirk was officially incorporated as a Town. In 1883 the Rural Municipality of St Clements was formed. Without going to a lot of detail, essentially the RM of St Clements now referred to the East side of the Red River and Lake Winnipeg all the way from Winnipeg to Grand Beach, extending eastward as far as Garson. Hereafter, St Andrews only referred to the west side of the river.
In the census of 1891 in St Andrews Parish, William Robert was recorded as age 35, wife Hannah as age 32. They had seven children then; Sarah Mary (age 10), Alfred (9), Charles (7), Ellen (6), William (4), John  (age 3) and Lillie (age 10 months). William Robert's sister, Sarah (nee SMITH) STEVENS (age 37) was recorded with them; her four children were with their grandparents, Elizabeth & John Lee Lewis SMITH.
Their next child, Samuel Benjamin was born in 1892 but died in infancy. Sons Lawrence and George were born in 1894 and 1897.
In 1900 eldest daughter Sarah married Louis LECLAIR, son of Elizabeth STEVENS and Baptiste LECLAIR (1835-1913).
William Robert Pemble SMITH Dies
1901
On Aug 4, 1901 their last children were born; twins (Donald & Richard) . Richard died in infancy.
On Oct 5, 1901, William Robert Pemble SMITH died in St Andrews Parish at the age of 45.
Surrender of the St Peters Indian Reserve
In 1906 Widow Hannah SMITH and her family were recorded in St Peters.
In 1907 the St Peter's Indian Reserve was surrendered to the Crown and by 1909 most of the native residents had moved to the present day Peguis Reserve at Fisher River.
In 1909 Hannah's mother (Sarah FRANKS) died at the age of 75, probably in Selkirk. She had been living on Taylor Avenue in Selkirk with Hannah's youngest sister, Lucy FRANKS who was married to George TWEED at the time.
In 1911 the St Peters Reserve Act was validated and St Peters ceased to exist as an Indian Reserve. It was now simply referred to as St Peters Parish. Indian Land Claim disputes would continue thereafter, well into the 21st Century.
In the 1911 Census, Widow Sarah (Hannah) SMITH was enumerated in St Peters West as age 53. Children with her were James (Alfred, age 29), Lottie (Charlotte, age 25), Pembroke (Robert Pemble, age 24), John (22), Lawrence (17), George (13) and Donald (age 9).
In 1912 eldest son Alfred James married Catherine Ann MONKMAN, daughter of Jane Mary TAIT and James MONKMAN (1847-1932). ** MORE ABOUT JAMES MONKMAN
In 1913 daughter Ellen Charlotte married George Percy Allan FREEMAN (1886-1945) from England.
World War I
1914-1919
On Aug 4, 1914 Great Britain (Canada on Aug 5) declared war on Germany and Austria-Hungary to uphold treaties with France and Belgium which were under German attack. This marked the beginning of World War I.
In the 1916 Census Widow Sarah Hannah SMITH was recorded again in St Peters Parish as age 56. Children at home were John (age 27), George (24), Lilly (24), Lawrence (20) and Donald (age 14).
In 1917 son John Lee married Esther COCHRANE, daughter of Mary MONKMAN and Henry COCHRANE (b-1851).
Also in 1917, son Lawrence married Christina McLENNAN, daughter of Sarah Anne NORQUAY and Donald McLENNAN (1864-).
November 11,1919, Armistice Day (Remembrance Day) marked the end of the First World War.
In 1919 son William Robert Jr. married Margaret FAVEL of uncertain origins.
In 1920 daughter Lillian Victoria married Richard William GOODMAN of unkinown origins.
In 1932 Hannah Maud SMITH died.
Around 1942 son Lawrence remarried to Catherine (nee GUIMOND) THOMAS, daughter of Marianne FONTAINE and Joseph GUIMOND.
Please post comments and queries at this link:
FORUM DISCUSSING the WILLIAM ROBERT PEMBLE SMITH FAMILY
========================== Family Details ==========================
Children:
1. Nov 27, 1880 SARAH MARY ELIZABETH SMITH (m. Louis LECLAIR)
2. May 2, 1882 ALFRED JAMES FRANK SMITH (m. Catherine Ann MONKMAN)
3. Jul 27, 1884 CHARLES HENRY ELLIOTT "CHARLIE" SMITH (Died age 25)
4. Dec 28, 1885 ELLEN CHARLOTTE SMITH (m. George Percy Allan FREEMAN)
5. May 1, 1887 WILLIAM ROBERT PEMBLE SMITH JR (m. Margaret FAVEL)
6. Nov 1, 1889 JOHN LEE LOUIS SMITH (m. Esther COCHRANE)
7. Aug 16, 1891 LILLIAN VICTORIA HARRIET SMITH (m. Richard William GOODMAN)
8. Apr 4, 1892 SAMUEL BENJAMIN SMITH (Died in infancy, 13 mos)
9. Jul 19, 1894 LAWRENCE SMITH (m1. Christina McLENNAN, m2. Katherine (nee GUIMOND) THOMAS)
10. Apr 24, 1897 JOSEPH ARCHIBALD GEORGE THOMAS SMITH
11. Aug 4, 1901 DONALD ELIJAH (twin) SMITH
12. Aug 4, 1901 RICHARD RUPERT (twin) SMITH (Died in infancy, 12 days)