HENRY COCHRANE (1851-)
MARY MONKMAN (1854-)
(Last Updated: May 02, 2015)
Henry COCHRANE was born about 1851 in St Andrews Parish, son of Elizabeth GIBSON and William COCHRANE (1811-1894).
Canadian Confederation and a Red River Rebellion
Manitoba becomes a Province
1867-1870
On July 1, 1867 the British colonies in North America were united under the British North American Act to become the Dominion of Canada. Sir John A MACDONALD (1815-1891) became Canada's first Prime Minister. William McDOUGALL (1822-1905) became the Minister of Public Works, and he began negotiations to acquire Rupert's Land from the HBC, sending out surveyors to prepare the way for an expected influx of settlers.
On Oct 11, 1869, Louis RIEL (1844-1885) placed his foot on the surveyors' chain to tell them their work was finished! This marked the beginning of another Red River Métis Rebellion.
On July 15, 1870 the Rebellion ended when RIEL's Provisional Government accepted the terms of the Manitoba Act. Manitoba became the fifth province of Canada, the Canadian Government having acquired the territory previously governed by the HBC.
Signing of Treaty Number One
1871
On Aug 3, 1871, Chief Henry Red Eagle (Mis-koo-ke-new) PRINCE (1819-1902) signed Treaty Number One, representing the St Peters Indian Band. ** MORE ABOUT CHIEF HENRY PRINCE
Marriage to Mary MONKMAN
1873
On Dec 24, 1873 Henry married Mary MONKMAN, daughter of Isabella SETTER and Joseph "Ole Joe" MONKMAN (1810-1899). ** MORE ABOUT JOSEPH "OLE JOE" MONKMAN
In 1875 both Mary and Henry applied for their Half-breed Scrip. They were living in St Peters.
Western Land Grants: Dated Jan 30, 1879 for Henry COCHRANE: Half-breed grant for 240 acres in St Peters Parish; S ½ of SW-21-14-4-Epm (also included were parts of other adjoining sections). As the map below indicates, these locations are along the Meadowdale Road, southwest of Clandeboye.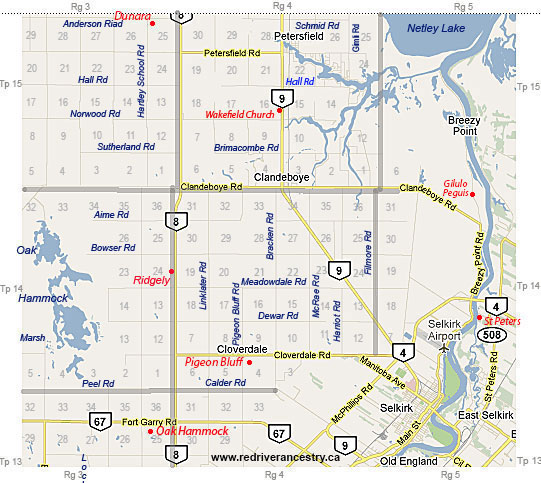 Census 1881 in St Andrews Parish:Henry COCHRANE (age 31) and his wife Mary (age 27). Children: Arthur (age 2) and baby Joseph.
On June 15, 1882 the Town of Selkirk was incorporated.
Census 1891 in St Andrews Parish:Henry COCHRANE (age 39) and his wife Mary (age 36). Children: Arthur (age 12), Alexander (5) and Esther (age 2). ** Missing in this record is son Joseph who would have been about 10 years old.
On Dec 23, 1900 son Daniel was born. ** When examining later census records the genealogy for Henry and his family begins to get muddled. One has to wonder whether Daniel's mother might have actually been a Mary THOMAS?
Census 1901 in St Andrews Parish:Mary COCHRANE (age 50). Children: Arthur (age 22), Alexander (14), Esther (12), Agnes (8) and baby Daniel (2 months old). Also with them is a 32 year old "lodger", Charles KIPLING. ** Missing in this record are Mary's husband (Henry) and son Joseph (who would have been about 20 years old. Perhaps they were away on a fishing trip?
Around 1903 son Joseph married a lady named Jessie of unknown origins.
St Peters Parish
1906
Census 1906 in St Peters Parish:On River Lot 96-97 - Mary COCHRANE, age 45. This record indicates that Mary is widowed. Children: Arthur (age 25); Alexander (19); Esther (17) and Agnes (age 14). They have 3 horses, 10 milk cows, 30 other cattle, 32 sheep and 9 hogs. The widowed part is a puzzler because not far down the road (on River Lot 104) a Henry COCHRANE (age 57) was recorded with a "Servant" named Mary THOMAS and a son, Daniel COCHRANE, age 5. He has a horse, 14 milk cows, 30 other cattle and 4 hogs.
Both of these records indicate Gilulo Post Office as the address for both the elder Mary and Henry COCHRANE. This Post Office, originally called the Eagle's Nest P.O. and later the Peguis P.O., was previously operated by Mary's father (Joseph MONKMAN) and later her Uncle (Albert MONKMAN).
The Historic and Controversial Surrender of the St Peters Reserve
1907-1911
On Oct 14, 1907, after many years of haggling over non-Indian land claims, Chief William PRINCE and his four Councillors accepted and signed the historical and controversial Surrender of the St Peters Indian Reserve to the Crown. The same month, the Band and representatives of the department selected the site of the new Peguis Reserve in the Fisher River area north of Hodgson, Manitoba.
In 1911 the Manitoba Royal Commission investigating the titles to the river lots and the surrendered land, vindicated those who had opposed the surrender's validity. In the meantime, however, a significant proportion of the Band had relocated to Fisher River, patented lots had been sold, a sale of the remaining surrendered reserve land had taken place, and proceeds had been distributed to band members. The dominion government was unwilling to turn back the clock and reopen the St Peter's land question. It was perhaps inevitable that the surrender would ultimately be validated by special legislation: the St. Peter's Reserve Act.Under its provisions, purchasers would be required to pay an extra $1 per acre (to be added to the St Peter's Band fund) to obtain a secure title to their land. The legislation had the effect of increasing the balance in the Band's trust account by $40,000, but the St Peter's Indian Reserve was gone forever.
Outbreak of World War I
1914
On Aug 4, 1914 Great Britain (Canada on Aug 5) declared war on Germany and Austria-Hungary to uphold treaties with France and Belgium which were under German attack. This marked the beginning of World War I.
Census 1911 in St Peters Parish West: Henry COCHRANE, age 61. Children: Arthur (age 29) and Daniel (age 9), and Grandson Alexander COCHRANE (a baby). In this census record there is no wife recorded with Henry. In the next household is Mary's brother, James MONKMAN (1847-1932).
Census 1916 in St Peters Parish: Mary COCHRANE, age 50. Children: Alexander (age 25) and Esther (age 21). Grandson: Alexander W COCHRANE (age 5). Adopted son: Harold COCHRANE (age 3). Interestingly, in this census son Daniel (age 15) was recorded as a "lodger" in the household of Catherine and James Andrew (Alfred) SMITH, age 34 (b-1882), son of William Robert Pemble SMITH in the following:\
In 1917 daughter Esther married John Lee Lewis SMITH in St Clements Pairsh, son of Hannah FRANKS & William Robert Pemble SMITH (1855-1901). ** MORE ABOUT WILLIAM ROBERT PEMBLE SMITH
November 11, 1919; Armistice Day (Remembrance Day) marked the end of the First World War.
Census 1921 in St Andrews Parish: (River Lot 97 in St Peters): Widow Mary COCHRANE (age 60) and son Alex (age 32). Grandsons: Wilfred (age 9) and Harold (age 7). Similar to the 1906 census, we have a widow Mary in this household and down the road on River Lot 104 we have: Daniel COCHRANE (age 20) and his mother, Mary THOMAS, age 60 (b-1861) and a Granddaughter Isabella DEWAR, age 16 (b-1905) ** Vital Stats: Elizabeth Isabel DEWAR born Nov 23, 1905 in RM of Louise. Mother's maiden name: Mary Ann STEWART.
In 1923 son Alexander married Isabella DENNETT in Selkirk, daughter of Catherine LAWSON and Peter DENNETT (1868-1950).
Sometime after 1926 youngest son Daniel married Christie (nee KIPLING) PARISIEN, daughter of Eliza BEAR and William KIPLING (1863-1943). Christie was the widow of William PARISIEN who died in 1926, son of Sarah PRINCE and John PARISIEN (1852-1923). ** MORE ABOUT WILLIAM KIPLING
Comments and queries at this link: FORUM DISCUSSING the HENRY COCHRANE FAMILY
============================ Family Details ============================
Children:
1. 1874 ELIZABETH JANE COCHRANE (Died in infancy, age 3)
2. 1877 ANNABELLA COCHRANE (Died in infancy)
3. 1879 ARTHUR COCHRANE (?m. Ellen THOMAS)
4. Jan, 1881 JOSEPH COCHRANE (Jessie UNKNOWN)
5. Jan 25, 1887 ALEXANDER COCHRANE (m. Isabel "Bella" DENNETT)
6. Jun 25, 1888 ESTHER COCHRANE (m. John Lee Lewis SMITH)
7. Jul 1, 1892 AGNES MABEL COCHRANE
8. Dec 23, 1900 DANIEL COCHRANE (m. Christie (nee KIPLING) PARISIEN)