JOHN LEE LEWIS SMITH (1820-1910)
ELIZABETH MARY MOORE (1824-1895)
(Last Updated: January 06, 2017)
John Lee Lewis SMITH was born on Nov 29, 1820 at Slave Lake, the eldest (living) son of Mary Ann SWAIN, a halfbreed, and HBC employee William Robert SMITH (1797-1869) from England.  ** MORE ABOUT WILLIAM ROBERT SMITH
On Oct 1, 1823 John Lee was baptized at Norway House by Missionary Reverend David JONES (1796-1844) who was on his way from York Factory to Red River as the replacement for Reverend John WEST (1778-1845), the first HBC clergyman in the Northwest.
In 1825 John Lee was about five years old when his father (William Robert) retired from the HBC and the SMITH family settled in Red River. His father became a Teacher at St Johns from 1828 to 1832 and at St Paul (Middlechurch) from 1832 to 1848.
The Rapids Church – St Andrews
1831
In 1831 Reverend William COCKRAN (1798-1865) and his wife moved to "The Rapids" (now St Andrews) where he built the first Anglican Church (a log structure). On May 1, 1832, the Church was opened and dedicated, and Reverend David JONES (1796-1844) promoted the establishment of a boarding school near the church, "to educate the sons of the gentlemen of the fur trade". It was decided that girls could attend as well.
In 1842 John Lee received 60 acres of land on Lot 38 (it was in his possession for 27 years).
Marriage to Elizabeth MOORE
1842
In 1843, John Lee married Elizabeth MOORE at 'Grand Rapids' (St Andrews,) half-breed daughter of Mary TRUTHWAITE and George MOORE (b-c1796), an HBC Voyageur. His marriage was performed by Reverend William COCKRAN (1798-1865); witnessed by James GUNN and John MACDONALD.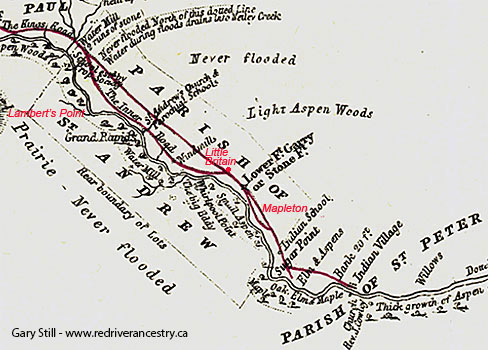 St Andrews Parish from Hind's Map of 1857
Around 1844 daughter Elizabeth was born in Mapleton.
On June 13, 1846 daughter Margaret Jane was born at 'Grand Rapids' (Lockport); baptized by Reverend Abraham COWLEY. She died 10 days later.
From 1846 to 1849 John was noted for helping to build the St Andrews Church.
In 1851 John's mother (Mary Ann) died.  In 1852 his 55 year-old father, William Robert SMITH, remarried to Ann OMAND who was only 23 years old, daughter of Jane BROWN & James OMAND (1798-1850), an HBC voyageur from the Orkneys of Scotland.
On Dec 22, 1852 John was paid for dismantling five bridges at Sugar Point.
In 1855 it is said that son William was born at Breezy Point, indicating that John Lee was living in the St Peters Indian Settlement. 
From 1865 to 1867 it is said that John Lee worked for the HBC at Lower Fort Garry.
Canadian Confederation
Red River Rebellion
Manitoba becomes a Province
1867-1870
On July 1, 1867 the British colonies in North America were united under the British North American Act to become the Dominion of Canada.  Sir John A MACDONALD (1815-1891) was appointed as Canada's first Prime Minister. William McDOUGALL (1822-1905) became the Minister of Public Works, and he began negotiations to acquire Rupert's Land from the HBC. Surveyors were sent to Red Rivers to prepare the way for an expected influx of settlers.
It was around 1867 that daughter Elizabeth "Eliza" married William THOMAS (1844-1931), an Indian of St Peters Parish.
On Oct 11, 1869, Louis RIEL (1844-1885) placed his foot on the surveyors' chain to tell them their work was finished! This marked the beginning of another Red River Métis Rebellion. When it was all over, RIEL's Provisional Government accepted the terms of the Manitoba Act and on July 15,1870 Manitoba became the fifth province of Canada, the Canadian Government having acquired the territory previously governed by the HBC.
Around 1870 son John George was married to Margaret IRVINE, daughter of Margaret PARK & John IRVINE (1820-1904). ** MORE ABOUT JOHN IRVINE

In 1870 John's family was recorded on Lot 14 in St Andrews Parish; children at home were Sarah (age 18), William (15), James (12), Charlotte (7) and Samuel (age 4).
Treaty Number One
1871
On Aug 3, 1871, Chief Henry Red Eagle (Mis-koo-ke-new) PRINCE (1819-1902) signed Treaty Number One, representing the St Peters Indian Band. ** MORE ABOUT CHIEF HENRY PRINCE and the ST PETERS RESERVE
Around 1871 son Patrick married Grace IRWIN, daughter of Matilda TATE, a half-breed, & James IRWIN (1816-1903) from England.
In 1875 daughter Sarah married James Allen STEVENS (1851-1885) from Ontario.
Until 1874 John Lee was receiving Treaty annuities as a member of the St Peters Indian Band, at which time he requested that his name be struck off the Indian Pay List (in order to qualify for Métis Scrip). On Sep 1, 1875 Elizabeth claimed Scrip for their children, James, Charlotte and Samuel; and John LL applied for his own Scrip on Nov 5, 1875. The family was living on Lots 114-115 in St Peters Parish. This location is near the north end of the Reserve, south of Breezy Point as shown on the map below). In 1887 John Lee received Patent for that property.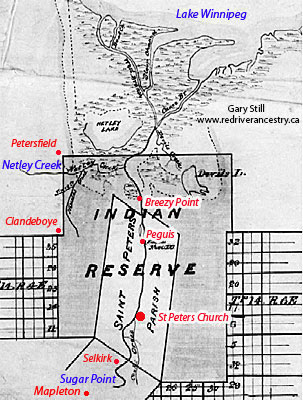 Boundaries of the St Peters Reserve after Treaty No.1
From ICC (Indian Claims Commission): By 1876 St Peters Parish was divided in two, the Saulteaux and Cree having become openly antagonistic toward one another.  The formal split caused the Reserve to alter in appearance with the southern half (Dynevor) occupied by the Cree basically with the northern half (Peguis) housing the Saulteaux. - - half of the Parish's population had become non-treaty Indians - - farming had become a subsidiary occupation for many of the Indians who drifted back to fishing and hunting - - for longer periods of time - - they were also working at many manual labour jobs and accepting occupations outside of the reserve setting.
The existence of the privately held river lots within the boundaries of the St Peters Reserve, and the conflicts that arose as a result, would plague the DIA for decades. One source of conflict concerned the right of Treaty Indians to sell property owned by them prior to Treaty One. There was a divergence of opinion among high-ranking officials of the Department on this point. Wemyss SIMPSON (1824-1894) believed that the St Peters Indians could not be prevented from selling their holdings, given that it had been agreed at the Treaty negotiations that the river lots would remain their own property, whereas the Minister of the Interior had made public statements to the contrary.
In 1877 youngest daughter Charlotte married James McLENNAN, son of halfbreed Ann Margaret SUTHERLAND & Murdoch McLENNAN (1822-1916) from Scotland. ** MORE ABOUT MURDOCH McLENNAN
In 1880 son William married Hannah FRANKS in Selkirk, daughter of Sarah FLETT & James FRANKS (1813-1884).
By 1881 John had moved back to St Andrews Parish where in the census that year he was recorded as a 60 year old farmer; wife Elizabeth as age 56; children as Jane (age 15) and Samuel (age 12).
On June 15, 1882 the Town of Selkirk was incorporated.
In 1886 son James married Mary SANDERSON, daughter of Margaret & John SANDERSON (1820-1916).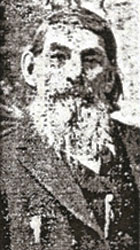 John Lee Lewis Smith
Western Land Grants: Oct 27, 1887: Lots 114-115 St Peters Parish: John Lee Lewis SMITH.
In the 1891 Census John (age 70) and Elizabeth (age 54) were recorded in St Andrews Parish. With them were son James (age 31) and his wife Mary (age 25); and son Samuel (age 24). Also their STEVENS grandchildren (daughter Sarah's children): Allan H STEVENS (age 15), Daisy (13), Sophia (10) and John L STEVENS (age 9). Daughter & son-in-law, and grandchildren: Charlotte (age 29) & James McLENNAN (age 33) and their children: Joseph McLENNAN (age 13), Mary (11), Robert (9),  Ellen (7),  Isabella (7) and Colin McLENNAN (age 2).
In 1895 youngest son Samuel Benjamin married Jessie Jane SMITH, daughter of Harriet THOMAS & James SMITH (1825-1901), both Indians.
In 1896 daughter Sarah (widowed) re-married to Richard GARDINER (his 2nd wife), an Attendant at the Selkirk Asylum; born 1841 in West Bengal, India.
For 11 years John Lee was a Foreman on the HBC Farm at Lower Fort Garry.
Elizabeth died in 1895, age 70.
In 1902 daughter Mary Jane married Benjamin MORRISON in Selkirk, son of Nancy CUNNINGHAM and Angus MORRISON (1819-1875). ** MORE ABOUT ANGUS MORRISON
Census records indicate that John was living with daughter Sarah and son-in-law Richard GARDINER first in Selkirk in 1901, then at Winnipeg Beach in 1906. In 1906 he was also recorded in Selkirk with grandson Allen Henry STEVENS.
On April 14, 1910, John Lee Lewis SMITH died in Selkirk at the age of 89.
Please post comments and queries at this link: FORUM DISCUSSING the JOHN LEE LEWIS SMITH FAMILY
=========================== Family Details ===========================
Children:
1. c1844 ELIZABETH "ELIZA" SMITH (m. William THOMAS)
2. Jun 13, 1846 MARGARET JANE SMITH (Died in infancy)
3. Dec 8, 1848 JOHN GEORGE SMITH (m. Margaret IRVINE)
4. Jan 12, 1851 PATRICK SMITH (m. Grace IRWIN)
5. Aug 19, 1853 SARAH SMITH (m1. James Allan STEVENS, m2. Richard GARDINER)
6. Oct 13, 1855 WILLIAM ROBERT PEMBLE SMITH (m. Hannah Sarah Maude FRANKS)
** MORE ABOUT WILLIAM ROBERT PEMBLE SMITH
7. Jul 3, 1859 JAMES SMITH (?m. Mary SANDISON)
8. Feb 28, 1861 CHARLOTTE MARY SMITH (m. James McLENNAN)
9. 1865 MARY JANE SMITH (m. Benjamin MORRISON)
10. Jan 18, 1868 SAMUEL BENJAMIN SMITH (m. Jessie Jane Florence SMITH)
** MORE ABOUT SAMUEL BENJAMIN SMITH