JOHN IRVINE (1820-1904)
MARGARET PARK (1821-1882)
ANNE (nee LILLIE) HARCUS (1835-1920)
(Last Updated: June 16, 2015)
John IRVINE was born about 1820 in the York Factory Inland District, son of an Indian woman named Mary and John IRVINE SR (1792-1879), a half-breed. ** MORE ABOUT JOHN IRVINE SR
Marriage to Margaret PARK
1847-1882
On Dec 23, 1847 John married Margaret PARK in St Andrews, daughter of half-breed Margaret and John PARK (1770-1847), a retired HBC trader from the Orkneys, recently deceased.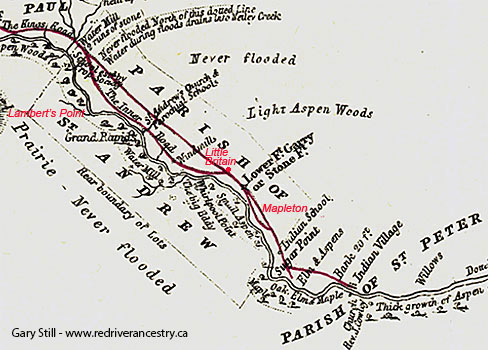 St Andrews Parish from Hind's Map of 1857
Around 1866 eldest son Cornelius married Catherine LAMBERT, daughter of Peggy FAVEL & Michel LAMBERT (1792-1875). ** MORE ABOUT MICHEL LAMBERT
Canadian Confederation
A Red River Rebellion
Manitoba becomes a Province
1867-1870
On July 1, 1867 the British colonies in North America were united under the British North American Act to become the Dominion of Canada.  Sir John A MACDONALD (1815-1891) was appointed as Canada's first Prime Minister. William McDOUGALL (1822-1905) became the Minister of Public Works, and he began negotiations to acquire Rupert's Land from the HBC; surveyors were sent to Red River to prepare the way for an expected influx of settlers.
On Oct 11, 1869, Louis RIEL (1844-1885) placed his foot on the surveyors' chain to tell them their work was finished! This marked the beginning of another Red River Métis Rebellion.
On July 15,1870 Manitoba became the fifth province of Canada, the Canadian Government having acquired the territory previously governed by the HBC. The Rebellion was essentially over.
Around 1870 eldest daughter Margaret married John George SMITH, son of Elizabeth Mary MOORE and John Lee Lewis SMITH (1820-1910). ** MORE ABOUT JOHN LEE LEWIS SMITH
Census of 1870 in St Andrews Parish (Lot 5): John IRVINE, age 49; wife Margaret IRVINE, age 49. Children: James (age 18), John (14), George (12), Catherine (10) and Annabella (age 7). Also son Cornelius IRVINE, age 23 and his wife Catherine (nee LAMBERT), age 25.
BGLFG: Names of men from St Andrews who mustered to the rescue of prisoners held by RIEL includes a John IRVINE.
In 1876 son John Jr. married Nancy MONKMAN in St Andrews, daughter of Elizabeth HENDERSON and Joseph MONKMAN (1836-1908).
Census of 1881 in St Andrews Parish:  John IRVEN (IRVINE), age 60; wife Margaret (age 60) and son James (age 26, a Divinity Student). With them are son John (age 24), his wife Nancy (nee MONKMAN; age 23) and their children: John William (age 3) and Edward (age 1). Also too, son George(age 22) and his wife Annabella (age 18).
In 1881 Margaret (nee PARK) IRVINE died in St Andrews, age 60.
Marriage to Nancy Anne (nee LILLIE) HARCUS
1882
On Mar 4, 1882 John IRVINE, a 69 year old widower,  re-married to 47 yr old Nancy Ann (nee LILLIE) HARCUS in St Andrews- HARCUS, widow of George HARCUS who died in 1880. Nancy Ann was the daughter of Mary Ann RICHARD and Daniel LILLIE (1780-1858). ** MORE ABOUT DANIEL LILLIE
In 1896 widowed son Cornelius re-married to Widow Emma (nee CAMPBELL) SAYER in Selkirk, thewidow of George SAYER (1845-1892).  ** MORE ABOUT EMMA CAMPBELL and GEORGE SAYER
Census of 1901 in St Andrews Parish: John IRVING (age 88); wife Anne (age 63) and step-children (Anne's children by George HARCUS):  John HARCUS (age 33), Elizabeth HARCUS (age 27) and Alexander HARCUS (age 24).
On June 22, 1904 John IRVINE died in St Andrews.
On Apr 1, 1920 Ann (nee LILLIE) died in St Andrews at the age of 84, as Nancy Ann HARCUS.
Comments and queries at this link: FORUM DISCUSSING the JOHN IRVINE JR FAMILY
======================= Family Details =======================
Children:
1. Nov 2, 1848 CORNELIUS IRVINE (m1. Catherine LAMBERT, m2. Emma CAMPBELL)
2. Jan 23, 1851 MARGARET IRVINE (m. John George SMITH)
3. Aug 18, 1854 JAMES IRVINE
4. Nov 13, 1855 JOHN IRVINE JR (m. Nancy MONKMAN)
5. 1858 GEORGE IRVINE (m. Annabella)
6. 1863 CATHERINE IRVINE