MICHEL LAMBERT (1792-1875)
MARGARET "PEGGY" FAVEL (1801-1891)
(Last Updated: September 06, 2015)
According to his Scrip Affidavit, Michel LAMBERT was born on June 15, 1792 in the Northwest, the child of an Indian woman and Alexis LAMBERT, a French Canadian born around 1765 in Quebec. The birth of a child in the region of Red River in that era suggests that his father was involved in the fur trade in some capacity.
Not much is known of Michel's bachelor years. Frank WALTERS, in his book 'Pieces of the Past', said that he was "from Sorel, Quebec", suggesting that his father may have had a permanent residence there and that Michel was perhaps born during one of his excursions westward.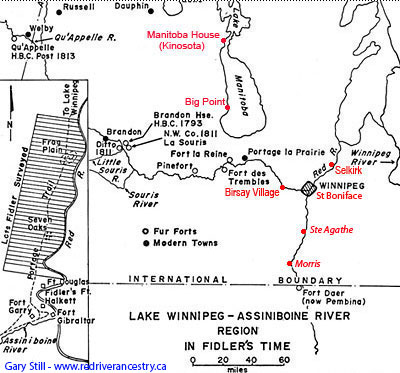 Red River Rebellion
Cuthbert GRANT on a Rampage
1815-1816
In March of 1815, at the height of the Red River Rebellion, Cuthbert GRANT at the head of 27 Métis seized four of Lord SELKIRK's colonists as hostages near the Forks (Kildonan Settlement).
In the spring of 1816 SELKIRK arrived in Montreal where he hired a group of 95 mostly-Swiss mercenaries (of the De Meuron Regiment), who had just been discharged after the War of 1812. Among his recruits was Michel LAMBERT.
On June 19, 1816 The Seven Oaks Massacre occurred with Governor Robert SEMPLE (1777-1816) and twenty of his men killed on Frog Plain (Kildonan). Cuthbert GRANT and the Métis then took Fort Douglas.
Michel LAMBERT arrives at Red River as a Soldier
1817
On June 21, 1817, Lord SELKIRK arrived at Ft Douglas with his soldiers. In August of 1817 Cuthbert GRANT gave himself up to Commissioner William COLTMAN. The Rebellion was over.
Many of the de Meuron soldiers (a medley of Germans, French, Italian, Swiss, etc) settled opposite Fort Douglas (along the Seine), giving promise of a military flavor to the Settlement, and assuring a measure of peace and stability for the colony.  The number of agricultural settlers established in the Colony by the Fall of 1817 were: 151 Scotch in 31 houses, 45 de Meurons in 31 houses and 26 French Canadians in 6 houses - a total of 222 persons in 57 houses within the Settlement proper.
On Nov 1, 1818, Father Joseph Norbert PROVENCHER (1787-1853) built a small log chapel which he dedicated to Saint Boniface, the English missionary monk and apostle, who spread the Catholic faith among the Germanic tribes in the 8th century. Saint Boniface, the first permanent mission west of the Great Lakes, became the heart of Roman Catholic missionary activity extending to the Pacific and the Arctic coasts, as well as serving the growing population of the Red River Settlement. Michel LAMBERT was of the Catholic faith.
Champion of the Fur Brigades

York Boats from the HBC Archives
With the Rebellion over, Michel LAMBERT became a "trip man" for the HBC. Frenchmen took to canoeing naturally, especially those of mixed-blood like Michel. Few of these men engaged in farming. The voyageur who did not become a hunter became a tripman. Terms associated with this occupation were mostly French (some Indian) lingo. A Red River man was "un Taureau" (bull, the French name for pemmican). A Saskatchewan man was "un Blaireau" (French for badger; that animal was a usual item on their bill-of-fare). (From Gunn)
A quote from Frank Walters: "His (Michel's) job was to stand on a platform at the rear of a York boat and steer it by using a pole with a paddle attached.  From that position he gave orders when to row or back-paddle or to prepare to portage. Any order not carried out properly he settled with his fists. His favourite pastime was challenging other Bulyers to combat. Very few were a match for him except one I heard of.  Once LAMBERT fought with a big man named HAMILTON for two days. It was a draw!" 
In the following excerpts from Echoes of the Red by John Gunn,' Poulet' refers to Paul (Paulet) PAUL (1783-1867), a huge York boatman from Saskatchewan who would fight the agile Michel LAMBERT from the Red River brigade in the "Fur-Trade Olympics" at York Factory. The brigades would all get there in time to meet the HBC ships.
Excerpts: Besides being guide of his brigade, Poulet was its champion - - When the different brigades met at York Factory, and the question which could produce the best man, came to be mooted over a regal of Hudson's Bay rum, he was ever the first to strip to the waste and stand forth to claim that honour for the Blaireau. That was the sort of man the tripman adored; and even those of the Red River who still survive have a big warm place in their hearts for Poulet, and tell of his deeds, and give him as much honour as if he had been one of themselves. This may be partly because in doing so they glorify their own champion, Michael LAMBERT, who on such occasions would step forward in the interests of the Taureaux, shake hands with Poulet, and then for the next half hour or so, proceed to enhance his picturesqueness to such a degree that his own dog would not recognize him. - - LAMBERT's successful defence of the championship on all or nearly all occasions when that task fell to him was generally attributed to his quickness of movement. But he was more than quick, he could do the knock-out trick as well as FITZSIMMONS or any of them, and seems to have been an all-round good one. Having come to the Northwest in 1817 as a soldier in Lord Selkirk's fulibusting force, he must have been pretty well on in years in the fifties, yet when about that time the captain of the ship Prince of Wales brought a huge sailor ashore to show the natives how an Englishman could handle them, it took but one blow from Michael to send him back for repairs – a broken collar-bone being the extent of the damage. He was the darling of the Taureaux, not because he was a hard man to beat, but they adored Michael because he could beat Poulet. ** MORE ABOUT PAULET PAUL in MHS
Included among Michel's fellow voyageurs, all working out of Brandon House under Peter FIDLER (1769-1822) during the Métis Rebellion, included Thomas FAVEL (1781-1848) and his brother Humphrey FAVEL (1775-1850); John KIPLING (1788-1836); Magnus SPENCE (1755-1845); John LYONS (1786-1875), and their families. All of these men would later be prominent first settlers of Mapleton in St Andrews Parish. Notable among these was Tom FAVEL who would later become Michel's father-in-law.
In 1820 Reverend John WEST (1778-1845) was sent out by the Missionary Society of the Church of England (CMS) at the request of the HBC, establishing the first Anglican Mission in the West at Kildonan.
Union of the North West Company and the Hudson's Bay Company
Michel Marries Margaret FAVEL
1821
The 1821 union of the North West Company (NWC) and the Hudson's Bay Company (HBC) occurred, ending years of bitter rivalry for dominance of the fur trade in Western Canada. After the merger, almost 1,300 employees lost their jobs since the single HBC organization that emerged had no need for most of the voyageurs and retired fur traders. George SIMPSON (1786-1860) became the Governor of Assiniboia and would rule the affairs of the HBC for many years to come.
On Jan 21, 1821 Michel married Marguerite FAVEL, daughter of Sarah (TROUT), an Indian, and fellow half-breed voyageur, Thomas FAVEL (1781-1848) at Beaver Creek. Beaver Creek was located along the Qu'Appelle River near Fort Ellice, where Marguerite's father was located around that time. ** MORE ABOUT THOMAS FAVEL
On May 20, 1822, Governor SIMPSON reported to the board of governors of the HBC that he had established a fort at the junction of the Red and Assiniboine Rivers.  He named it Fort Garry (Upper Fort Garry). Around this fort was to grow the city of Winnipeg.
Partly on account of its geographical position, but chiefly on account of its population, the Red River settlement early became the headquarters of the distributing department of the HBC. Between Fort Garry and York Factory on Hudson Bay, brigades of from four to eight boats passed and re-passed during the whole season of open water. These and indeed all the boats used by the Company, were the "York" boats, some of which may still be seen. They were usually manned by nine men, and carried from three to four tons of freight. The round trip occupied about 60 days, for which the men were paid as follows: steersman $40, bowsman, $35, and middlemen or rowers, $30.
The Great Red River Flood
Michel settles at Lambert's Point in St Andrews Parish
1826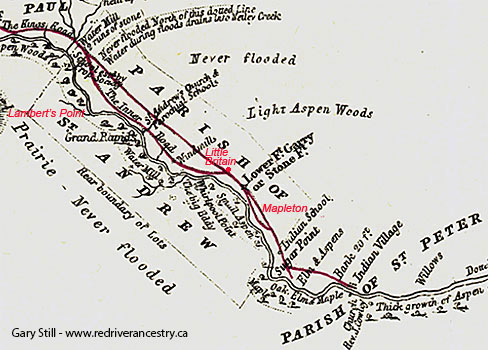 Part of Henry Hind's Map based on his observations of 1857
In the spring of 1826 the Great Red River Flood occurred; the worst ever experienced by the settlers of the time. Many homes were destroyed by the flood and settlers were forced to relocate and rebuild. More and more HBC retirees began to arrive and settlement progressed further down the river, all the way to The Rapids (now Lockport) and Mapleton; to the very edge of the Indian Settlement. This district where Michel settled became generally known as Little Britain, most of the settlers being of English-speaking origin.
The specific location where Michel settled would thereafter be known as Lambert's Point (See map above). This is where he would raise his family and where he would remain for the rest of his life.
In 1827 the first significant Census of the Red River Settlement was taken. Michel LAMBERT was enumerated as age 37; of Roman Catholic faith; age 37, born in Rupert's Land. He had a wife (Margaret); two sons and three daughters, all under the age of 16. He had a house, a cart and a canoe and he had one acre of land under cultivation. The children were not named but in my estimation the two sons would have been Tom (age 4) and John (a baby); the daughters Mary (age 5), Jane (age 2) and Sally (age 1).
In 1831 Reverend William COCKRAN (1798-1865) and his wife moved to "The Rapids" (now St Andrews) where he built the first Anglican Church (a log structure). On May 1, 1832, the Church was opened and dedicated, and Reverend David JONES (1796-1844) promoted the establishment of a boarding school near the church, "to educate the sons of the gentlemen of the fur trade". It was decided that girls could attend as well.
In 1832 daughter Margaret was born. A census that year recorded the LAMBERT s as a family of eight persons. Michel was the registered owner of two river lots in what was emerging as St Andrews Parish.
By 1835 Michel owned three cattle and a horse; a farm implement and a cart; he had four acres under cultivation on Lot 33. Some references indicate that a son Henry(?) was born in 1835, but there doesn't seem to be any later mention of him anywhere in the records; he may have died in infancy. In 1836 daughter Maria was born.
In 1837, daughter Mary married James TATE, son of James TAIT SR (1758-1834), an Orkney Scot, and an Indian woman named Sarah. The elder TATE as well as his son James had been Michel's fellow voyageurs.
Around 1840 daughter Jane became the wife of Antoine DUCHARME, son of Josephte RICHARD & Antoine DUCHARME SR (1775-1855) from Quebec. ** MORE ABOUT ANTOINE DUCHARME JR
In 1841 daughter Eliza was born and in 1846 daughter Charlotte.
In 1847, son Tom married 14 yr old Fanny DUCHARME at St Andrews, sister of the above mentioned Antoine DUCHARME.
Around 1848, son John married Hannah ASHAM, daughter of Hannah LEASK and Price ASHAM (1789-1833+).
** MORE ABOUT PRICE ASHAM
In 1849 daughter Catherine was born and finally on Nov 25, 1852, daughter Frances (Fanny) was born, Michel's last and youngest child. Margaret had given birth to 13 children in total. He was 60 years old now; Margaret 51.
In 1854 daughter Margaret married Archie JOHNSTONE, son of Fanny THOMAS & George JOHNSTONE (1803-1873). That same year daughter Maria married George SINCLAIR, son of Elizabeth ANDERSON & William SINCLAIR (1831-1890), an Orkney Scot. 
It was probably in the 1850's that daughter Sarah married Joseph ATKINSON, son of Margaret and George ATKINSON (1770-1830). ** MORE ABOUT GEORGE ATKINSON
In 1859, at St Andrews, son James married Susette DUCHARME. Michel was now the father-in-law of three of the DUCHARME siblings (Frances, Antoine & Susette), children of Josephte RICHARD and the elder Antoine DUCHARME.
In 1861 daughter Eliza married John VANDAL in St Boniface, son of Marie CHARET & Joseph VANDAL (1798-1877) from Quebec.
In 1864 Tom re-married Marie DESROSIERS in St Boniface, daughter of Marie VANDAL & Jean Baptiste DESOROSIERS (1797-1857).
In 1866 daughter Charlotte married William PHILLIPS who was born in the Orkneys. That same year, daughter Catherine began a relationship with Cornelius IRVINE, son of Margaret PARK & John IRVINE (1820-1904); they were church-wed two years later. ** MORE ABOUT JOHN IRVINE
Canadian Confederation
Red River Rebellion
Manitoba becomes a Province
1867-1870
On July 1, 1867 the British colonies in North America were united under the British North American Act to become the Dominion of Canada.  Sir John A MACDONALD (1815-1891) was appointed as Canada's first Prime Minister.
On Oct 11, 1869, Louis RIEL (1844-1885) placed his foot on the surveyors' chain to tell them their work was finished! This marked the beginning of another Red River Métis Rebellion. On Nov 2, he and 120 armed men took control of Upper Fort Garry. RIEL knew he would need the support of the English speaking settlers north of the Forks to support his actions. On Nov 6, he issued an invitation to the parishes to send 12 representatives to a meeting that would be held at Fort Garry. The men selected to represent the northern Parishes were Donald GUNN (1797-1878) for St Andrews; Thomas BUNN (1830-1875) for St Clements (Mapleton); and Chief Henry PRINCE (1819-1902) for St Peters. On Nov 27, after a number of meetings, RIEL reached a compromise with the English-speaking delegates and they agreed to the formation of a Provisional Government to replace the Council of Assiniboia.
** MORE ABOUT THE RED RIVER REBELLION in WIKIPEDIA

Lieutenant Governor William McDOUGALL (1822-1905) appointed surveyor Colonel Stoughton DENNIS (1820-1885) as a "conservator of the peace" and authorized him to raise an opposition force to arrest RIEL and put down the resurrection. DENNIS selected Major Charles Arkoll BOULTON (1841-1899), another surveyor, as second in command and together they managed to assemble a large group of volunteers. On Dec 7 the Métis captured most of these men and imprisoned them in Upper Fort Garry.
Feb 10, 1870 marked the formal dissolution of the National Committee of Métis and the installation of the Provisional Government; the Legislative Assembly of Assiniboia was formed. RIEL and his Provisional Government were now in full control of the Red River Settlement.
On March 4, 1870, Thomas SCOTT (1842-1870) was executed by firing squad by order of RIEL, a fatal mistake that would result in his demise many years later.
At the beginning of the resurrection the people of St Andrews Parish voted to support RIEL in the formation of a Provisional Government to ensure certain rights for the half-breed population of the region. However, they did not support violent measures to achieve such goals and they began to rally in opposition to his aggressive actions.
Michel LAMBERT was almost 78 years old, a veteran of the first Métis rebellion led by Cuthbert GRANT over 50 years earlier. He was too old to get involved in this one himself, but all of his available sons and sons-in-laws joined a larger group of parish volunteers who were mustered to rescue of the prisoners during the winter of 1869-70.
On July 15,1870 Manitoba became the fifth province of Canada, the Canadian Government having acquired the territory previously governed by the HBC.
On Aug 24, 1870, Colonel Garnet Joseph WOLSELY (1833-1913) and his soldiers arrived at Red River and recaptured Upper Fort Garry. Having learned that the soldiers were planning to lynch him, RIEL vacated the premises just a few hours before they arrived and he later fled to the USA.
In 1870 a Census of the Red River Settlement was taken in which the family of Michel LAMBERT was recorded on Lot 33 in St Andrews. Only two children were at home, Elizabeth (age 21) and Frances (age 18). The 21 year old Elizabeth is actually a granddaughter. Daughter Elizabeth (age 31) was already married to John VANDAL and was recorded with her family at Parkdale in the same census.
In 1870 daughter Jane (widowed) became the wife of Jean Baptiste CHARTRAND, son of Louise MAZINAK KAMIKAK and Paul CHARTRAND (1785-1839). ** MORE ABOUT PAUL JOSEPH CHARTRAND
Michel Dies
1875
On July 22, 1875 both Marguerite and Michel LAMBERT claimed their Half-breed Scrip. Before Christmas of that year, Michel LAMBERT died. He is said to have been buried on Christmas day. He would have been 78 years old.
In 1879 daughter Fanny married William KNIGHT at St Andrews, son of Elizabeth HEYWOOD and James KNIGHT (1818-1897). ** MORE ABOUT JAMES KNIGHT
By 1881 Widow Margaret LAMBERT (80 years old) had moved next-door to live with her daughter, Widow Mary TAIT (age 60). She still had her granddaughter Elizabeth (age 31) with her.
On Oct 23, 1891, Widow Margaret LAMBERT died at the age of 87.
Forum Link: ** FORUM DISCUSSIONS about the family of MICHEL LAMBERT
=============================== Family Details ===============================
Children:
1. Mar 1, 1822 MARY LAMBERT (m. James TATE)
2. 1823 THOMAS LAMBERT (m1. Frances DUCHARME, m2. Marie DESROSIERS)
3. c1825 JANE LAMBERT (m1. Antoine DUCHARME; m2. Jean Baptiste CHARTRAND)
** MORE ABOUT ANTOINE DUCHARME
4. c1826 SARAH (SALLY) LAMBERT (m. Joseph ATKINSON)
5. Sep, 1827 JOHN LAMBERT [m. Hannah "Ann" ASHAM (PRICE/ PRINCE)]
6. Aug 17, 1832 MARGARET LAMBERT (m. Archibald David JOHNSTONE)
** MORE ABOUT ARCHIBALD DAVID JOHNSTONE
7. Mar 29, 1835 HENRY LAMBERT (Died in infancy?)
8. Nov 7, 1836 MARIA LAMBERT (m. George SINCLAIR)
9. July 10, 1838 JAMES LAMBERT (m. JOSEPHTE "SUSETTE" DUCHARME)
10. Aug 1841 ELIZA LAMBERT (m. John VANDAL)
11. Sep 24, 1846 CHARLOTTE LAMBERT (m. William PHILLIPS)
** MORE ABOUT WILLIAM PHILLIPS
12. May 2, 1849 CATHERINE LAMBERT (m. Cornelius IRVINE)
13. Nov 25, 1852 FRANCES "FANNY" LAMBERT (m. William James KNIGHT)