ANTOINE DUCHARME (1816-1856)
JANE LAMBERT (1825-1914)
(Last Updated: September 21, 2017)
Antoine DUCHARME was born in 1816, son of Josephte RICHARD, the 2nd wife of his father, Antoine DUCHARME SR (1775-1850) who came from Quebec and died in Saint Francois Xavier, Manitoba.
Union of the North West Company and the Hudson's Bay Company
The 1821 union of the North West Company (NWC) and the Hudson's Bay Company (HBC) occurred, ending years of bitter rivalry for dominance of the fur trade in Western Canada.
Antoine & Jane LAMBERT
1840
Around 1840 Antoine married Jane LAMBERT, daughter of Marguerite FAVEL & Michel LAMBERT (1792-1875) The LAMBERTs lived in the "Lambert's Point" area (south of the Old St Andrews Church).
Antoine, it appears, was only about 16 yrs old when he conceived a child around 1838 with Jane LAMBERT, the 14 yr old
St Francois Xavier
By 1855 their five children had been born and they were living in St Francois Xavier. At that time those surviving would have been Marguerite (age 11), Catherine (6), Alexander (age 5), Isabella (3) and baby Josephte.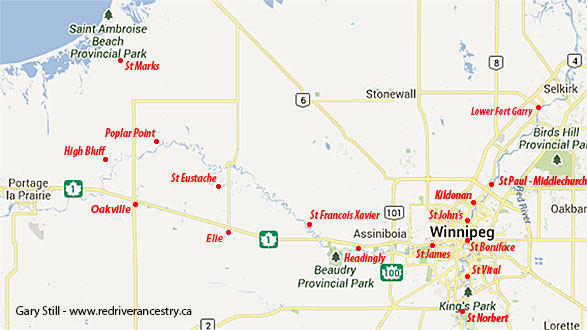 Antoine Dies in St Francois Xavier
1856
In 1856 Antoine DUCHARME died at the age of 40. He was buried in St Francois Xavier.
In her Scrip affidavit, daughter Josephte states that she lived with her parents at St Francois Xavier until the death of her father when she was adopted by John CAMPBELL of Manitoba House and was living that place with him until he died. 
In 1858 daughter Marguerite married John WARD (1837-1872), son of Angelique BRUYERE & John Jacques WARD (1800-1916).
In 1866 daughter Catherine was in a relationship with Francois POITRAS in SFX, son of Marie BRUYERE and Pierre POITRAS (1810-1889). Daughter Eliza POITRAS was born that year. It is not known what became of Catherine, but in 1872 Francois POITRAS remarried to Rosalie ST DENIS, and in 1881 baby Eliza (age 14) was recorded with her POITRAS grandparents.
Canadian Confederation
Red River Rebellion
Manitoba becomes a Province
1867-1870
On July 1, 1867 the British colonies in North America were united under the British North American Act to become the Dominion of Canada.  Sir John A MACDONALD (1815-1891) was appointed as Canada's first Prime Minister. William McDOUGALL (1822-1905) became the Minister of Public Works, and he began negotiations to acquire Rupert's Land from the HBC, sending out surveyors to prepare the way for an expected influx of settlers.
Around 1868 son Alex married Catherine CORRIGAL in St Andrews, daughter of Hannah ANDERSON and James CORRIGAL (1810-1887). ** MORE ABOUT JAMES CORRIGAL
On Oct 11, 1869, Louis RIEL (1844-1885) placed his foot on the surveyors' chain to tell them their work was finished. This marked the beginning of a Red River Metis Rebellion. In early November that year he took possession of Upper Fort Garry with armed forces, taking prisoners in the process. A list of men from who mustered to their rescue included numerous members of various CORRIGAL families from St Andrews Parish.
** MORE ABOUT THE RED RIVER REBELLION in WIKIPEDIA

On July 15, 1870 Manitoba became the fifth province of Canada, the Canadian Government having acquired the territory previously governed by the HBC. The Rebellion was essentially over.
Jane and Jean Baptiste CHARTRAND
1870
In the 1870 Census in St Francois Xavier Parish, Jane was recorded as Jane CHARTRAND (age 45). In the same household was daughter Isabelle DUCHARME (age 19). Also daughter Marguerite (age 25) and son-in-law, John WARD (age 40) with their children (Jane's grandchildren): Marguerite WARD (age 10), John (7), Mary Ann (6), James (5) and Jane WARD (age 1).
** Note: This appears to have been a brief common-law relationship with Jean Baptiste "Attickkoway" CHARTRAND (1810-1901+) from Duck Bay on Lake Winnipegosis (no apparent children with him).
** MORE ABOUT JEAN BAPTISTE CHARTRAND
Around 1870 daughter Marguerite (widowed from John WARD) re-married to Paul FAGNANT in St Albert (AB), son of Madeleine LEMIRE and Francois FAGNANT (b-1796).
In 1875 Jane was living in St Francois Xavier when she applied for her Scrip as the Antoine's widow. That year, daughter Isabella was the wife of her brother-in-law Thomas CORRIGAL, son of the aforementioned Hannah ANDERSON and James CORRIGAL (1810-1887).
In 1878 daughter Josephte married Joseph SINCLAIR at Manitoba House, probably the son of Margaret SAUVE and James SINCLAIR (1825-1875).
Census 1901: Jane DUCHARME (age 77) with her daughter and son-in-law, Isabella and Tom CORRIGAL who were then living in the Petersfield area. 
Census 1906:Jane DUCHARME (age 75?), a "boarder" in the home of Norman McLEOD at Clandeboye. This is Norman MacLEOD (1870-1936).
Census 1911: Widow Jane DUCHARME (age 84) in Petersfield area with daughter & son in law (Bella & Thomas CORRIGAL).
On Nov 13, 1914 Jane (nee LAMBERT) DUCHARME died in St Andrews, age 89.
Comments and queries at this link: FORUM DISCUSSING the ANTOINE DUCHARME FAMILY
============================= Family Details =============================
Children:
1. 1841 MARGUERITE DUCHARME (m1. John WARD, m2. Paul FAGNANT)
2. 1849 CATHERINE DUCHARME (m. Francois POITRAS)
3. 1850 ALEXANDER DUCHARME (m. Catherine CORRIGAL)
** MORE ABOUT ALEXANDER DUCHARME
4. Nov, 1852 ISABELLA DUCHARME (m. Thomas CORRIGAL)
5. 1855 JOSEPHTE DUCHARME (m. Joseph SINCLAIR)