JAMES CORRIGAL (1810-1887)
HANNAH "ANNA"ANDERSON (1810-1887)
(Last Updated: January 27, 2015)
James CORRIGAL was born around 1810, probably at York Factory, son of Margaret (Indian) and Peter CORRIGAL (1782-1866), an HBC voyageur from the Orkneys.  ** MORE ABOUT PETER CORRIGAL in HBC ARCHIVES
Marriage to Hannah ANDERSON
1828
In 1828 James married Hannah ANDERSON at St Johns (Winnipeg), daughter of Mary Suzette DEMORAN and James ANDERSON (1775-1856). ** MORE ABOUT JAMES ANDERSON
They spent the rest of their lives in St Andrews Parish (in the Lambert's Point area, south of Lockport)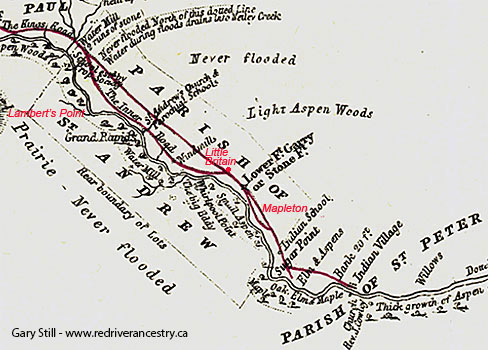 St Andrews Parish from Hind's Map of 1857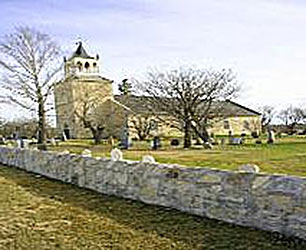 The old St Andrews Church on the Red
ERed2, Map pg 156:  Distribution of Landowners St Andrews Parish 1835 shows James CORRIGAL as owner of Lot 119, north or the St Paul's Parish boundary, and south of the old St Andrews Church.
Around 1850 eldest daughter Elizabeth married David HALCRO at St Andrews, son of Mary (Indian) and Thomas HALCROW SR (1781-1854). ** MORE ABOUT THOMAS HALCROW SR
In 1859 son John married Maria HALCRO, and in 1861 daughter Mary Ann married her brother-in-law Joseph HALCRO at St Andrews. Maria and Joseph were both children of Charlotte KNIGHT and Thomas HALCROW JR (1815-1854).
** MORE ABOUT THOMAS HALCROW JR
By 1860 all of their children had been born. Those still at home would have been James (age 27), John (24), George (20), Mary Ann (15), Margaret (13), Catherine (11), William (9), Annabella (age 4) and baby Thomas.
In 1865 daughter Margaret married Adolphus BALLENDINE, son of Fanny LEWIS and James BALLENDINE (1807-1864).
Canadian Confederation
Red River Rebellion
Manitoba becomes a Province
1867-1870
On July 1, 1867 the British colonies in North America were united under the British North American Act to become the Dominion of Canada.  Sir John A MACDONALD (1815-1891) was appointed as Canada's first Prime Minister. William McDOUGALL (1822-1905) became the Minister of Public Works, and he begannegotiations to acquire Rupert's Land from the HBC, sending out surveyors to prepare the way for an expected influx of settlers.
Around 1868 daughter Catherine married Alexander DUCHARME, son of Jane LAMBERT and Antoine DUCHARME (1816-1856). ** MORE ABOUT ANTOINE DUCHARME
On Oct 11, 1869, Louis RIEL (1844-1885) placed his foot on the surveyors' chain to tell them their work was finished. This marked the beginning of a Red River Metis Rebellion. In early November that year he took possession of Upper Fort Garry with armed forces, taking prisoners in the process. A list of men from who mustered to their rescue included numerous members of various CORRIGAL families from St Andrews Parish.
** MORE ABOUT THE RED RIVER REBELLION in WIKIPEDIA
On July 15,1870 Manitoba became the fifth province of Canada, the Canadian Government having acquired the territory previously governed by the HBC.The Rebellion was essentially over.
Census 1870 in St Andrews Parish: James CORRIGAL, age 66; wife Anna, age 60. Children at home: James Jr. (age 40), George (30), William (age 20) and Thomas (age 10).

River Lot Occupancy 1870 St Andrews Parish: James CORRIGAL on Lot 52, between Lamberts Point and old St Andrews Church. On the same listing, there is another James CORRIGAL on Lot 145 southeast of the Lower Fort, on the east side
** There does appear to be two different men by that name who were around the same age and this causes some confusion when trying to distinguish them in the early records. A James CORRIGAL (1795-1887) from Scotland also lived in the area and is perhaps most often confused with our James.** MORE ABOUT JAMES CORRIGAL (1795-1874)
Around 1875 youngest son Thomas married his sister-in-law, Isabella DUCHARME, daughter of Jane LAMBERT and Antoine DUCHARME (1816-1856).
Census of 1881 in St Andrews:James CORRIGAL, age 70; wife Hannah, age 60 and son James (age 47). With them are youngest son Thomas (age 25), his wife Isabella (nee DUCHARME) and their children: Eliza Jane (age 4), Charles Albert (2) and their baby Alex. Also with them is an adopted son, Richard TURNER, age 19). He was the son of Jane and Richard TURNER (1820-1869).
Article from the Winnipeg Free Press dated Feb 10, 1887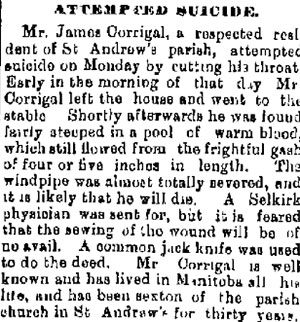 He did die (Vital Stats), and on July 24 that same year his wife Hannah (nee ANDERSON) CORRIGAL also died.
Comments and queries at this link: FORUM DISCUSSING this JAMES CORRIGAL FAMILY
========================== Family Details ==========================
Children:
1. 1830 ELIZABETH CORRIGAL (m. David HALCRO)
2. 1833 JAMES CORRIGAL JR
3. Mar 31, 1836 JOHN HENRY CORRIGAL (m. Maria HALCRO)
4. 1840 GEORGE CORRIGAL
5. June, 1845 MARY ANN CORRIGAL (m. Joseph HALCRO)
6. 1847 MARGARET CORRIGAL (m. Adolphus BALLENDINE)
7. Mar 27, 1849 CATHERINE CORRIGAL (m. Alexander DUCHARME)
** MORE ABOUT ALEXANDER DUCHARME
8. May 25, 1851 WILLIAM CORRIGAL
9. Feb 3, 1856 ANNABELLA CORRIGAL (Died age 19)
10. Aug, 1860 THOMAS CORRIGAL (m. Isabella DUCHARME)