JEAN BAPTISTE "ATTICKKOWAY" CHARTRAND (1810-1901+)
LOUISE STEVENS (1820-
MARY STEVENS (1830-)
JANE (nee LAMBERT) DUCHARME (1825-1914)
(Last Updated: September 07, 2015)
Jean Baptiste "Attick-Koway" CHARTRAND was born 1810 at Duck Bay (on Lake Winnipegosis, MB), the eldest son of Louise MAZINAK KAMIKAK and Paul Joseph CHARTRAND (1785-1839) from Quebec.
** MORE ABOUT PAUL JOSEPH CHARTRAND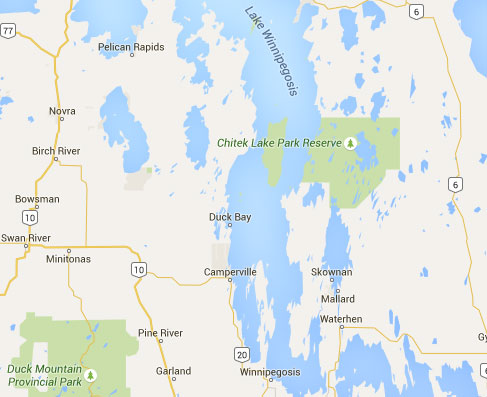 Marriage to Louise STEVENS
1840
In 1840 Jean Baptiste married Louise STEVENS in St Boniface, daughter of a Cree woman and Robert STEVENS of uncertain origins. ** Baptiste later indicated that he was not legally married to Louise. Children from this union were Louise, Nancy and William.
Marriage to Mary STEVENS
1858
In 1858 Jean Baptiste married Mary STEVENS (a "country marriage").
In 1862 eldest daughter Louise married Jean Baptiste LAROCQUE in St Boniface, son of Catherine LAFOURNAISE and Charles LAROCQUE (b-1810).
Canadian Confederation
A Red River Rebellion
Manitoba becomes a Province
1867-1870
On July 1, 1867 the British colonies in North America were united under the British North American Act to become the Dominion of Canada.  Sir John A MACDONALD (1815-1891) was appointed as Canada's first Prime Minister. William McDOUGALL (1822-1905) became the Minister of Public Works, and he began negotiations to acquire Rupert's Land from the HBC; surveyors were sent to Red River to prepare the way for an expected influx of settlers.
On Oct 11, 1869, Louis RIEL (1844-1885) placed his foot on the surveyors' chain to tell them their work was finished! This marked the beginning of the historic Red River Métis Rebellion.
On July 15, 1870 the Rebellion ended when RIEL's Provisional Government accepted the terms of the Manitoba Act and Manitoba became the fifth province of Canada.
Marriage to Jane LAMBERT
1870
In the 1870 Census in St Francois Xavier Parish, Jane (nee LAMBERT) DUCHARME was recorded as Jane CHARTRAND (age 45). Jane had previously (1840) been married to Antoine DUCHARME (1816-1856).
** MORE ABOUT ANTOINE DUCHARME
In 1870 daughter Nancy married Joseph BEAUCHAMP in Duck Bay, son of Catherine DELORME and Joseph BEAUCHAMP SR (b-1826).
In 1873 son William married Sophie GENAILLE in Duck Bay, daughter of Charlotte LAFLEUR and Pierre GENAILLE (1820-1890).
In 1876 daughter Adelaide married her brother-in-law, Josaph GENAILLE in Duck Bay, son of Charlotte LAFLEUR and Pierre GENAILLE (1820-1890).
In 1876 Jean Baptiste obtained a Discharge from Treaty as a member of the Duck Bay Indian Band in order that he could obtain Half-breed Scrip. In 1878 he obtained Land Grants in the St Laurent area (14-16-3-Wpm).
In 1878 son Pierre married Rose PANGMAN in Duck Bay, daughter of Marie SHORT and Peter PANGMAN (b-1815).
Census of 1881 in the Winnipegosis District:Baptiste CHARTRAND, age 66; wife Marie, age 50. Children: Pierre, age 24 (his wife Larose, age 22; and daughter Eliza, age 2), Angelique (18), Philomena (16), Isabella (14), Francois (11), Baptiste (9) and Gaspard (7).
In 1884 daughter Philomena married William FLETT in Duck Bay, son of Mary PEEBLES and James FLETT (1828-1906), HBC clerk from the Orkneys.
Also in 1884 daughter Angelique married Pierre DUCHARME in Duck Bay, son of Julie DESCHAMPS and Louis DUCHARME (1818-1888).
In 1887 Jean Baptiste CHARTRAND of Duck Bay claimed his Half-breed Scrip. In this affidavit he states that he was married to Jane LAMBERT who was then living in Manitoba.
In 1887 son Joseph married Caroline PAUL in Waterhen River, daughter of Suzanne GERVAIS and Marc (Mathe) PAUL (b-1833).
In 1888 daughter Isabelle married in Duck Bay to Francois MONSWANO of unknown origins.
Census of 1891 in the Riding Mountain district: Baptiste CHARTRAND, age 78; wife Marie, age 65. Children: Francois (age 25), Baptiste (17), Gaspard (14) and Veronique (age 8).
By 1901 son Francois was married to Eliza McKAY of uncertain origins and was living in Duck Bay.
Also by 1901 son Baptiste was married to Jemima MOAR, a child of Emma BRASS & John MOAR (b-1856).
Jean Baptiste CHARTRAND was still living in 1901 at The Narrows when/ where he claimed Scrip for his two deceased children; Marie Louise and Gaspard.
Comment and queries at this link: FORUM DISCUSSING THE JEAN BAPTISTE CHARTRAND FAMILY
============================ Family Details ============================
Children with Louise STEVENS:
1. 1847 LOUISE CHARTRAND (m. Jean Baptiste Francois LAROCQUE)
2. Sep 20, 1850 NANCY CHARTRAND (m. Joseph BEAUCHAMP)
3. 1853 WILLIAM CHARTRAND (m. Sophie GENAILLE)
Children with Mary STEVENS:
1. 1856 MARY CHARTRAND (m. William SINCLAIR)
2. 1859 ADELAIDE CHARTRAND (m. Joseph GENAILLE)
3. Feb 3, 1860 PIERRE CHARTRAND (m. Rose PANGMAN)
4. 1862 JOSEPH CHARTRAND (m. Caroline PAUL)
5. 1863 ANGELIQUE CHARTRAND (m. Pierre DUCHARME)
6. 1865 PHILOMENE CHARTRAND (m. William FLETT)
7. 1867 ISABELLE CHARTRAND (m. Francois MANSWANO)
8. Jan 21, 1872 FRANCIS/FRANCOIS CHARTRAND (m. Eliza McKAY)
9. 1874 BAPTISTE CHARTRAND (m. Jemima BRASS-MOAR)
10. May 20, 1875 MARIE LOUISE CHARTRAND (Died age 4)
11. Nov 8, 1877 GASPARD CHARTRAND (Died in infancy)
12. Jul 17, 1883 VERONIQUE CHARTRAND