JAMES TATE aka TAIT (1810-c1878)
MARY LAMBERT (1822-1911)
(Last Updated: May 14, 2013)
James TATE was born around 1810, probably at York Factory, the son of an Indian woman named Sarah and James TATE SR (1758-1834), an HBC voyageur (boat man) from the Orkneys of Scotland.
On Nov 6, 1820, according to the HBC Archives (HBCA), James was baptized at St Andrews (Red River) at the age of 10.
Union of the North West Company and the Hudson's Bay Company
1821
The 1821 union of the North West Company (NWC) and the Hudson's Bay Company (HBC) ended years of bitter rivalry for dominance of the fur trade in Western Canada.George SIMPSON (1786-1860) became the Governor of Assiniboia and would rule the affairs of the HBC for many years to come.
Swan River District
1831-1840
From 1831 to 1840 James worked for the HBC as a labourer and canoe man (voyageur) in the Swan River District. In the years 1832, 1834, 1836 and 1838 he signed contracts at Fort Ellice.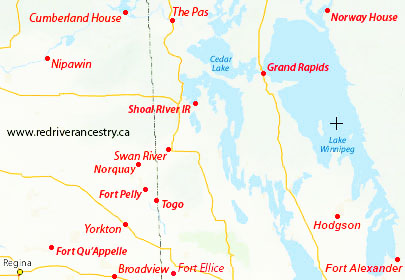 Marriage to Mary LAMBERT
1837
On Feb 21, 1837 James married Mary LAMBERT, the daughter of Margaret (nee FAVEL) and fellow voyageur, Michel LAMBERT (1792-1875), a veteran of the fur brigades. ** MORE ABOUT MICHEL LAMBERT
Retired to Red River
1840
In 1840 James retired to Red River where he eventually settled in St Andrews Parish on Lot 34 (Lambert's Point), next to his father-in-law Michel LAMBERT.
On March 5, 1854 daughter Lydia was born; their only child.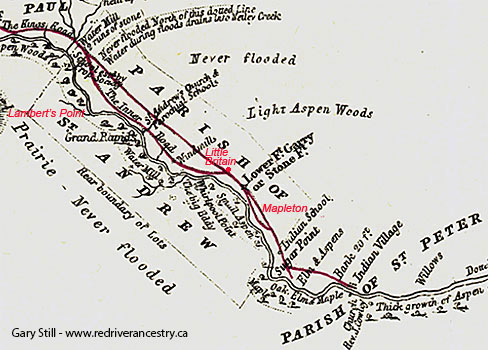 St Andrews Parish from Henry Hind's Map of 1857
Canadian Confederation
The Riel Rebellion
Manitoba becomes a Province
1867-1870
On July 1, 1867 the British colonies in North America were united under the British North American Act to become the Dominion of Canada. Between 1869 and 1870, The Red River Rebellion occurred; led by Louis RIEL (1844-1885).On July 15,1870 Manitoba became the fifth province of Canada, the Canadian Government having acquired the territory previously governed by the HBC.
In 1875 both Mary & James TATE (of St Andrew Parish) claimed their Scrip (as husband & wife). Mary's father, Michel LAMBERT died that same year.
In 1877 daughter Lydia married James PORTER (1852-1922) of Irish origins, a Merchant of Crockery and Chinaware from York West (Toronto). The newly-weds returned to York West where they began to raise a family.
James TATE Dies
1878
Around 1878 (Estimate) James TATE died. His widow Mary would have been about 56 years old when her husband died.
1881
In the Canadian Census of 1881 Widow Mary's only child, daughter Lydia PORTER was recorded in York West with two children, Frederick PORTER (age 2) and baby Mary Louise PORTER.
In the 1881 Census in St Andrews Parish (Lambert's Point) we find an interesting group of misfits living with Widow Mary TAIT, age 60. Her mother, Widow Margaret (nee FAVEL) LAMBERT (age 80) is with her now. Also with these elderly ladies are 1) Sarah FLETT (age 29), 2) Donald McLENNAN (age 17), 3) Elizabeth LAMBERT (age 31) and 4) Sarah SINCLAIR (age 15).
1) Elizabeth LAMBERT (age 31 in 1881) was born around 1850, a child of Hannah ASHAM PRINCE who married Mary's brother, John LAMBERT (1827-1902) around that time. It is uncertain whether John LAMBERT was actually Elizabeth's father. ** MORE ABOUT JOHN LAMBERT
2) Sarah FLETT (age 29 in 1881) was born in 1852 and is identified in an 1875 Scrip records as a deaf-mute child of Ellen ATKINSON. Her father was probably Robert FLETT (b-1732) who went to Oregon in 1854. In 1855 Ellen ATKINSON remarried to John FLETT (1825-1887). In the 1891 Census, Sarah FLETT was recorded in an 'Institution' (Perhaps the Selkirk Asylum) as age 40, a 'Moccasin Maker.'
3) Donald McLENNAN(age 17 in 1881) was born in 1864, son of Ann Margaret SUTHERLAND and Murdoch McLENNAN (1825-1916) from the Orkneys. ** MORE ABOUT DONALD McLENNAN
4) Sarah SINCLAIR (age 15 in 1881) was born in 1866 of uncertain origins. She may have been a daughter of Margaret OIG and Robert SINCLAIR (b-1846).
Widow Mary moves to Winnipeg
1885
Around 1885 daughter Lydia and son-in-law James PORTER moved from Toronto to Winnipeg. James established a Wholesale Crockery business there. Soon after, Widow Mary TATE moved in with them and remained there under their care for the rest of her life. She was recorded there in the Census of 1891.
On Oct 23, 1891 Mary's mother, Margaret FAVEL-LAMBERT died at Lambert's Point at the age of 87.
On June 11, 1911 Widow Mary LAMBERT-TATE died in Winnipeg at the age of 87.
Please post comments and queries at this link: FORUM DISCUSSING the JAMES TATE FAMILY
=============================== Family Details ===============================
Only Child:
1. Mar 5, 1854 LYDIA TATE (m. James PORTER)