JOHN LAMBERT (1827-1902)
HANNAH "ANN" ASHAM PRINCE (c1835-?)
(Last Updated: May 30, 2017)
John LAMBERT was born in the fall of 1827 at Lambert's Point (see Map below), son of Margaret FAVEL & Michel LAMBERT (1792-1875), both half-breeds. His father came to Red River from Quebec as a soldier and later worked for the Hudson's Bay Company as a voyageur. ** MORE ABOUT MICHEL LAMBERT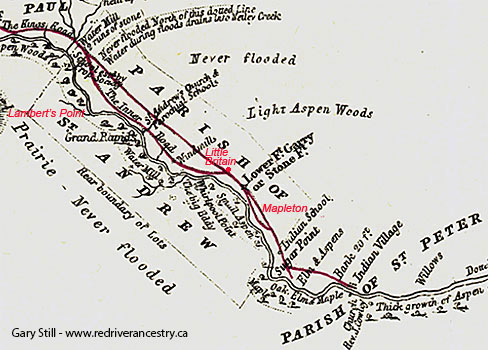 Part of Henry Hind's Map based on his observations of 1857
John was raised at Lambert's Point. He was about five years old in 1832 when construction of Lower Fort Garry was started and the first St Andrews Church was opened and dedicated by Reverend David JONES (1796-1844). At that time these were mainly log structures. In the summer of 1833 construction of a boarding school (Red River Academy) was completed. This was the first English-speaking high school in the northwest. John MACALLUM (1806-1849) arrived as a schoolteacher for the boys section.
Marriage to Hannah ASHAM
1848
Around 1848 John married Hannah (Anna) ASHAM, daughter of Hannah LEASK and Price ASHAM (1789-1833+).
** MORE ABOUT PRICE ASHAM
Reverend Robert JAMES was the pastor at the St Andrews Church at the time of John's union with Hannah. He baptized John's first two children; Andrew on Aug 3, 1849 and William John on March 11, 1851. Rev. JAMES departed that summer and was replaced by Archdeacon William COCKRAN (1798-1865) who baptized John's third child, Margaret, on Aug 20, 1854.
Reverend William West KIRKBY (1827-1907) came to the Red River Settlement in 1852 as Master of the Model School at St. Andrew's (founded by the COCKRAN and JAMES). It was KIRKBY who baptized James' fourth child, Michael, on Oct 18, 1857.
In 1859 Reverend James HUNTER (1817-1882) returned from the far north to replace KIRKBY, and on Nov 11, 1860, he baptized John's fifth child, Mary.
On Dec 27, 1859 Henry COCHRANE (1834-1898), a Cree Indian, was ordained into the priesthood at the St Andrews Church. On Sep 20, 1863, Rev. COCHRANE baptized John's sixth and last child, Catherine.
Canadian Confederation
1867
On July 1, 1867 the British colonies in North America were united under the British North American Act to become the Dominion of Canada. Sir John A MACDONALD (1815-1891) was appointed as Canada's first Prime Minister.
Louis RIEL and a Red River Rebellion
Manitoba becomes a Province
1869-1870
On Oct 11, 1869, Louis RIEL (1844-1885) placed his foot on the surveyors' chain to tell them their work was finished! This marked the beginning of another Red River Métis Rebellion. On Nov 2, he and 120 armed men took control of Upper Fort Garry. RIEL knew he would need the support of the English speaking settlers north of the Forks to support his actions. On Nov 6, he issued an invitation to the parishes to send 12 representatives to a meeting that would be held at Fort Garry. The men selected to represent the northern Parishes were Donald GUNN (1797-1878) for St Andrews; Thomas BUNN (1830-1875) for St Clements (Mapleton); and Chief Henry PRINCE (1819-1902) for St Peters. On Nov 27, after a number of meetings, RIEL reached a compromise with the English-speaking delegates and they agreed to the formation of a Provisional Government to replace the Council of Assiniboia.
Lieutenant Governor William McDOUGALL (1822-1905) appointed surveyor Colonel Stoughton DENNIS (1820-1885) as a "conservator of the peace" and authorized him to raise an opposition force to arrest RIEL and put down the resurrection. DENNIS selected Major Charles Arkoll BOULTON (1841-1899), another surveyor, as second in command and together they managed to assemble a large group of volunteers. On Dec 7 the Métis captured most of these men and imprisoned them in Upper Fort Garry.
Manitoba becomes a Province
1870
Feb 10, 1870 marked the formal dissolution of the National Committee of Métis and the installation of the Provisional Government; the Legislative Assembly of Assiniboia was formed. RIEL and his Provisional Government were now in full control of the Red River Settlement. On March 4 Thomas SCOTT (1842-1870) was executed by firing squad by order of RIEL, a fatal mistake that would result in his demise.
At the beginning of the resurrection the people of St Andrews Parish voted to support RIEL in the formation of a Provisional Government to ensure certain rights for the half-breed population of the region. However, they did not support violent measures to achieve such goals and they began to rally in opposition to his aggressive actions.
John LAMBERT, his son John Jr. and his brothers and brothers-in-law were amongst the parish volunteers who mustered to the rescue of those imprisoned by RIEL.
Adoption of Baby Bella
It must have been during the Rebellion that Hannah & John adopted baby Bella. Why they adopted a baby when they already had a large young family to care for is somewhat puzzling. Bella was born on Aug 5, 1868 in St Paul Parish, the illegitimated child of Mary Ann LILLIE and Roderick COOK, 21 year old son of Susanna SHORT & Samuel COOK (1798-1864). COOK married that same year to Eliza McLENNAN. ** MORE ABOUT RODERICK COOK
Mary Ann LILLIE was the daughter of Mary Ann RICHARDS (an Indian from St Peters) & Daniel LILLIE (1780-1858), an Englishman who worked for the HBC. In 1845 her mother died soon after giving birth to her and her twin brother (John George LILLIE). Her father died in 1858 and Mary Ann was essentially orphaned at the age of 13. In 1864 (age 19) she conceived a child with 24 year old Donald CUMMINGS, son of Clementine HARPER & Robert CUMMINGS (1795-1863) from the Orkneys, and on Jan 24, 1865 she gave birth to a daughter, Jane Ann CUMMINGS, in the Parish of St Paul. Then, in 1867 she had a second affair with Roderick COOK with baby Bella being born on Aug 5, 1868. Around that time Donald CUMMINGS began a relationship with Sarah JOHNSTON, daughter of Margaret INDIAN & William JOHNSTON (1827-1856), a half-breed and once more Mary Ann found herself abandoned. These were the circumstances leading up to baby Bella being adopted by Hannah & John LAMBERT.
In 1870 a Census of the Red River Settlement was taken in which John's family was recorded on Lot 32 (next to his father) in St Andrews Parish. The children were Andrew (age 21), William (20), Margaret (16), Michel (12), Marianne (9), Catherine (7) and Bella (age 2, adopted).
In  December of 1870 in St Andrews Mary Ann LILLIE married Peter LEWIS, son of Isabella SPENCE & James LOUIS/ LEWIS (b-1807), the half-breed descendant of African American Joseph LOUIS alias Levy JOHNSON (1773-1820). Baby Bella remained with Hannah & John LAMBERT and was raised by them while Mary Ann went on to have about five more children with Peter LEWIS.
In 1872 son Andrew married Harriet SANDERSON in St Peters, daughter of Jane HENDERSON & George SANDERSON (1810-1885), both half-breeds.
In 1873 son William John LAMBERT (age 23), then a Middleman voyageur for three years working out of Lower Fort Garry was transferred away to Fort Chipewyan in the Athabasca District.
On July 22, 1875, Hannah made two separate applications for Scrip; one for herself  (as the wife of John LAMBERT) and one for her three youngest children, Michael, Mary Ann and Catherine), indicating that her husband (John) was absent at York Factory at that time and that son Michael was at Poplar Point. That same day Mary Ann (nee LILLIE) LEWIS made application for her illegitimate child, Bella, now known as LAMBERT, indicating that Bella was adopted by Mrs. John LAMBERT.
On Aug 17, 1875, daughter Margaret (of Poplar Point) claimed Scrip as the wife of William TAYLOR. I'm not sure of William's origins, but he was may have been the son of Amelia BIRD & James TAYLOR (1825-1897).
In 1878 Lot 32, St Andrews Parish, was patented to John LAMBERT.
In 1878 son William John married Eliza LIZOTTE at Fort Chipewyan, daughter of Sophie TOURANGEAU and Michel LIZOTTE (1818-1917). ** MORE ABOUT MICHEL LIZOTTE
On Oct 20, 1889, son Michael died in St Andrews at the age 30 (circumstances unknown to me).
In 1881 adopted daughter Bella (COOK) LAMBERT (age 13) was still with the family. Around 1890 she married someone with the surname ABBOTT.
Around 1890 daughter Mary Ann married George William GOVE (born c1855 in Maine, USA)
In the 1891 census, daughter Catherine (age 25) was still as home. Interestingly, daughter Margaret (age 30, who had been married to William TAYLOR, but was recorded with her LAMBERT surname) is back at home working in the capacity of a "domestic servant". Also with them is a granddaughter named Catherine A LAMBERT (age 8; whose parents I cannot ascertain) and grandson John George LAMBERT (Andrew's son).
In the 1901 census daughter Catherine (age 30) is the only child at home as well as an eight year old granddaughter named Millicent LAMBERT (parents unknown).
John LAMBERT dies at the age of 75
1902
John LAMBERT died Oct 12, 1902 at Lambett's Point, age 75.
Oct 12, 1904 daughter Catherine married William BEGLEY in St Andrews, a 38 year old widowed Irishman from Quebec. In the census of 1906 they are both living at Lambert's Point with Catherine's  86 year old mother, Widow Annie LAMBERT. Granddaughters Millie (age 13) and Eveline (age 10) LAMBERT are also with Grandma.
Census 1906:  Widow Annie LAMBERT, age 86, with daughter Catherine & son-in-law William BIGLEY in St Andrews. With them are Annie's granddaughters: Millie (age 13) & Eveline LAMBERT (age 10).
In the 1911 census we find Widow Hannah LAMBERT (age 88) with her 61 year old son, Andrew LAMBERT on Clandeboye Avenue in Selkirk. This is the last record to be found for either Hannah or Andrew; they may have both died before the census of 1916 in which their names cannot be found.
Questions or comments? Link: DISCUSSION FORUM regarding FAMILY of JOHN LAMBERT
=========================== Family Details ===========================
Children:
1. Aug 3, 1849 ANDREW LAMBERT (m. Harriet SANDERSON)
?2. c1850 ELIZABETH LAMBERT
3. 1851 WILLIAM JOHN LAMBERT (m. Eliza (Elise) LIZOTTE)
4. Aug 18, 1855 MARGARET LAMBERT (m. William TAYLOR)
5. Aug 8, 1857 MICHAEL LAMBERT (Died age 30)
6. Sep 18, 1860 MARY ANN LAMBERT (m. George William GOVE)
7. Aug 30, 1863 CATHERINE "KATE" LAMBERT (m. William BEGLEY)
Adopted (Illegitimate child of Mary LILLIE & Rod COOK):
1. Aug 5, 1868 BELLA (COOK) LAMBERT (?m. Unknown ABBOTT)