ANDREW LAMBERT (1849-c1915)
HARRIET SANDERSON (1853-c1915)
(Last Updated: January 28, 2014)
Andrew LAMBERT was born Aug 3, 1849 St Andrews Parish (St Peters). His mother (Hannah ASHAM-PRINCE) was probably a granddaughter of Chief PEGUIS (1774-1864). His father, John LAMBERT (1827-1902), a half-breed, lived his entire life at Lambert's Point (see map below). ** MORE ABOUT JOHN LAMBERT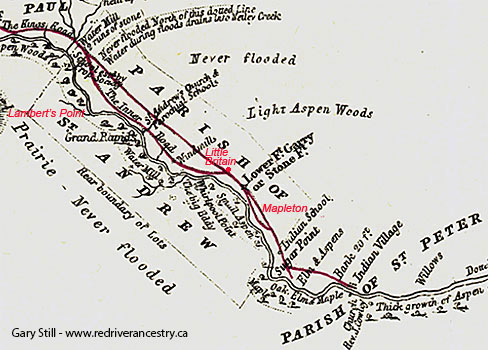 Part of Henry Hind's Map based on his observations of 1857
Canadian Confederation and another Red River Rebellion
Manitoba becomes a Province

1867-1870
On July 1, 1867 the British colonies in North America were united under the British North American Act to become the Dominion of Canada.  Sir John A MACDONALD (1815-1891) was appointed as Canada's first Prime Minister.
On Oct 11, 1869, Louis RIEL (1844-1885) placed his foot on the surveyors' chain to tell them their work was finished! This marked the beginning of another Red River Métis Rebellion.
RIEL established a Provisional Government that was composed mostly of the French-speaking population from along the Assiniboine River, St Boniface and southern parts of the province. From Kildonan north along the Red River the residents were almost all English-speaking half-breeds and members of the St Peters Indian Band under Chief Henry PRINCE (1819-1902). The LAMBERT family of Lambert's Point were one of the few families of French origin who settled in this area.
The rebellion ended when RIEL accepted the terms of the Manitoba Act andon July 15,1870 Manitoba became the fifth province of Canada, the Canadian Government having acquired the territory previously governed by the HBC. In December of 1870 a Census of Red River was completed. The results recorded 5, 757 French-speaking Métis; 4, 803 white settlers and 558 Indians in the census region. This information would be later used to determine who would be eligible for Land Grants and Scrip.
The Census of 1870 recorded Andrew (age 21) with parents on Riverlot #32, St Andrews Parish (Lambert's Point).
Marriage to Harriet SANDERSON
1872
On Feb 13, 1872 Andrew married in St Peters to Harriet SANDERSON, daughter or Jane HENDERSON & George SANDERSON (1810-1885), both half-breeds. ** MORE ABOUT GEORGE SANDERSON
On Jul 22, 1875 Andrew and Harriet both applied for their Halfbreed Scrip.
By 1881 Harriet & Andrew had four children: John George (age 7), Andrew (age 4), Margaret Jane (age 2) and baby Sarah.
Around 1888 Harriet's sister, Grace SANDERSON, became the wife of John Robert MOORE (1862-1937).
When the census was taken in 1891 Harriet and Andrew were still at Lambert's Point with two of their children, Sarah (age 10) and Alice (age 6). Son John George (age 16) was enumerated with his grandparents (Hannah & John), just down the road.
Move to Selkirk area
By the time the 1901 Census was taken Andrew had moved the family to East Selkirk and they had another child (Donald) who was six years old and son John (age 25) was back with them.
On March 1, 1905, daughter Alice married Charles Findlay ORVIS, son of Mary Ann McLEAN & John Benson ORVIS (1844-1930). ** MORE ABOUT JOHN BENSON ORVIS
On Jul 16, 1906 eldest son John married Florence GILLILAND, daughter of Catherine CHIEF (an Indian) and Alexander GILLILAND (born 1861 in Ireland).
Daughter Sarah's Illicit Affair
1907
Around 1907 daughter Sarah had an illicit affair with her neighbours' 28 year-old son, John Lawrence McDONALD. On Jan 27, 1908, Sarah gave birth to a daughter named Kathleen.
** MORE ABOUT SARAH LAMBERT & JOHN McDONALD
The last reference to be found for Harriet or Andrew LAMBERT is in the Census of 1911. They had moved to West Selkirk and were living on Clandeboye Avenue. With them were son John (age 36) and his wife Florence (age 19); daughter Sarah and her three year-old daughter Kathleen as well as Andrew's aged mother, Widow Hannah LAMBERT (age 88).
It seems quite possible that Andrew, his wife Harriet, as well as his mother (Hannah), may have all died before the Census of 1916 which has no record of any of them.
On Aug 11, 1915 son Donald enlisted at Winnipeg to serve in World War I.On May 23, 1921, he married Victoria HUDSON/ HODGSON
========================== Family Details ==========================
Children:
1. Jun 3, 1874 JOHN GEORGE ALEXANDER LAMBERT (m. Florence"Flora" GILLILAND)
2. 1876 ANDREW LAMBERT JR (Died age 7)
3. 1879 MARGARET JANE LAMBERT (Died age 4)
4. Jan 18, 1881 SARAH LAMBERT (m1. John McDONALD, m2. George DICKINSON, m3. Robert ANDERSON)
** MORE ABOUT SARAH LAMBERT & JOHN McDONALD
** MORE ABOUT SARAH LAMBERT & GEORGE DICKINSON
5. Feb 8, 1885 ALICE MAUD LAMBERT (m. Charles Findlay ORVIS)
6. Jul 28, 1887 WILLIAM LAMBERT (Died in infancy, 13 mos)
7. Jul 22, 1889 THOMAS LAMBERT (Died in infancy)
8. Feb 1, 1895 DONALD CHARLES LAMBERT (m. Victoria HUDSON)