JOHN BENSON ORVIS (1844-1930)
MARY ANN McLEAN (1858-1882)
ISABELLA IRVINE (1861-1944)
(Last Updated: December 07, 2017)
John Benson ORVIS was born Aug 14, 1844 in Ontario, son of Hannah Marie WAY and Lorenzo (Loren) ORVIS (1822-1902).
U.S. Census 1850: Town of Oakfield, Fond du Lac, Wisconsin: Loren ORVIS, age 28; wife Hannah, age 23. Children: John (age 6), Sarah (2) and baby Charles.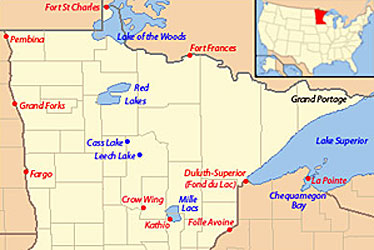 The American Civil War
1861-1865
The American Civil War was a civil war fought from 1861 to 1865 in the USA after several Southern slave states declared their succession and formed the Confederate States of America. In 1861 John Benson ORVIS would have been about 17 years old. ** MORE ABOUT the AMERICAN CIVIL WAR in WIKIPEDIA


Doug ORVIS:  Info from Wisconsin Civil War Records has John ORVIS, a private in the 5th Reg.  I had some earlier info that John Benson ORVIS enlisted in Monroe County, WI.  The records show him as a Private from 1861 to 65.  I heard he went from Michigan to Manitoba, but he may have also gone to Whitby, ON before going to MB. 
A John Jay ORVIS is listed among the "Fond du Lac Badger Boys", of the First Regiment, State of Wisconsin.
A John ORVIS is listed among the 5th Independent Battery, Wisconsin Light Artillery; organized at Racine, WI and mustered on Oct 10, 1861. Left State for St Louis, MO, on March 15, 1862.
On Apr 9, 1865 the surrender of Robert E LEE signaled the end of the Confederacy.
Canadian Confederation
Red River Métis Rebellion
Manitoba becomes a Province
1867-1870
On July 1, 1867 the British colonies in North America were united under the British North American Act to become the Dominion of Canada. Sir John A MACDONALD (1815-1891) was appointed as Canada's first Prime Minister. On Oct 11, 1869, Louis RIEL (1844-1885) placed his foot on the surveyors' chain to tell them their work was finished! This marked the beginning of another Red River Métis Rebellion. The Rebellion ended when RIEL's Provisional Government accepted the terms of the Manitoba Act and on July 15, 1870 Manitoba became the fifth province of Canada, the Canadian Government having acquired the territory previously governed by the HBC.
Marriage to Mary Ann McLEAN
1873
Around 1873 John married Mary Ann McLEAN, daughter of Half-breed Eleanor THOMAS and Donald McLEAN (1838-1919), an HBC voyageur from Scotland. On Aug 9, 1874 daughter Matilda was born at Grand Marais on the east side of Lake Winnipeg.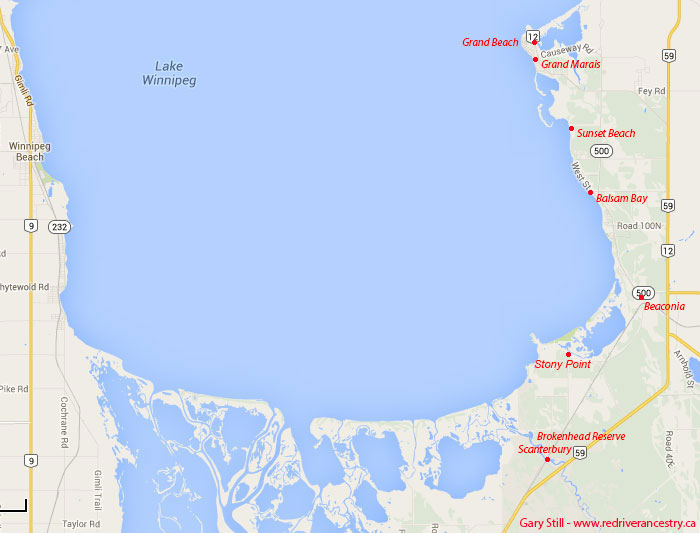 Western Land Grants: Apr 29, 1879: John B ORVIS; 9 8/10 acre sale; Fraction of NW-16-17-7-Epm (Balsam Bay).
In the 1881 Census the family was recorded in Balsam Bay as follows: John Benson ORVIS (age 26); wife Mary Ann (age 24). Children: Matilda (age 7), Mary Ellen (5), Ann Catherine (age 3) and baby Julia. 
On Apr 22, 1882 son Charles Finlay was born, and Mary Ann McLEAN-ORVIS died not long after. It is said that John's four young daughters were taken in and cared for by Mary (nee STEVENS) LYONS and Henry SMITH, son of Nancy FAVEL and John James SMITH (1791-1850). ** MORE ABOUT JOHN JAMES SMITH
Marriage to Isabella IRVINE
1883
On Mar 29, 1883 John (age 38) married Isabella IRVINE, daughter of Elizabeth LOUIS/ LEWIS and William IRVINE b-1831. On Dec 27, 1883 son Frederick was born in St Andrews Parish.
Western Land Grants: May 23, 1883 and Jul 9, 1884: John Benson ORVIS, 160 acre homestead on NE and SE of 16-17-7-Epm( Balsam Bay).
In 1884, Magnus CRAIGIE (1842-1930) donated land for a church at Balsam Bay. Eugene DERBY (1844-1916) also donated a parcel of land for a cemetery. In 1887 CRAIGIE officially opened the first Post Office there. The church, however, was not built until the 1920s.
In 1887 eldest daughter Matilda married William IRVINE, son of Elizabeth LEWIS and William IRVINE SR (1831-1891).
In 1891 daughter Ann Catherine married Thomas COOK, son of Mary Ann BEARDY and William COOK (1815-1885).
** MORE ABOUT WILLIAM COOK
The 1891 Census in Fort Alexander: John B ORVIS, age 46 (born 1845 in Ontario) farmer; Isabella, age 32 (born 1859 in MB). Children: Richard (age 14), Charles (10), Frederick (8), William (6), Caroline (4) and Alexander (age 1). Next-door is daughter Matilda and son-in-law William IRVINE (age 23) and their two children. ** Son Richard ORVIS is somewhat of a puzzler. He was not a member of John's family in the 1881 census. It is believed that he was actually a child of Isabella IRVINE and therefore a step-son.
In the 1891 census we find daughter Mary Ellen in the household of Richard THOMAS (1834-1923) in Balsam Bay.
In 1895 daughter Mary Ellen married Robert Richard STEVENS, son of Mary Ann BUTLER and Robert STEVENS (1838-1921). ** MORE ABOUT ROBERT STEVENS
Also in 1895 son Charles Finlay married Alice Maud LAMBERT, daughter of Harriet SANDERSON and Andrew LAMBERT (1849-1915). ** MORE ABOUT ANDREW LAMBERT
In 1898 daughter Julia married Edward MONKMAN, son of Mary LELAND and Joseph MONKMAN (1836-1910).
** MORE ABOUT JOSEPH MONKMAN
On Jul 1, 1900 John was appointed Postmaster at the Balsam Bay Post Office, replacing Magnus CRAIGIE.
In the 1901 census the family was recorded again in St Clements Parish (Balsam Bay) with additional children: David (age 9), Isaac (7), Lillian (4) and Isabella (age 2). Next-door is the family of Matilda & William IRVINE b-1837 (perhaps related to Isabella?)
In 1903 daughter Caroline married Sidney ROBILLARD of uncertain origins.
On Nov 4, 1904 John resigned as Postmaster at Balsam Bay.
In 1906 son William married Marie Josephine THOMAS in Fort Alexander, daughter of Adelaide MORIN and Geordie THOMAS (1852-1927). ** MORE ABOUT GEORDIE THOMAS
Also in 1906, son Frederick married Frances ANDERSON, daughter of Matilda THOMAS and Alexander ANDERSON (1865-1950). ** MORE ABOUT ALEXANDER ANDERSON
The 1906 and 1911 censuses in Balsam Bay include the addition of sons John (age 5, 10) and Samuel (age 2, 7). There would be no more children after that.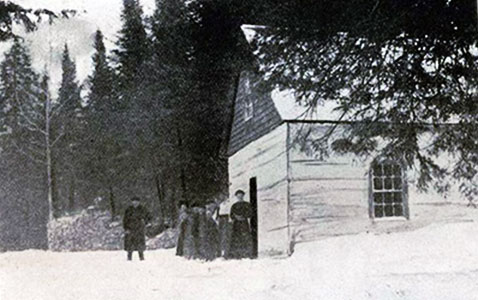 Balsam Bay School No. 859 (c1908)
Education Department Report, 1908, Manitoba Legislative Library
In 1911 son Alexander married Elizabeth MORRISETTE of uncertain origins.
Also in 1911, daughter Lillian married Samuel Reuben WESTCOTT (born 1889 in England).
World War I
1914-1919
In 1914 daughter Isabella married Alfred Edward GRANT in Winnipeg, the son of Laura Delores LAVATTA and Joseph Richard GRANT (1847-1925). ** MORE ABOUT JOSEPH RICHARD GRANT
On Aug 4, 1914 Great Britain (Canada on Aug 5) declared war on Germany and Austria-Hungary to uphold treaties with France and Belgium which were under German attack. This marked the beginning of World War I.
In 1915 son David married Annabella DONALD, daughter of Isabella Catherine SETTER and Robert John DONALD (b-1864).
Also in 1915, son Isaac married Alice MORRISSEAU, daughter of Julie GUIMOND and Jean Baptiste MORRISSEAU (1850-1939). Alice was also a step-daughter of Alexander THOMAS (1869-1924) her mother's second husband.
** MORE ABOUT ALEXANDER THOMAS
In 1915 and 1916 sons Alexander and William enlisted for War service at Winnipeg.
The First Train to Grand Beach
In 1916 the first train (the Canadian Northern Railway) arrived at Grand Beach and post offices were officially opened there and at Victoria Beach.
The 1916 Census in Balsam Bay recorded John ORVIS (age 71) and his wife Elizabeth (age 56). Children at home were John (age 15) and David (age 12).
November 11, 1919, Armistice Day (Remembrance Day) marked the end of the First World War.
Around 1920 the Balsam Bay Church was built; its name became St. Luke's Balsam Bay.
By 1920 daughter Ann Catherine was married to Samuel CONNOLLY, son of Elizabeth DANIELS and John Stephen CONNOLLY (1838-1904). ** MORE ABOUT JOHN STEPHEN CONNOLLY
Census 1921 at Balsam Bay: John ORVIS (age 76), wife Elizabeth (age 61) and son John Jr. (age 19).
St Clements Narrative: It was not until the early 1920's that the (Balsam Bay) church was actually built, being of logs and hand made pews, as it still is today.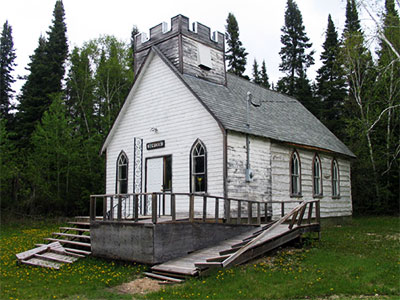 St Luke's Anglican Church (2011) (Also called the Balsam Bay Church)
Source: Gordon Goldbourough
In 1922 son John Jr. married Catherine COOPER in Selkirk, daughter of Jane HALCROW and Charles COOPER (1879-1933). Also that year, daughter Caroline married a second time to her brother-in-law William Richard GRANT in Winnipeg, son of Laura Delores LAVATTA and Joseph Richard GRANT (1847-1925).
** MORE ABOUT JOSEPH RICHARD GRANT
In 1924 youngest son Samuel married his sister-in-law, Alice Jane MORRISSEAU, daughter of Julie GUIMOND and Jean Baptiste MORRISSEAU (1850-1939).
On Nov 17, 1930 John ORVIS died. He was buried in the Beaconia Cemetery
In 1931 son Alexander re-married to Ellen Isabella (nee ANDERSON) TREADWAY in Selkirk, daughter of Matilda THOMAS and Alexander ANDERSON (1865-1950). ** MORE ABOUT ALEXANDER ANDERSON
In 1943 son Alex married a third time to Widow Maria Jane (nee THOMAS) McLEAN, daughter of Catherine ANDERSON & William Robert THOMAS (1882-1942).
On Apr 15, 1944 Widow Isabella ORVIS died.
Comments and Queries at this link: FORUM DISCUSSING the JOHN BENSON ORVIS FAMILY
========================= Family Details =========================
Children by Mary Ann McLEAN:
1. Aug 9, 1874 MATILDA ORVIS (m. William IRVINE)
2. Aug 19, 1876 MARY ELLEN ORVIS (m. Robert Richard STEVENS)
3. 1877 RICHARD ORVIS (m. Helen MURRAY)

4. July 27, 1878 ANN CATHERINE ORVIS (m. William Thomas COOK) later (m. Samuel CONNOLLY)
5. July 5, 1880 JULIA ORVIS aka SMITH (m. Edward MONKMAN)
6. Apr 16, 1882 CHARLES FINLAY ORVIS (m. Alice Maud LAMBERT)
Children by Isabella IRVINE:
1. Dec 27, 1883 FREDERICK ORVIS (m. Frances Louisa Ann ANDERSON)
2. Apr 13, 1885 WILLIAM ORVIS (m. Marie Josephine THOMAS)
3. Jan 1, 1888 CAROLINE ORVIS (m1. Albert Sidney ROBILLARD, m2. William GRANT)
4. Apr 27, 1890 ALEXANDER ORVIS (m1. Elizabeth MORRISETTE, m2. Ellen Isabella (nee ANDERSON)
TREADWAY, m3. Maria Jane (nee THOMAS) McLEAN)
5. Mar 24, 1892 DAVID ORVIS (m. Annabella DONALD)
6. Feb 18, 1894 ISAAC ORVIS (m. Alice Jane MORRISSEAU)
7. Aug 13, 1896 LILLIAN ELIZABETH (twin) ORVIS (m. Samuel Reuben WESTCOTT)

8. Aug 8, 1896 ANN CATHERINE (twin) ORVIS (m. Died in infancy)
9. Mar 15, 1899 ISABELLA "BELLE" ORVIS (m. Alfred Edward GRANT)
10. Jan 2, 1902 JOHN (JACK) ORVIS (m. Catherine COOPER)
11. June 16, 1904 SAMUEL ORVIS (Frances MORRISSEAU)