WILLIAM RICHARD THOMAS (1834-1923)
MARY THOMAS (1834 -1896)
(Last Updated: June 23, 2015)
William Richard THOMAS was born May 7, 1834, the son of Half-breeds Eleanor THOMAS & Richard THOMAS SR (1800-1861), an HBC Post Master and Interpreter in the Rupert's River District at the south end of James Bay.
** MORE ABOUT RICHARD THOMAS SR
In 1836 when Richard was two years old, his father retired to Red River (St Andrews Parish). His father later operated a Grist-Mill in Little Britain (now Lockport).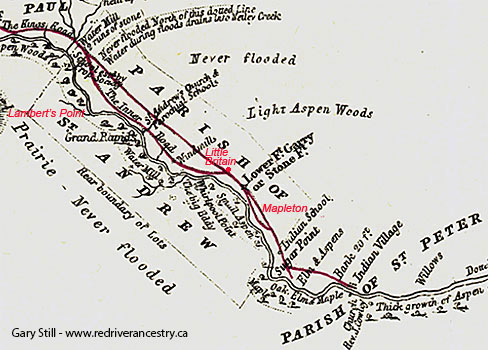 St Andrews Parish from Hind's Map of 1852
Richard marries Mary THOMAS
1858
On Feb 11, 1858 Richard married Mary THOMAS in St Andrews, the daughter of Mary BOUVIER and Charles THOMAS (1814-1904). Witnesses to the marriage were John DONALD & David SANDERS.
Around 1861 Richard's father (Richard Sr.) died in Little Britain. In his Will he granted his son, Richard Jr., a young ox and a young bull and also a plough.
Canadian Confederation and a Red River Rebellion
Manitoba becomes a Province
1867-1870
On July 1, 1867 the British colonies in North America were united under the British North American Act to become the Dominion of Canada.  Sir John A MACDONALD (1815-1891) was appointed as Canada's first Prime Minister. On Oct 11, 1869, Louis RIEL (1844-1885) placed his foot on the surveyors' chain to tell them their work was finished! This marked the beginning of another Red River Métis Rebellion.
The Rebellion ended when RIEL's Provisional Government accepted the terms of the Manitoba Act and on July 15,1870 Manitoba became the fifth province of Canada, the Canadian Government having acquired the territory previously governed by the HBC.
In 1870 Richard and his family were recorded on River Lot 54, south of the old St Andrews Church, and north of Lamberts Point; children as Catherine (age 11), Matilda(10). John (5) and Alexander (age 2).
In 1875, Richard claimed his Half-breed Scrip as a farmer in St Andrews Parish.
Census of 1881 in St Clements Parish:  Richard THOMAS (age 47), wife Mary (age 36).  Children: Matilda (age 20), John George (15), Alexander (10) and James Henry (age 8).
In 1883 eldest daughter Matilda married Alexander ANDERSON, son of Elizabeth ISBISTER and James ANDERSON (1827-1867) from Scotland. ** MORE ABOUT JAMES ANDERSON
Balsam Bay
1891
By 1891 Richard and his family had settled in Balsam Bay on the east side of Lake Winnipeg. In the census that year they were recorded as Richard THOMAS, age 51; wife Mary, age 45. Children: John George (age 24), Alexander (21), James (19), William (8) and Philip (age 5). They also have a foster child, Mary Ellen ORVIS (age 14), daughter of Mary Ann McLEAN and John Benson ORVIS (1844-1930).  Mary Ellen's mother had died in 1882 and her father had re-married.
** MORE ABOUT JOHN BENSON ORVIS
In 1895 foster child Mary Ellen ORVIS married to Robert Richard STEVENS, son of Mary Anne BUTLER and Robert STEVENS(1838 -1921).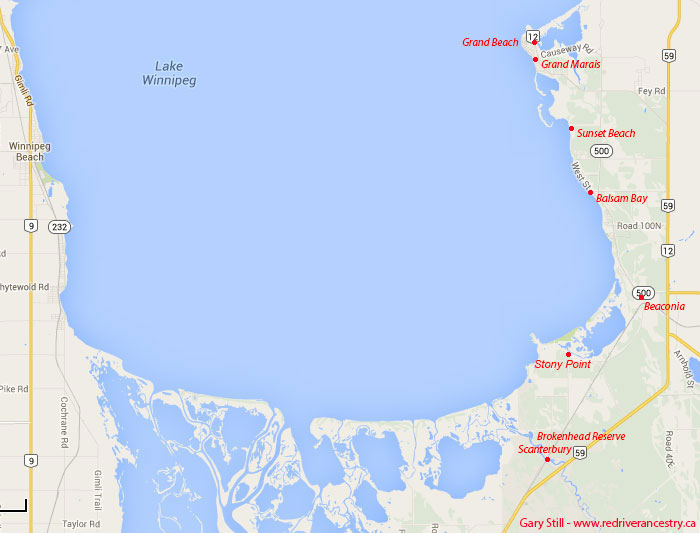 In 1895 son John George married his cousin, Isabella THOMAS in Grand Marais, daughter of Charlotte PARISIEN and his Uncle Henry THOMAS (1848-1927).

Also in 1895 son James Henry married Catherine THOMAS, daughter of Sophia LINKLATER and Joseph Daniel Marshal THOMAS (1851-1942).
Wife Mary Dies
1896
On Nov 4, 1896 Richard's wife, Mary THOMAS died in Balsam Bay.
In the 1901 Census Widower William Richard THOMAS (age 66) was recorded in Grand Marais with his sons Alexander (age 31), William R (18) and Philip (age 16). Interestingly, he was also recorded that year on Matheson Island with his sons John George (age 34) and Philip (age 18).
Western Land Grants: Patented Feb 22, 1904: Richard THOMAS: NW 21-17-7-Epm (Balsam Bay).
Census of 1906 in Balsam Bay: Richard W THOMAS, age 72, widowed and living alone.
In 1906 son Alexander was united with Eleanor THOMAS, daughter of Adelaide MORIN and Geordie THOMAS (1852-1927). ** MORE ABOUT GEORDIE THOMAS
In 1907 son William Robert married Catherine ANDERSON, daughter of Eleanor THOMAS and John Isbitster ANDERSON (1867-1947).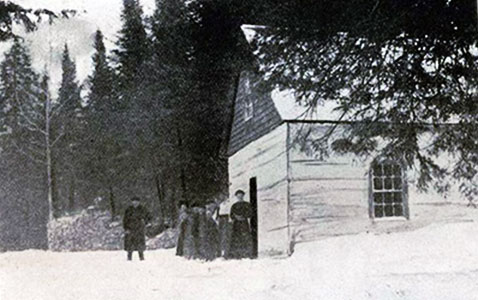 Balsam Bay School No. 859 (c1908)
Education Department Report, 1908, Manitoba Legislative Library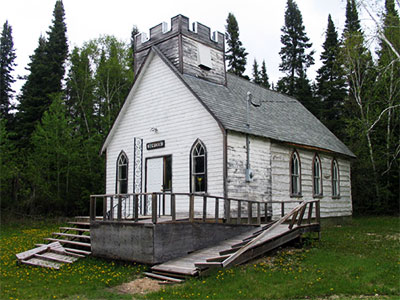 St Luke's Anglican Church (2011) (Also called the Balsam Bay Church)
Source: Gordon Goldbourough
Census of 1911 in Balsam Bay:Richard W THOMAS, age 77 and still widowed, living with his son Alexander THOMAS (age 48) and his family.
Census of 1916 in Balsam Bay:Richard THOMAS (age 82), widowed and alone.
Richard marries Ellen FLETT at the Age of 83
1917
An article in the Manitoba Free Press, Oct 11, 1917 titled Aged Couple Wed:Richard THOMAS of Balsam Bay, aged 83, and Ellen FLETT of St Andrews, age 84, were high contracting parties in a wedding ceremony which was performed at Balsam Bay last week, according to a correspondent of the Selkirk Record. After the marriage, a wedding repast was served and the young people spent the night in dancing, the newly wedded couple taking part in the piece de resistance, the Red River Jig. Mr. and Mrs. THOMAS are natives of Manitoba and are still quite sprightly. They have many relatives in the Balsam Bay district and in the Lower Red River settlements.
Census of 1921 in Balsam Bay:Richard THOMAS, farmer (age 87); wife Ellen (age 87).
On Nov 2, 1923 Richard THOMAS died at the age of 89.
Comments and Queries at this link: FORUM DISCUSSING the WILLIAM RICHARD THOMAS FAMILY
========================= Family Details =========================
Children: 
1. 1859 CATHERINE THOMAS (Died age 16)
2. Mar 11, 1861 MATILDA THOMAS (m. Alexander ANDERSON aka DERBY)
** MORE ABOUT ALEXANDER ANDERSON
3. Oct 5, 1866 JOHN GEORGE THOMAS (m. Isabella "Bella" THOMAS)
4. Jun 10, 1869 ALEXANDER THOMAS (m. Eleanor (Helene) THOMAS)
** MORE ABOUT ALEXANDER THOMAS
5. Dec 28, 1872 JAMES HENRY THOMAS (m. Catherine Mary THOMAS)
6. 1874 MARY ANN THOMAS (Died in infancy, age 3)
7. Spring, 1877 or 78 ALICE THOMAS (Died in infancy, 3 mos)
8. Spring, 1879 LOUIS THOMAS (Died in infancy, 2-3 weeks old)
9. Apr 8, 1882 WILLIAM ROBERT THOMAS (m. Catherine ANDERSON)
10. Apr 9, 1885 PHILIP THOMAS (m. Margaret)