ALEXANDER "ALEC" ANDERSON (1865-1950)
MATILDA THOMAS (1861-1934)
(Last Updated: June 23, 2015)
Alexander "Alec" ANDERSON was born after Jan 1, 1865 at Norway House, son of Elizabeth (nee ISBISTER) & James ANDERSON (1827-1867). Alec's father (James) died in 1867 at Norway House, as a result of the fire that burned their home. In 1871 Alec's mother (Elizabeth) re-married to Eugene DERBY (1844-1916).
In 1881 Alec (age 15) and his siblings were recorded with their mother (Elizabeth) and their step-father, Eugene DERBY in Balsam Bay (See map below).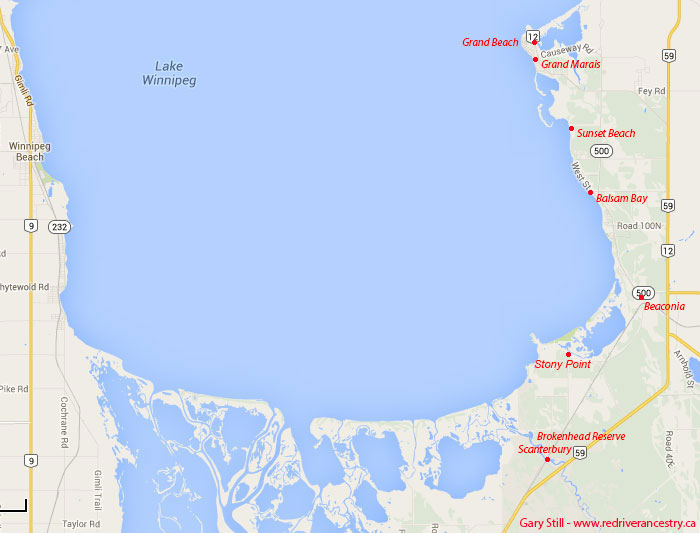 Alec marries Matilda THOMAS
1883
On Feb 12, 1883 Alec married Matilda THOMAS in St Peters, daughter of Mary THOMAS & Richard THOMAS (1834-1923). ** MORE ABOUT RICHARD THOMAS
In 1887 Magnus CRAIGIE (1842-1930) was appointed as the first Postmaster at Balsam Bay. At that time the Post Office was located on Section 16-17-7-Epm.
Western Land Grants: Dated May 21, 1888: Alexander ANDERSON - Fractional Part of SE quarter of Section 32-17-7-Epm (Lakeshore property in Balsam Bay).
Balsam Bay Assembly
The Plymouth Brethren
1890
In 1890 Alec's brother-in-law William Lowe MONKMAN (1861-1944), was converted to the Plymouth Brethren faith I Selkirk (MB). He invited two of their preachers to come north to his district at Balsam Bay. Willie MONKMAN was married to Alec's sister, Caroline ANDERSON. The following people (and their wives) professed 'salvation' there: William MONKMAN, Alec ANDERSON, Eugene DERBY (Alec's step-father) and Mrs. John RUPERT, Alec's sister. Ellen Isabella. They were baptized in the waters of Lake Winnipeg by Richard VARDER and established the Balsam Bay Assembly.
** The Plymouth Brethren are a conservative Christian evangelical movement that began in Ireland and England in the late 1820s in reaction to the established Church. The movement became known for its anti-denominational, anti-clerical, and anti-creedal stance. They do not generally refer to themselves as "Plymouth Brethren," nor do they regard themselves as a denomination. They refer to their fellowships as 'Assemblies'. ** MORE ABOUT the BALSAM BAY ASSEMBLY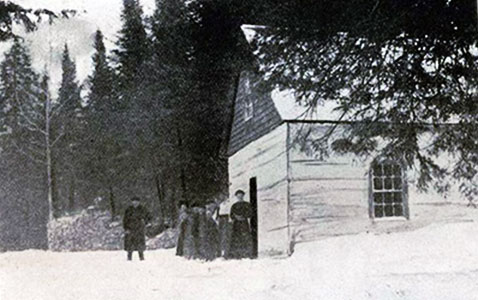 Balsam Bay School No. 859 (c1908)
Education Department Report, 1908, Manitoba Legislative Library
In 1901 eldest daughter Mary Ann married Henry George THOMAS, son of Charlotte PARISIEN and Henry THOMAS (1848-1927).
In 1903 daughter Elizabeth married James Peter PAULSON who was born 1871 in Iceland and immigrated in 1875.
In 1905 Alec was appointed as the Postmaster at Balsam Bay, replacing John Benson ORVIS who resigned that year. For the next eight years (until 1913) Alec managed the Post Office there.
In 1906 daughter Frances married Frederick ORVIS, son of Isabella IRVINE and John Benson ORVIS (1844-1930).
** MORE ABOUT JOHN BENSON ORVIS
The family was recorded in Balsam Bay in the census records of 1891, 1901 and 1906 at which time the family consisted of Alec ANDERSON (age 43) and his wife Matilda (age 43) with children still at home as Dan (age 21), Ellen (16), John G (14), Christina (12),  William (10),  Esther (8), Alexander Jr. (6) and Marjorie (age 1). There would be no more children
.
Recollections of Mabel Danwich
In the early days, Alec did some fishing, then started buying fish from fishermen at Victoria Beach, Fort Alexander, St George, and around the east side of the lake, freighting by horse and sleigh to Selkirk in the winter, by boat in summer. 
In 1910 he moved his family to Victoria Beach to work for the Victoria Beach Company, opening as a summer resort. His son-in-law, Fred ORVIS took over the Post Office at Balsam Bay.
He was Captain on the small boat, The Pilgrim, which carried 25 passengers.  It ran from Winnipeg to Victoria Beach. They lived in a large cottage owned by Charles KENNEDY, which was one of three cottages there at the time. After the ANDERSON family left, the place was continued as the Pine Hurst Inn.
Alec sold some of his Balsam Bay land to the Railroad, built a house on the rest of it, and moved back there. He purchased a sawmill and a threshing machine.  Alec was a Constable for the area for a good number of years
===================== // =====================
In 1910 daughter Christina married William Richard THOMAS, son of Charlotte PARISEN & Henry THOMAS b-(1848-1927).
In 1911 eldest son Daniel James married Isabella SINCLAIR, daughter of Charlotte COOK & Steven SINCLAIR (1870-1943). 
In the Census of 1911 in Balsam Bay: Alec ANDERSON (age 47), wife Matilda (age 47). Children at home: Dan (age 24), John G (19), William R (16), Alexander Jr. (10), Helen (21), Esther (13) and Margery (age 5).
World War I
1914-1919
In 1914 Alec's mother (Elizabeth) died in Balsam Bay.
On Aug 4, 1914 Great Britain (Canada on Aug 5) declared war on Germany and Austria-Hungary to uphold treaties with France and Belgium which were under German attack. This marked the beginning of World War I.
In 1915 daughter Ellen married Henry Joseph TREADWAY (1886-1924) from Australia who came to Canada in 1913.
Census 1916: Springfield (#12), SD-28, pg 2, HH-24 (17-7-Epm): Alexander ANDERSON, farmer, age 51; wife Matilda, age 53. Children: William R (age 21), Alexander (16), Margeria (age 10).
In 1916 Alec's step-father, Eugene DERBY died in Balsam Bay.
In 1918 sons John George and William Richard both enlisted at Winnipeg.
November 11,1919, Armistice Day (Remembrance Day) marked the end of the First World War.
===================== // =====================
In 1920 son William Richard married Alice ANDERSON, daughter of Ellen THOMAS and John ANDERSON (1867-1947).
In the 1921 Census in Balsam Bay: Alexander ANDERSON (age 56), wife Matilda (age 59). Children at home: Alexander Woodbury (age 20) and Marjory May (age 15).
On Feb 23, 1922 there was a double-wedding; son John George married Winnifred ISBISTER and son Alexander Woodbury married Minnie Isabella ISBISTER, both daughters of Bella MONKMAN and John ISBISTER (b-1877) of uncertain origins.
In 1923 daughter Marjory married Henry NEWMAN (1901-2003) from England, son of Priscilla and Fred NEWMAN.
In 1925 the store and post office at Balsam Bay burned down. It was located across from the Balsam Bay Train Station and was operated by Mr. McARTHY. Alec then became the newly-appointed Postmaster at Balsam Bay for the next 24 years.
In 1931 widowed daughter Ellen (ANDERSON) TREADWAY re-married to her brother-in-law, Alexander ORVIS in Selkirk, son of Isabella IRVINE and John Benson ORVIS (1844-1930). ** MORE ABOUT JOHN BENSON ORVIS
In their old age, Matilda and Alec were cared for by their youngest daughter Margery and son-in-law Henry NEWMAN.
On Dec 3, 1934 Matilda (nee THOMAS) ANDERSON died in Selkirk.
In 1949 Alec resigned as the Balsam Bay Postmaster. His daughter, Marjorie NEWMAN took over those duties for the next three years. At that time the location of the Post Office was on the NW quarter of Section 32-17-7-Epm.
On Dec 30, 1950 Alexander ANDERSON died in Selkirk.
Comments and queries at this link: FORUM DISCUSSING the ALEXANDER ANDERSON FAMILY
=========================== Family Details ===========================
Children:
1. Feb 21, 1884 MARY ANN ANDERSON (m. Henry George THOMAS)
2. Jun 27, 1885 DANIEL JAMES ANDERSON (m. Isabella Helen "Bella" SINCLAIR)
3.  Feb 2, 1887 ELIZABETH JANE ANDERSON (m1. James Peter PAULSON)
4. Jul 21, 1888 FRANCES LOUISE "FANNY" ANDERSON (m. Fredrick ORVIS)
5. Dec 24, 1889 ELLEN "NELLIE" ANDERSON (m1. Henry Joseph Jefferson TREADWAY, m2. Alexander ORVIS)
6. Oct 25, 1891 JOHN GEORGE ANDERSON (m. Jessie Winnifred "Winnie" ISBISTER)
7. Jun 21, 1893 CHARLOTTE CHRISTINA ANDERSON (m. Arthur William Richard "Sharkey" THOMAS)
8. Nov 25, 1894 WILLIAM RICHARD "BILL" ANDERSON (m. Alice ANDERSON)
9. May 6, 1896 CAROLINE ANDERSON (Died in infancy, 10 days old)
10. May 27, 1898 ESTHER ANDERSON (Died age 17)
11. Sep 17, 1900 ALEXANDER WOODBURY ANDERSON (m. Minnie Isabella ISBISTER)
12. Nov 21, 1905 MARJORIE/ MARGERY MAY ANDERSON (m. Harold Bertram "Henry" NEWMAN)