JOHN STEPHEN CONNOLLY (1838-c1905)
ELIZABETH DANIELS (1856-1936)

(Last Updated: May 04, 2017)
John Stephen CONNOLLY was born Dec 25, 1838 in Ireland. He came to Canada in 1854.
On Dec 22, 1882 John married Elizabeth DANIELS in Winnipe, daughter of Jane ROSE and John DANIEL (1807-1872).
Census of 1891 in Selkirk: John CONNOLLY, age 52; wife Elizabeth, age 33. Children: Sarah (age 15), Samuel (10), William (8), John (7), Albert (5), Alfred (3) and Margaret (age 1).
Census of 1901 in Selkirk: John CONNELLY, Soldier, age 62; wife Elizabeth, age 42. Children: Samuel (age 21), William (18), Albert E (14), James A (12), Margaret A (10), Mary E (8) and Jemime (age 5). Mother-in-law: Widow Jane DANIEL CONNOLLY, age 92 (born Aug 5, 1808 in MB).
At some time before 1906 John Stephen CONNOLLY died. Future census records show his wife Elizabeth as a widow.
Census of 1906, McLean Ave, Selkirk: Widow Elizabeth CONNLEY (age 49) and her daughter Mary (age 11).
Around 1910 daughter Margaret was married to Leonard ROUS, son of Susan Delight TOLHURST and Benjamin George ROUS (1862-1940).
Census of 1911 in Selkirk: Widow Elizabeth CONNELTY, age 53. Children: James (age 23) and Mary (age 18).
World War I
1914-1918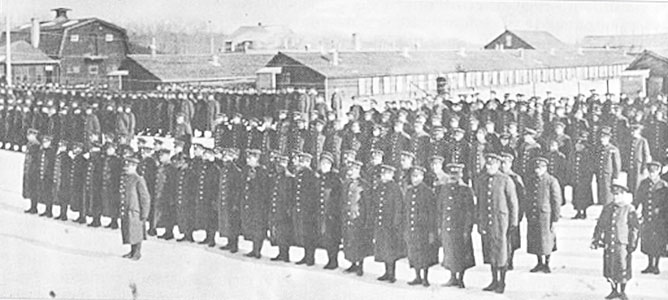 Soldiers at Red Feather Farm barracks in Selkirk during WW I
On Aug 4, 1914 Great Britain (Canada on Aug 5) declared war on Germany and Austria-Hungary to uphold treaties with France and Belgium which were under German attack. This marked the beginning of World War I.
In 1916, when son James Alfred died a soldier in Belgium, his mother (Elizabeth) was living at 492 McLean Avenue in Selkirk.
November 11, 1918, Armistice Day (Remembrance Day) marked the end of the First World War.
In 1920 daughter Mary married Arthur DEWAR in Selkirk, the son of Elizabeth COCHRANE and William Malcolm DEWAR (1860-1936). ** MORE ABOUT WILLIAM MALCOLM DEWAR
By 1920 son Samuel was married to Ann Catherine ORVIS, daughter of Isabella IRVINE and John Benson ORVIS (1844-1930). ** MORE ABOUT JOHN BENSON ORVIS
On Apr 30, 1936 Elizabeth (nee DANIELS) CONNOLLY died at the home of her daughter (Mary DEWAR) at 492 Maclean Avenue in Selkirk, age 81. She was buried in the St Clements Cemetery at Mapleton.
Comments and queries at this link: FORUM FOR DISCUSSING THE FAMILY OF JOHN STEPHEN CONNOLLY
========================== Family Details ==========================
Children:
1. 1876 SARAH CONNOLLY
2. Apr 21, 1879 SAMUEL CONNOLLY (m. Ann Catherine ORVIS)
3. Jul 12, 1882 WILLIAM CONNOLLY
4. Apr 14, 1886 ALBERT EDWARD CONNOLLY (Died age 15)
5. Mar 30, 1890 MARGARET ANN HARRIET CONNOLLY (m. Leonard ROUS)
6. May 10, 1888 JAMES ALFRED CONNOLLY (Died at War, 1916)
7. May 14, 1892 MARY ELIZABETH CONNOLLY (m. Arthur Gordon DEWAR)
8. Jul 29, 1895 JEMIMA CONNOLLY (Died age 7)