WILLIAM MALCOLM DEWAR (1860-1936)
ELIZABETH COCHRANE (1863-?)
(Last Updated: May 04, 2017)
William Malcolm DEWAR was born Mar 25, 1860 in Ontario, son of Johanna McKAY and William DEWAR SR (1828-1910) from Scotland. In the Census of 1871 (age 10) he was recorded with his parents in Listowell, Perth County, Ontario (west of Toronto).
William comes to Manitoba
1879
In 1879 at the age of 17, William came to Winnipeg, Manitoba, and after a short time he moved to Selkirk where he entered the service of  the Northwest Navigation Company, then under the management of Captain William ROBINSON (1849-1936). ** MORE ABOUT CAPTAIN WILLIAM ROBINSON IN MHS – MEMORABLE MANITOBANS
For the next 35 years William was a boat builder and a captain on the Red River and Lake Winnipeg.
Marriage to Elizabeth COCHRANE
1882
On Mar 7, 1882 William married Elizabeth COCHRANE in St Andrews. This is probably Elizabeth COCHRANE, daughter of Mary SINCLAIR and John COCHRANE (1836-1917).
From the Census of 1901 on Eveline Street in Selkirk: William DEWAR, "Ship Carpenter" (age 39), his wife Elizabeth (age 38) and their children: William Jr. (age 18), Duncan (16), Mary (14), Stanley (12), Arthur (8), Murray (4), Walter(3) and baby Edward (7 months). His father, William DEWAR SR (age 74) is with them; also his sister-in-law Kate (nee GRAY) DEWAR (age 22), his Nephew Wallace DEWAR (age 1) and Niece Mildred DEWAR, a baby. These are the wife and children of his brother, James Duncan DEWAR who had died in September of 1900.
World War I
1914-1919
On Aug 4, 1914 Great Britain (Canada on Aug 5) declared war on Germany and Austria-Hungary to uphold treaties with France and Belgium which were under German attack. This marked the beginning of World War I.
From the Census of 1916 on Eveline Street in Selkirk: William DEWAR, Contractor, age 56) wife Elizabeth, age 48. Children: James (age 32), Stanley (25), Mary (22), Arthur (21), Murray (19), Walter (17), Charles (15), Robert (11) and Hazel (age 9).
Two sons died overseas during the war; James in 1916 and Stanley in 1917.
In 1918 sons Murray and Arthur enlisted.
In 1919 son Walter George married Mary Jane GRIEVE in St Andrews, daughter of Sarah MOORE and Donald GRIEVE (1875-1940).
November 11, 1919, Armistice Day (Remembrance Day) marked the end of the First World War.
In 1920 son Arthur married Mary Elizabeth CONNOLLY in Selkirk, daughter of Elizabeth DANIELS and John Stephen CONNOLLY (born 1838 in Ireland). ** MORE ABOUT JOHN STEPHEN CONNOLLY
A Farm at Meadowdale
During or after the War, William retired to his farm at Meadowdale. His last contract was that of building two steamers for the Hudson's Bay Company at Athabasca Landing.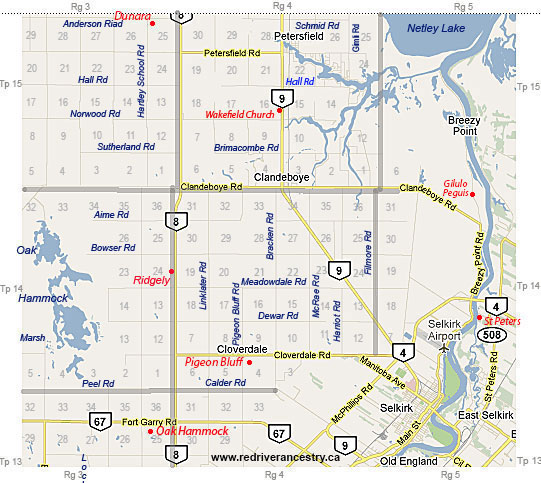 In the Census of 1921 William (age 61) and Elizabeth (age 55) were recorded on Section 12-14-3-Epm which is south of Ridgely and west of Pigeon Bluff on the map above. Children still at home were Robert (age 17) and Hazel (age 15).
In 1926 youngest daughter Hazel married Hunter McRAE in St James, son of Isabella NORQUAY and Malcolm McRAE (1862-1922).
In 1932 William & Elizabeth celebrated their golden wedding anniversary.
From his Obituary: On Dec 21, 1936 Captain William DEWAR died at his home in Meadowdale. He was buried in the Cloverdale Church Cemetery. He was survived by his widow and seven children: Duncan of St James; Charles of Los Angeles; Murray of Fort William, ON; Mary of Montreal; Arthur of Selkirk; Mrs. H. McRAE of Meadowdale; and Walter Robert at Meadowdale. Two other sons, Stanley and James, were killed overseas during the Great War.
Comments and queries at this link: FORUM DISCUSSING the WILLIAM MALCOLM DEWAR FAMILY
============================ Family Details ============================
Children:
1. Aug 27, 1884 WILLIAM JAMES DEWAR (Died age 32 in World War I)
2. Nov 29, 1885 JOHN HENRY DUNCAN DEWAR
3. Jun 27, 1886 MARY ELIZABETH DEWAR
4. Jul 29, 1888 ALEXANDER STANLEY DEWAR (Died age 28 in World War I)
5. Mar 5, 1893 ARTHUR GORDON DEWAR (m. Mary Elizabeth CONNOLLY)
6. Nov 29, 1896 MURRAY DEWAR
7. Oct 16, 1897 GEORGE WALTER "PUNCH" DEWAR (m. Mary Jane GRIEVE)
8. Aug 29, 1900 CHARLES EDWARD DEWAR
9. Dec, 1903 ROBERT DEWAR
10. July 5, 1906 HAZEL GRACE DEWAR (m. Hunter McRAE)