WILLIAM COOK (c1815-c1885)
MARY ANNE BEARDY (c1817-)
(Last Updated: October 01, 2015)
William COOK was born around 1815, son of Catherine SINCLAIR and Joseph COOK (1788-1848), a Hudson's Bay Company (HBC) Trader who retired to Red River in 1819. In the early 1830's William's father (Joseph) was recruited by Reverend William COCKRAN (1798-1865) as an Interpreter and School Teacher at Sugar Point (at the south edge of Selkirk, Manitoba). COCKRAN was at that time working hard to bring education and religion to the natives of the St Peters Indian Reserve** MORE ABOUT JOSEPH COOK
Marriage to Mary Ann BEARDY
1836
On May 11, 1836 William COOK married Mary BEARDY at St Peters, daughter of Betsy and James BEARDY, with William COCKRAN officiating. The marriage was witnessed by William's father (Joseph) and John James SMITH (1791-1850). The BEARDY family came from Saskatchewan to Red River when Mary was just a child.
In 1838 daughter Maria was born in the St Peters Indian Settlement.

In 1855 daughter Elizabeth married Jackson SMITH, son of Susan PEYSONETTE and Peter SMITH (1795-1851).
In 1859 daughter Maria married Charles Thomas ANDERSON in Portage la Prairie, son of Mary Ann DESMARAIS and John ANDERSON (1804-1884). ** MORE ABOUT JOHN ANDERSON

Around 1861 daughter Mary Ann married Philip McDONALD, son of Nancy FERGUSON and Donald McDONALD (1797-1876) an HBC voyageur from Scotland.
After Chief PEGUIS (1774-1864) died in 1864, his youngest son, Henry PRINCE (1819-1902), or RED EAGLE, as he was known to the Band, became Chief of the Red River Saulteaux.
** MORE ABOUT CHIEF HENRY PRINCE and THE ST PETERS RESERVE
During the 1860's the Indians began to fear for the security of their land titles because of the pressure of others for cheap land for settlement.  Much of the St Peters district lay unused and it wasn't long until Indians were being enticed to sell their land at bargain prices, by one method or another, and others started settling on Reserve land.
Canadian Confederation
The Riel Rebellion
Manitoba becomes a Province
1867-1870
On July 1, 1867 the British colonies in North America were united under the British North American Act to become the Dominion of Canada.
Around 1868 son William married Charlotte SANDERSON, daughter of Jane HENDERSON and George SANDERSON (1815-1885). ** MORE ABOUT GEORGE SANDERSON
Between 1869 and 1870, The Red River Rebellion occurred; led by Louis RIEL (1844-1885).
William and his family lived in Red River Parishes, except for the winter of 1869-70, when they were living in Grand Rapids. Thereafter, they lived in St Peters.
On July 15,1870 Manitoba became the fifth province of Canada, the Canadian Government having acquired the territory previously governed by the HBC.
Around 1870 son Joseph married Jane INKSTER, daughter of Isabella SANDERSON and John INKSTER (1806-1864).
Indian Treaty Number One
1871
Shortly after the entry of Manitoba into Confederation, the Dominion Government made plans to extinguish the Indian title in anticipation of the expected influx of agricultural settlers into the province.
In 1871 Wemyss SIMPSON (1824-1894) was appointed as Canada's Commissioner and General Indian Agent for the Northwest, to negotiate treaties with the Indians of the region. SIMPSON arrived in the province on July 16, 1871, and he immediately issued proclamations to the Indian leaders of the territory to come to Lower Fort Garry to negotiate the terms of a Treaty. The first to arrive was Chief Henry PRINCE.  By the end of August SIMPSON's negotiations culminated with the signing of Indian Treaties Number One (the Peguis Band) and Two, the first such treaties concluded by the new Dominion of Canada.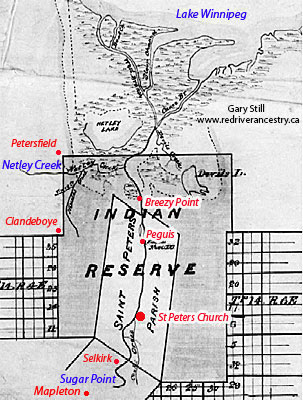 Plan showing St Peters Reserve No.1
Around 1872 daughter Helen married Joseph Alphonse PARENTEAU, son of Suzanne DAIGNEAULT & Joseph PARENTEAU (1811-1890).
In 1880 son Edward married Harriet BALLENDINE, daughter of Mary JEBB and John BALLENDINE (1800-1879).
** MORE ABOUT JOHN BALLENDINE
In 1882 son Matthew married Victoria Elizabeth PARISIEN in St Andrews, daughter of Sarah Bella PRINCE and Alexander PARISIEN (1835-1880). 
William COOK Dies
1885
On Mar 3, 1885 William COOK died at the age of 78.
1885 was the year of the Northwest Rebellion in Saskatchewan; the Battle of Batoche and the trial and hanging of Louis RIEL in Regina.
In 1886 widow Mary and her son (Thomas COOK) withdrew their names from Treaty as members of the St Peters Band in order to receive Half-Breed Scrip. That same year, son Edward also withdrew from Treaty as a member of the Grand Rapids Band.
Grand Rapids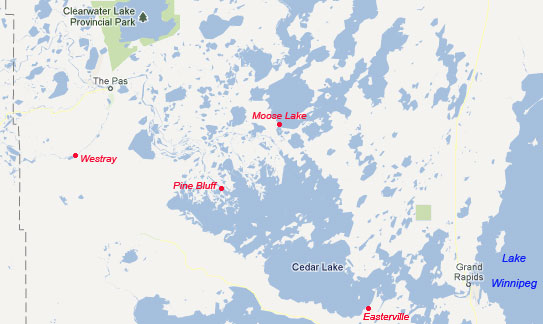 Not long after their withdrawal from Treaty, Widow Mary and son Thomas moved to Grand Rapids where they moved in with son Edward and his family. In the census of 1891 they were all recorded together there.
In 1887 son Joseph married Jane INKSTER at Moose Lake, daughter of Isabella SANDERSON and John INKSTER (1806-1864). ** MORE ABOUT JOHN INKSTER
In 1891 son Thomas married Ann Catherine ORVIS, daughter of Mary Ann McLEAN and John Benson ORVIS (1844-1930). ** MORE ABOUT JOHN BENSON ORVIS
In the 1901 census, Widow Mary COOK (age 86) is with son Thomas COOK (age 34) at Grand Rapids.
Please post comments & queries as this link: FORUM DISCUSSING the WILLIAM COOK FAMILY
========================== Family Details ==========================
Children:
1. Feb 28, 1838 MARIA COOK (m. Charles Thomas ANDERSON)      
?2. 1839 ELIZABETH COOK (m. Jackson SMITH)
3. Dec 25, 1840 WILLIAM COOK (m. Charlotte SANDERSON)
4. Sep, 1842 MARY ANN COOK (m. Philip McDONALD)
5. Nov, 1843 JOSEPH COOK (m. Jane INKSTER)
6. 1845 ISAAC COOK (Died age 22)
7. CATHERINE COOK
8. Oct, 1849 HELEN "NELLIE" COOK (m. Joseph Alphonse PARENTEAU)
9. 1862 MATTHEW COOK (m1. Victoria Elizabeth PARISIEN)
10. Aug 15, 1865 EDWARD COOK (m. Harriet BALLENDINE)
11. May 5, 1867 THOMAS COOK (m. Ann Catherine ORVIS)