PHILIP McDONALD (1833-1914)
MARY ANN COOK (1851-1923)
(Last Updated: August 08, 2013)
Philip McDONALD was born around 1831 in St Andrews Parish, Red River, son of Half-breed Nancy FERGUSON and Donald McDONALD (1797-1876), a retired HBC voyageur from Scotland.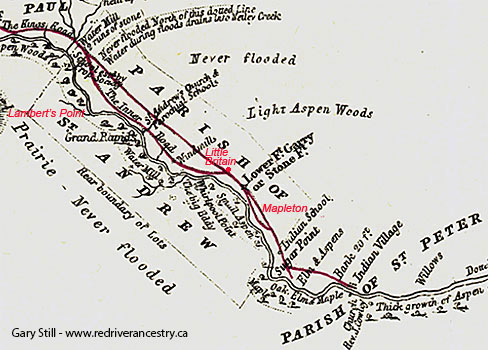 St Andrews Parish from Hind's Map of 1857
Marriage to Mary Ann COOK
1861
In 1861 Philip married Mary Ann COOK, daughter of Mary Anne BEARDY & William COOK (1815-1885).  
** MORE ABOUT WILLIAM COOK
In 1862 Philip's sister, Catherine McDONALD married Peter TAYLOR, son of Mary INKSTER and James TAYLOR (1791-1878).
A Post Master with the Hudson's Bay Company
1865
In 1865 Philip began to work with the Hudson's Bay Company (HBC) in the York Factory District, first at God's Lake for one year, then at Island Lake for five years.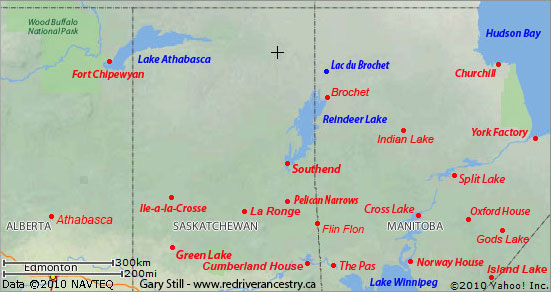 Canadian Confederation
Red River Métis Rebellion
Manitoba becomes a Province
1867-1870
On July 1, 1867 the British colonies in North America were united under the British North American Act to become the Dominion of Canada. Sir John A MACDONALD (1815-1891) was appointed as Canada's first Prime Minister.William McDOUGALL (1822-1905) became the Minister of Public Works, and he began negotiations to acquire Rupert's Land from the HBC. Surveyors were sent out to prepare the way for an expected influx of settlers.
On Oct 11, 1869, Louis RIEL (1844-1885) placed his foot on the surveyors' chain to tell them their work was finished. This marked the beginning of the historic Red River Métis Rebellion.
On July 15,1870 Manitoba became the fifth province of Canada.The Rebellion was essentially over and Louis RIEL fled to Montana in fear of his life.
.
In 1871 Philip was moved from the York District over to the Cumberland District (in Saskatchewan) where he was the Post Master at The Pas for one winter before moving to Rapid River (Stanley). We know that son Charles was born in January of 1872 at The Pas.
In 1874 additional legislation granted $160 Half-breed Scrip, redeemable in Dominion lands, to all Métis heads of families. However, as most students and scholars of Métis history are aware, very little of this land and Scrip remained in Métis hands by the late 1870s. Instead, the period from 1870 to 1890 saw the widespread dispersal of the Métis from Red River.
In 1876 Philip McDONALD of St Andrews Parish claimed his Half-breed Scrip
Bresayor, Saskatchewan
1881-82
In 1881 Philip was retired to Red River, "as a Post could not be found for him in Saskatchewan where he wished to live so as to be near medical advice."
In the fall of 1881 son Charles BREMNER (1835-1919) and Peter TAYLOR (1840-1920) went west to scout out an area to establish a settlement away from the turmoil associated with the RIEL uprising in Manitoba. Story has it that their original intention was to go to the Peace River region, but that they were so impressed with the plentiful grass and water in the area that is now Bresaylor district of Saskatchewan that they decided to stay. And so it was that the settlement was named BRESAYLOR, using three letters from each of the founding families (BREMNER, SAYER & TAYLOR). Peter TAYLOR of course was Philip's brother-in-law, married to his sister, Catherine McDONALD.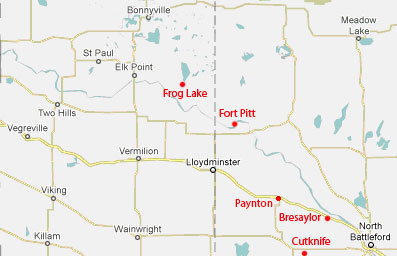 In the spring of 1882 the TAYLOR, BREMNER and SAYER families, along with other Red River families including Philip McDONALD, moved out to Bresaylor.
The Northwest (RIEL) Rebellion
1885
** MORE ABOUT BRESAYLOR, the BREMNER FAMILY and the NORTHWEST REBELLION
During the Rebellion of 1885, Philip McDONALD was about 52 years old (wife Mary Ann about 34), and they had eight living children at Bresaylor: Alfred (age 27), Norman (18), Cuthbert (16), Charles (13), Lizzie (12), Angus (10), Eliza (8) and Rose (age 4). Their last child was Colin who was born in October of 1885 at Bresaylor, five months after the Battle at Batoche and the surrender of Louis RIEL (1844-1885). ** MORE ABOUT LOUIS RIEL in DCBO
======================= // =======================
In the Census of 1891 Philip and Mary Ann were still at Bresaylor and all of their nine children were still at home.
In the Census of 1901 we find Philip (age 60) and Mary Ann (age 50) at Bresaylor alone. Six of their children were living together at a separate farmstead in the North Battleford District; these were siblings Cuthbert (age 31), Charles (29), Lizzie (28), Eliza (24), Rosie (20) and Colin C (age 16).
In 1901 daughter Eliza married Alexander George JOHNSTONE, son of Elizabeth McDONALD and Charles JOHNSTONE (1843-1913).
By 1906 most of the family were recorded back with their parents in Bresaylor, including Norman (age 41), Charley (37), Lizzie (age 32), Cuthbert (29), Angus (29), and Rose (23).
Census 1911: Saskatchewan (Battleford), pg 6, HH-73: Philip MacDONALD, age 79; wife Mary, age 49. Next-door in HH-74: Charles MacDONALD, age 39; in HH-75 is Cuthbert McDONALD, age 41; and in HH-76 is Cuthbert McDONALD, age 41.
Outbreak of the First World War
On Aug 4, 1914 Great Britain (Canada on Aug 5) declared war on Germany and Austria-Hungary to uphold treaties with France and Belgium which were under German attack. This marked the beginning of World War I.
YOUTUBE VIDEO: WORLD WAR ONE HISTORY – CANADA 1/5
On Aug 10, 1914 Philip McDONALD died in North Battleford. 
Around 1915 daughter Rose married Joseph Milton DOBIE (1875-1868) from Ontario who was living in the little railroad town of Paynton at the time, not far to the northwest of Bresaylor, Rose's hometown. Joseph was the eldest son of Jane Augusta LAWSON and James DOBIE (1842-1904) who was born in Quebec.
On Oct 23, 1923 Mary Ann (nee COOK) McDONALD died in Battleford.
Please post comments and queries at this link: FORUM for DISCUSSING the PHILIP McDONALD FAMILY
========================== Family Details ==========================
Children:
1. May 10, 1862 MARY ANNE McDONALD (Died in infancy, age 2)
2. Jul 20, 1863 ALFRED McDONALD
3. May 24, 1865 BELLA McDONALD (Died 1884)
4. Dec 25, 1867 NORMAN McDONALD
5. Oct 17, 1869 CUTHBERT "CUBBY" McDONALD
6. Jan 22, 1872 CHARLES McDONALD
7. Sep 9, 1873 LIZZIE ANN McDONALD (?m. Andrew CHISHOLM)
8. Feb 25, 1875 ANGUS McDONALD
9. Jan 22, 1877 ELIZA McDONALD (m. Alexander George JOHNSTONE)
** MORE ABOUT ALEXANDER GEORGE JOHNSTONE
10. Jan 17, 1881 ROSE McDONALD (m. Joseph Milton DOBIE)
** MORE ABOUT JOSEPH MILTON DOBIE
11. Apr 20, 1883 WILLIAM ALEXANDER McDONALD (Died in infancy, age 2)
12. Oct 12, 1885 COLIN CAMPBELL McDONALD