JOSEPH MILTON DOBIE (1871-1968)
ROSE McDONALD (1881-1931)
(Last Updated: October 05, 2013)
Joseph Milton DOBIE was born Dec 26, 1871 in Huron, Ontario, the eldest son of Jane Augusta LAWSON and James DOBIE (1842-1904) who was born in Quebec. ** Huron is located just south of Goderich on the east side of Lake Huron.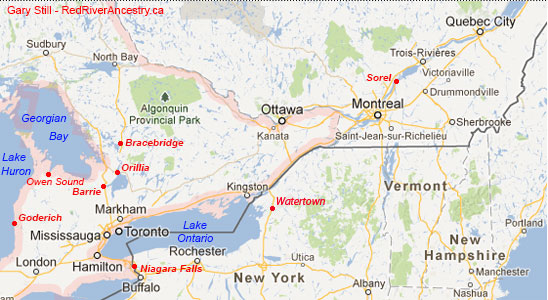 In 1881 Joseph (age 9) was recorded in the Muskoka District of Ontario with his parents (Jane & James DOBIE). ** The Muskoka District surrounds Bracebridge on the above map (East of Georgian Bay).
Cavalier, North Dakota
1883-1905
In 1883, when Joseph was 12 years old, the DOBIE family immigrated to the USA (Cavalier, North Dakota). His siblings Malcolm and Flora were born there in 1885 and 1887 respectively.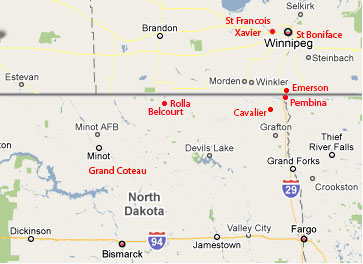 Around 1902-03, Joseph's brother, John, immigrated to Saskatchewan and settled near Langham (about 20 miles NW of Saskatoon; SE of Battleford).
In the spring of 1904 Joseph's father, James DOBIE died in Cavalier, ND. Joseph would have been about 32 years old then.
Paynton, Saskatchewan
1905
In 1905 most of the rest of the DOBIE family moved to Saskatchewan. In the 1906 Census, Widow Jane DOBIE (age 57) and her children, Joseph Milton (age 33), Malcolm (21) and Flora (age 19) were recorded there together in Paynton.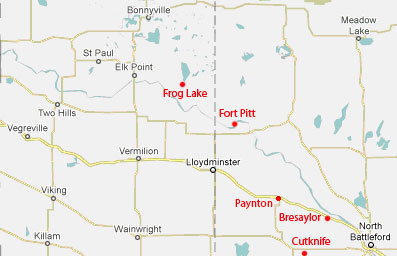 Paynton is located not far northwest of Bresaylor along Highway 16 (Yellowhead Hwy)
Marriage to Rose McDONALD
1910
Around 1910 Joseph Milton DOBIE married Rose McDONALD from Bresaylor, daughter of Mary Ann COOK and Philip McDONALD (1833-1914). ** MORE ABOUT PHILIP McDONALD
Not long after they were married, Joseph and Rosie moved to Winnipeg (Manitoba) for a brief period. In the 1911 census they were recorded at 400 Talbot Avenue, Joseph as a Mechanic/ Machinist.
In 1912 their first child, Donald, was born.
By 1914, when daughter Isobel was born, they were back in Paynton, Saskatchewan.
Outbreak of the First World War
1914
On May 19, 1914, Joseph enlisted at North Battleford, SK. His Attestation Record indicated that he was a Mechanic living in Paynton. He was described as 5'7", fair complexion, with blue eyes and brown hair. He listed his three children: Donald (age 4), Isabell (age 2) and Jean (3 months old).
On Aug 4, 1914 Great Britain (Canada on Aug 5) declared war on Germany and Austria-Hungary to uphold treaties with France and Belgium which were under German attack. This marked the beginning of World War I.
YOUTUBE VIDEO: WORLD WAR ONE HISTORY – CANADA 1/5
Interestingly, Soldier J.M. DOBIE was the Enumerator for the 1916 Census in the Paynton District.
Dec 18, 1914 his brother Malcolm, an Implement Dealer, enlisted at Winnipeg.
On Mar 30, 1916 his youngest brother, Thomas Miller enlisted at North Battleford.
VAC: On Feb 2, 1919 Joseph (of Paynton, SK) received his Discharge (upon demobilization) at Regina, SK.
November 11,1919, Armistice Day (Remembrance Day) marked the end of the First World War.
========================= // =========================
From 1925 to 1930 Joseph's brother Malcolm was the Reeve for the RM of Paynton.
In 1931 Rose (nee McDONALD) DOBIE died.
Daughter Jean married Clarence GEE of unknown origins.
From 1944 to 1948, brother Malcolm was elected to the Legislative Assembly of Saskatchewan.
** MORE ABOUT MALCOLM DOBIE in WIKIPEDIA
On Feb 13, 1968 Joseph Milton DOBIE died at the Colonel Belcher Hospital in Calgary, AB.
Please post comments and queries at this link: FORUM DISCUSSING the JOSEPH MILTON DOBIE FAMILY
========================== Family Details ==========================
Children:
1. 1912 DONALD DOBIE
2. 1914 ISOBEL DOBIE (m. Archibald "Archie" McLEOD)
3. 1916 JEAN DOBIE (m. Clarence GEE)
4. 1818 DOUG DOBIE
5. 1829 WALLACE DOBIE
6. GRACE ROSE DOBIE (m. William Carl WOODCOCK)