ARCHIBALD WILLIAM "ARCHIE" McLEOD (1918-1992)
ISOBEL DOBIE (1920-1973)
MARJORIE AFFOLTER (?-?)
(Last Updated: April 20, 2015)
Archibald William "Archie" McLEOD was born Mar 18, 1918 in Selkirk, Manitoba, the eldest son of Isabella GRAHAM and William Hugh McLEOD, a baker who was born in Minnesota and came to Manitoba in 1896.
** MORE ABOUT WILLIAM HUGH McLEOD
This page is under construction, in collaboration with Archie's son, Ross McLEOD who provided the photos shown here.
Archie spent his childhood mostly in Selkirk with a couple of years or so in Beausejour (MB).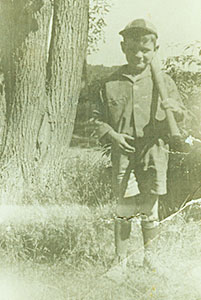 Archie in 1923
As kids Archie and his buddies would meet the SS Keenora coming in to Selkirk from Lake Winnipeg and offered to carry passenger's luggage from the dock to the streetcar station for a nickel.
While living in Beausejour, his father Billy became a Fuller Brush salesman for a while, using a horse and wagon to sell his way to Grand Beach then buy a load of ice and fish to sell on the way back.
As a young man he spent at least one season working as deck hand on the SS Keenora.
The Great Depression – The Dirty Thirties
1929-1939
Throughout the years of 1929 to 1939, there was a worldwide Depression and Canada was one of the worst affected countries. Financially and economically the country began to collapse regardless of what was done by political power.
During the Depression Archie worked winters in bush camps in the Manigotagan area.
He once decided to walk from the bush camp to Hecla on the ice to attend a Saturday night dance. About half way he met a bootlegger he knew with a wagonload of homebrew to sell at the bush camps. Archie credits the bootlegger for saving his life by refusing to sell him a bottle as he had many miles left to walk in mid-winter.
World War II
1939
On Sept 4, 1939 Canada and Britain declared war on Germany, and almost immediately new recruits began pouring into Winnipeg to sign up with the Winnipeg Grenadiers and the Royal Rifles of Canada.
On July 19, 1940, Archie enlisted in the Royal Canadian Army Service Corps. He was 22 years old.
Marriage to Isobel DOBIE
Saskatchewan
1941
In 1941 Archie married Isobel DOBIE from Paynton, Saskatchewan, the daughter of Rose McDONALD and Joseph Milton DOBIE (b-1871) who was born in Huron, Ontario, a veteran of the First World War. This was just before his outfit was moved from Camp Borden to Halifax to prepare to go overseas. ** MORE ABOUT JOSEPH MILTON DOBIE
Isobel returned to her family's home in North Battleford (SK). to await the birth of their son Ross in 1943 and Archie's return from overseas.
Canadian Forces on the Beaches of Normandy
1944
Archie participated in the D-Day landings on Juno Beach in Normandy.
The initial landings on the beaches of Normandy occurred on June 6,1944 (D-Day) during Operation Overlord, and lasted until the time of the Allied breakout in late July.

** MORE ABOUT D-DAY from the JUNO BEACH CENTRE
YouTube Video – BLOODY NORMANDY
Following the battle at Normandy, Archie participated in the Liberation of France, Belgium, and Holland.
 On March 23, 1945, the Allied forces began the assault across the Rhine. Canadian Forces played an important role in liberating the Netherlands. Canadians who landed on D-Day, fought battles through France, Belgium, the Scheldt and in Germany before being dispatched back to the Netherlands with the Canadians who had fought in Italy. Canadian orders were to push the German troops occupying the northeast back to the sea and to drive German troops in the west back into Germany. The advance was halted on April 12, because of concern for the well-being of citizens in the western Netherlands, who, having been starved for months, ran the risk of having their country flooded if the Germans panicked and opened the dykes
On April 28, the Canadians negotiated a truce which permitted relief supplies to enter the western Netherlands and end the "Hunger Winter". No part of western Europe was liberated at a more vital moment than the Netherlands and the Dutch people cheered Canadian troops as one town after another was freed On May 5,1945, Col.-Gen. Johannes Blaskowitz formally surrendered the remaining 117,000 German troops in the Netherlands to Canadian Lt.-Gen. Charles Foulkes of the First Canadian Corps, ending nearly eight months of bitter and difficult fighting.
On May 7, 1945 Germany surrendered and the War in Europe ended; the next day, May 8, is declared VE Day.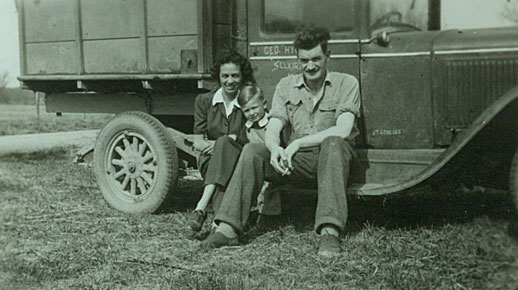 Isobel & Archie McLeod and son Ross with Oakland truck - 1947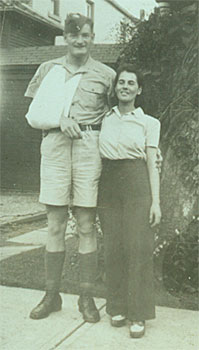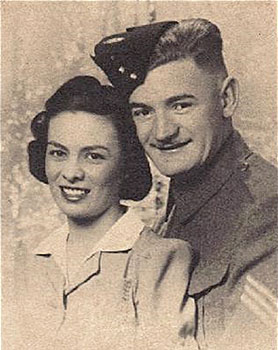 Archie and sister-in-law Jean Dobie – Isobel & Archie McLeod
Mapleton – Selkirk, Manitoba
In the late 1940's Archie purchased property in Mapleton (south of Selkirk, MB); sometimes referred to as Old England. This property is located where Craig Avenue meets the River Road. In the early 1950's he built a framed structure to replace a log house that was located there. This was part of Lot 8 which was owned by Peter FIDLER (1867-1955) who lived next-door.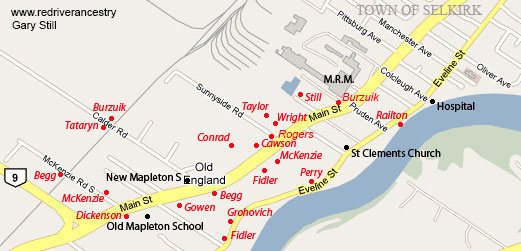 The McLeod property was east of the Old Mapleton School overlooking the Red River
Youngsters of that era referred to the location as "McLeod's Hill', the traditional neighbourhood winter sliding hill.
Archie worked for many years at the Manitoba Steel Foundry, nest to the Manitoba Rolling Mills (M.R.M. on the above map). He became a member of Lisgar Lodge, No.2 G.R.M.A.F. & A.M. Masons and Royal Canadian Legion.
Son Ross began attending the Old Mapleton School. ** MORE ABOUT MAPLETON SCHOOL
On July 8, 1953 Archie's father, William Hugh McLEOD died in Quesnel, BC.
On Mar 14, 1958 his mother, Isabella (nee GRAHAM) McLEOD died in Selkirk (buried in St Clements Cemetery, Mapleton).
About 1960 Archie started an industrial and automotive supply company in Selkirk.
In 1967 son Ross married Irene Joanne GUDMUNDSON, daughter of Sigridur Olof Kristina "Stina" & Gudjon GUDMUNDSON from Riverton, Manitoba and granddaughter of Kristbjorg JOELSDOTTIR and Gestur GUDMUNDSON (1876-1921). ** MORE ABOUT GESTUR GUDMUNDSON
Edmonton
1971
In 1971 when his business failed, Archie and Isobel moved to Edmonton. For a time, Archie worked at a small foundry in Devon (West of Edmonton)
In 1973 Isobel (nee DOBIE) McLEOD died in Edmonton.
Marriage to Marjorie AFFOLTER
1976
In 1976 in Edmonton, Archie re-married to Marjorie AFFOLTER of uncertain origins, previously the wife of Hans AFFOLTER.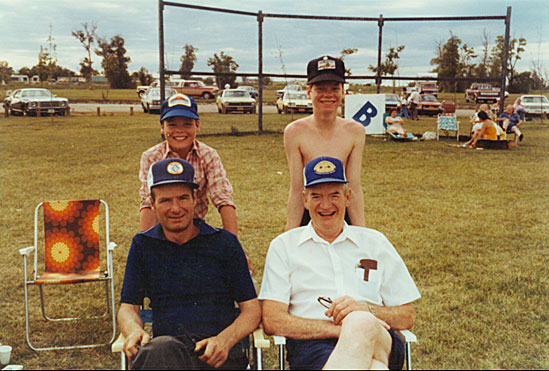 Archie McLeod with son, Ross, and grandsons (Bill & Doug)
On Sep 28, 1992 Archie McLEOD died in Edmonton.
Please post comments and queries at this link: FORUM for DISCUSSING the ARCHIE McLEOD FAMILY
=========================== Family Details ===========================
Child:
1. Apr 7, 1943 ROSS McLEOD (m. Irene Joanne GUDMUNDSON)