GESTUR GUDMUNDSON (1876-1921)
KRISTBJORG JOELSDOTTIR (1870-1941)
(Last Updated: September 29, 2017)
Gestur GUDMUNDSON was born Mar 8, 1876 at Kleifarstekkur, Iceland, the only son of Ingirgur EINARSDOTTIR and Gudmunder GUDMUNDSON (1833-1909)
This GUDMUNDSON family history is being developed in cooperation with Ross McLEOD , tracing the ancestry of his former wife, Irene Joanne GUDMUNDSON, Gestur's granddaughter. Thanks to the book "Icelandic River Saga" written by Nelson S. Gerard, Ross can trace the GUDMUNDSON lineage back to Sera (Pastor) Mikael BERGSSON, born about 1575 at Gardur in Kelduhverti, Iceland.
Ross McLEOD is the son of Isobel DOBIE and Archibald William McLEOD (1918-1992).
On Oct 21, 1875, the first group of Icelandic settlers arrived at Willow Bar (Gimli) aboard the HBC steamer Colville. The first Hecla Island settlers came from the second or "large group" of Icelanders in 1876. Most island settlers came from western and northern Iceland.** MORE ABOUT THE FIRST ICELANDIC SETTLERS
Gestur arrives in Canada
1879
In 1879 Gestur came to Canada at the age of three with his parents and four sisters. First settling at Hnausa, Manitoba (see map below).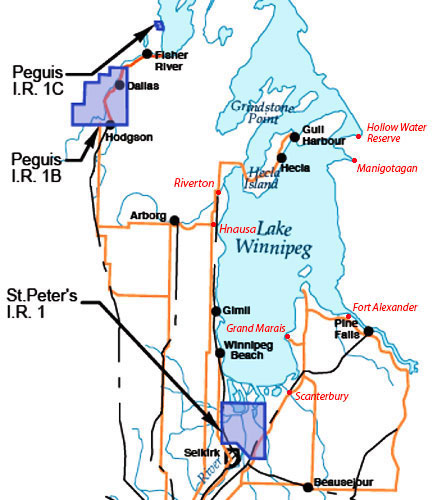 Sandy Bar
1881
On Jan 5, 1881 Gestur's mother (Ingirgur) died at Hnausa, Manitoba. His four young sisters were fostered out, but Gestur remained with his father (Gudmunder) who then moved to Sandy Bar. The location was Section 14-23-4-Epm).
Gestur and John RAMSAY
DIA documents seem to suggest that Gestur's father (Gudmunder) may have purchased his Sandy Bar property from Oloff OLAFSSON.
OLOFSSON had built two houses on the property using material from another house that had been built by the Indian John RAMSAY (1846-1928) who was now living in the St Peters Indian Reserve. For many years prior to that, the Sandy Bay property had been the winter home for RAMSAY after he spent the summer months hunting and fishing elsewhere. It was also the gravesite of his wife Betsey and two of their children who had died at the beginning of the smallpox epidemic of 1876.which killed over 30 people and resulted in a nine-month quarantine of the entire Icelandic community on Hecla Island. RAMSAY had tried (unsuccessfully) to repossess the Sandy Bar property, claiming he owned it. (DIA correspondence in the Canadian Archives).
Upon the signing of Indian Treaty Number One, RAMSAY became a member of the St Peters Indian Band.
Gestur became a skilled fisherman and hunter. Among other things, he was noted for constructing ingenious log bear traps. He became a friend of the aforementioned John RAMSAY who often came to Sandy Bar to visit the graves of his wife Betty and their children.
Gestur and Kristbjorg JOELSDOTTIR
1901
On Oct 15, 1901 son Gudmunder (named after his grandfather) was born in the RM of Gimli. According to Manitoba Vital Stats, his mother's maiden name was Kristbjorg JOELSDOTTIR. According to Ross McLEOD's information, Kristbjorg was born Dec 22, 1870 in Iceland. According to census records she came to Canada in 1900.
In 1903 the CPR railroad was extended from Selkirk to Winnipeg Beach; on to Gimli in 1906.
On May 27, 1906 Gestur GUDMUNDSON formally married Kristbjorg JOELSDOTTIR in the RM of Gimli (Vital Stats).
From the 1906 census at Sandy Bar: Gestur GUDMUNDSON, age 27; wife Kristbjorg, age 31. Children: Gudmunder (age 4), Gudjon (3) and Einar (age 1). With them is Gestur's father, Gudmundur GUDMUNDSON, age 68.
On Sep 26, 1909 Gester's father, Gudmundur GUDMUNDSON died at Sandy Bar.
The 1911 census at Sandy Bar: Gestur GUDMUNDSON, age 35; wife Kristbjorg, age 40. Children: Gudmundur (age 9), Gudjon (8), Einar (5) and baby Gestur (age 6 months).
In 1914 the CPR railroad was extended from Gimli to Riverton.
World War I
1914-1919
On Aug 4, 1914 Great Britain (Canada on Aug 5) declared war on Germany and Austria-Hungary to uphold treaties with France and Belgium which were under German attack. This marked the beginning of World War I.
The 1916 census at Sandy Bar: Gestur GUDMUNDSON, age 38; wife Kristbjork, age 42. Children: Gudmundur (age 14), Gudjon (12), Einar (9), Gestur (5), Ingerijerdur (4) and Gudrian (age 7 months).
November 11, 1919, Armistice Day (Remembrance Day) marked the end of the First World War.
On Jan 13, 1921 Gestur GUDMUNDSON died in RM of Bifrost, age 44 (b-1877).
The 1921 census at Sandy Bar: Widow Kristbjorg, age 42. Children: Gudmunder (age 21), Gudjon (18), Einar (15), Gester (10), Indijergdun (8) and Kristbjorg (age 6).
** My Note: Those census records are obviously laced with ages, dates and spelling errors!
In 1932 son Gudjon married Sigridur Olaf Kristin GOODMANSON, daughter of Gudrun [MAGNUSSON (JOHANNESDOTTIR)]. These were Ross McLEOD's father & mother-in-laws; Irene Joanne's parents.
Youngest daughter Kristbjorg married Joe CLARK.
In 1940 Widow Kristborg was recorded in the Voters List in Riverton as well as Mr and Mrs Gudjon GUDMUNDSON and sons Einar and Gestur.
On Jul 8, 1941 Kristen GUDMUNDSON died in St Boniface, age 67.
Comments and queries at this link: FORUM DISCUSSING the GESTUR GUDMUNDSON FAMILY
=========================== Family Details ===========================
Children:
1. Oct 15, 1901 GUDMUNDUR GUDMUNDSON
2. May 4, 1903 GUDJON GUDMUNDSON (m. Sigridur Olaf Kristin GOODMANSON)
3. Oct 19, 1905 EINAR GUDMUNDSON
4. Nov, 1911 GESTUR GUDMUNDSON
5. 1915 KRISTBJORG GUDMUNDSON (m. Joe CLARK)