WILLIAM HUGH "BILLY" McLEOD (1888-1953)
ISABELLA GRAHAM (1886-1958)
(Last Updated: June 11, 2014)
William Hugh "Billy" McLEOD was born on June 13, 1889 in Hallock, Kittson County, Minnesota, son of Mary Ellen THOMPSON & Angus George McLEOD (1860-1947). ** MORE ABOUT ANGUS GEORGE McLEOD
Inspiration for this page came from Billy's grandson, Ross McLEOD, an old friend and one-time classmate at the old Mapleton School. ** MORE ABOUT MAPLETON SCHOOL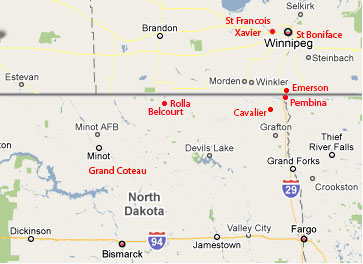 Hallock, Minnesota – located NE of Grafton and SE of Pembina
Minnesota Census, June, 1895: William H (age 6) with parents in Hallock, MN.
In 1896 Billy (eight years old) emigrated with his family in a flat-bottom boat down the Red River from Hallock to Selkirk, MB.
Ross: Billy worked in the family bakery, then as a cowboy, later cook on the railway (among other things).
Census 1901, 1906: William H (age 12, 18) with parents in Selkirk.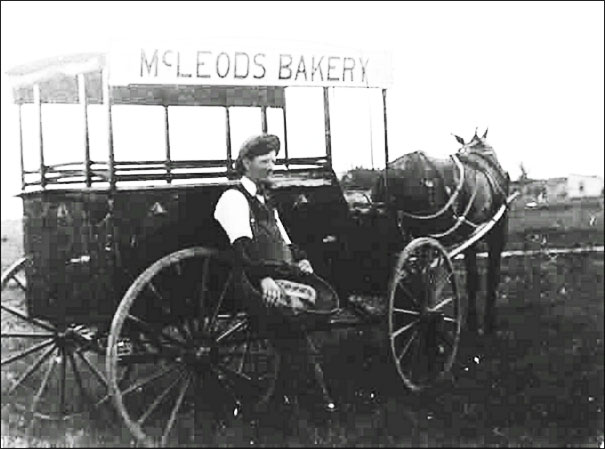 A.G. McLeod Bakery delivery wagon – around 1910
(From Ross McLeod)
World War I
Marriage to Isabella GRAHAM
1914-1919
On Aug 4, 1914 Great Britain (Canada on Aug 5) declared war on Germany and Austria-Hungary to uphold treaties with France and Belgium which were under German attack. This marked the beginning of World War I.
YOUTUBE VIDEO: WORLD WAR ONE HISTORY – CANADA 1/5
On Dec 12, 1914 Billy married Isabella GRAHAM in Selkirk, daughter of Isabella and Robert GRAHAM. (a 'Pitheadman' born c1864 in Muiravonside, Stirlingshire, Scotland).
Ross: Isabella born Apr 15, 1886 in Burning Lambert, Falkirk, County of Stirling, Scotland, daughter of Capt. GRAHAM who was rewarded by the Government of Ceylon with a teak chest of silver dinnerware for the rescue of passengers from a sinking ship in the early 1900's. Showed Archie McLEOD (Ross' father) the chest and contents during a visit to Scotland in 1944.
The 1916 Census recorded Billy and his family at 118 Pacific Avenue in Selkirk as follows: William McLEOD, Baker, age 23; wife Isabella, age 28) and daughter Blythe, age 9 months.
November 11,1919, Armistice Day (Remembrance Day) marked the end of the First World War.
========================== // ==========================
World War II
1939-1945
On Sept 4, 1939 Canada and Britain declared war on Germany, and almost immediately new recruits began pouring into Winnipeg to sign up with the Winnipeg Grenadiers and the Royal Rifles of Canada.
Eldest daughter Blythe married George Russell GRIEVE, son of Horetta PEEL and George GRIEVE (1877-1914) from Cloverdale (West of Lower Fort Garry).
In 1939 daughter Margaret married John CAMPBELL.
In 1941 son Archie married Isobel DOBIE from Paynton, Saskatchewan, the daughter of Rose and Joseph Milton DOBIE who was born in Huron, Ontario, a veteran of the First World War.
On May 7, 1945 Germany surrendered and the War in Europe ended; the next day, May 8, is declared VE Day.
========================= // =========================
On Apr 26, 1947 Billy's father (Angus) died in Selkirk (MB); buried in the St Clements Cemetery at Mapleton.
On July 8, 1953 William McLEOD died in Quesnel, BC.
On Mar 14, 1958 Widow Isabella McLEOD died in Selkirk (buried in St Clements Cemetery, Mapleton).
Ross: Another random Mapleton story: Back when a streetcar operated between Winnipeg and Selkirk (pre war and pre me), my grandfather, Billy McLEOD and another person were driver and conductor. On the last run from Winnipeg the last passenger was Mr ELLERBY who was entertaining them with stories about his recent trip to the South Pacific. When they got to his stop just south of Mapleton School, he invited them to come to his house down on the River Road for a few drinks. They finished the run to Selkirk and drove the streetcar back, parked it, and walked down for a few drinks. The ELLERBYs had brought a houseboy back from their trip. When the ELLERBYs went to bed they told them to stay as long as they wanted - just clap twice whenever they wanted another drink and the houseboy would bring it. They thought this was great! Of course the next morning they were passed out and the streetcar wasn't in Selkirk to make its first run of the day. They also would no longer be employed by the streetcar company. The houseboy, PIRANO (not sure of the spelling) later would come into or marry into money. This was the family that had a place next to Mapleton School behind Campion's house and Jackie SPENCE's cabin and wound up buying the old school building and moving it a little further from the highway around 1960.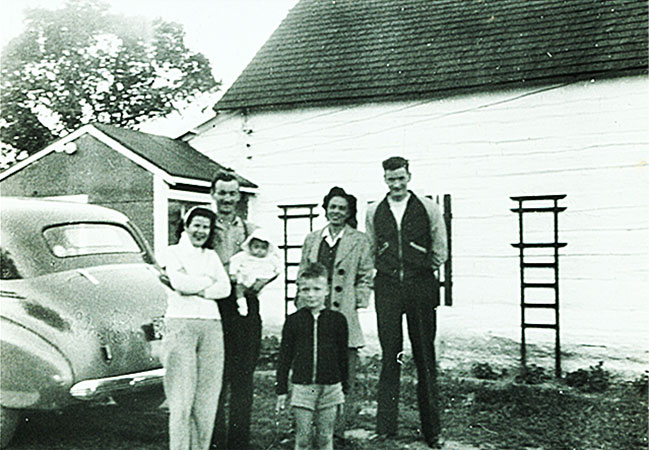 The original log house purchased by Archie McLeod
L-R: Margaret (nee FLOCK), Angus Graham McLeod (Archie's brother) and their daughter Wendy;
Ross, his mother (Isobel) and his father, Archie McLeod
Please post comments and queries at this link: FORUM DISCUSSING the WILLIAM HUGH McLEOD FAMILY
=========================== Family Details ===========================
Children:
1. Aug 21, 1915 BLYTHE MARY McLEOD (m. Russell GRIEVE)
2. Mar 18, 1918 ARCHIBALD WILLIAM "ARCHIE" McLEOD (m1. Isobel DOBIE;  m2. Marjorie AFFOLTER)
3. 1920 MARGARET McLEOD (m. John CAMPBELL)
4. Jan 26, 1923 ANGUS GRAHAM McLEOD (m. Margaret "Margie" FLOCK)
5. Dec 24, 1925 IRIS McLEOD (m. Alex DUNCAN)
6. KATHLEEN "KAY" McLEOD (m. Gordon SMITH)
7. FLORENCE McLEOD (m. Frank YOUNGMAN)