ANGUS GEORGE McLEOD (1860-1947)
MARY ELLEN (ELEANOR) THOMPSON (1865-1957)
(Last Updated: March 26, 2014)
Angus George McLEOD was born Sep 9, 1860 in Black River Falls, Jackson, Wisconsin, USA, son of Elizabeth Jane SULLIVAN & Alexander McLEOD (1822-1894). ** MORE ABOUT ALEXANDER McLEOD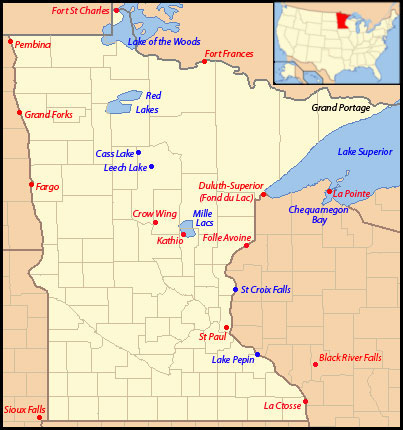 By 1880 the McLEOD family had moved to Kittson, Minnesota (SE of Pembina). Angus (age 21) was recorded there with his parents in the US Census that year.
Marriage to Mary Ellen THOMPSON
1885
Around 1885 Angus married Mary Ellen THOMPSON of so far uncertain origins.
In the 1895 Minnesota State Census, Angus was recorded in Hallock as a 34 year old farmer; wife Mary (age 29) with children as Ernest (age 9), Raymond (7), William (6) and Luella (age 4).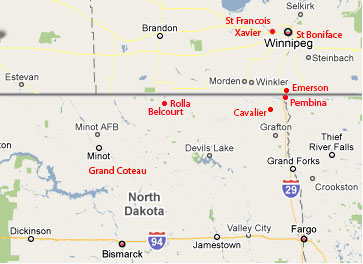 Hallock, Minnesota – located NE of Grafton and SE of Pembina
The McLEOD family moves to Selkirk Manitoba
1896
In 1896 Angus emigrated with family in a flat-bottom boat down the Red River from Hallock to Selkirk, MB.
In the 1901, 1906 and 1911 Censuses, the McLEOD family was recorded at 536 Eveline Street in Selkirk as follows: Angus McLEOD, Baker (age 40, 45, 50); wife Mary (age 35, 40, 45). Children: Ernest (age 15, 20, 25), Raymond (13, 19, 20), William (12, 18), Luella (10, 15, 20). In 1911, Eleanor (age 6).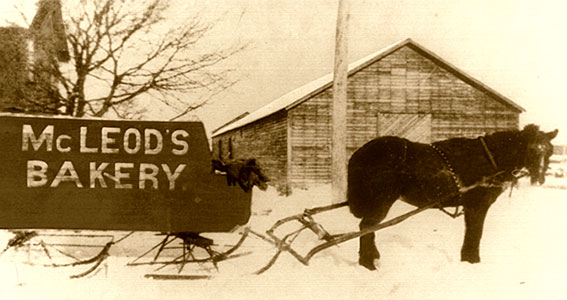 A.G. McLeod Bakery delivery sleigh – early 1900's
(From Ross McLeod)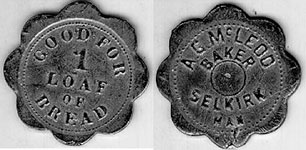 Bread Tokens from A.G. McLeod Bakery in Selkirk
(Courtesy G. McBean – Velma Photos)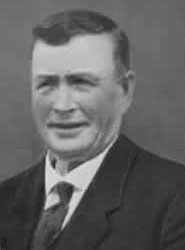 Angus George McLeod, elder brother of Emma, Christina, Almira, Arminda and Margaret.
 (From Picasa Web Albums – Velma Photos)
In 1912 eldest son Ernest married Beatrice May CARRUTH in Winnipeg. Also that year, daughter Louella Vinella married Eric GUNTER in Selkirk, son of Frances and Wellington Benson GUNTER (1854-1923).
World War I
1914-1919
On Aug 4, 1914 Great Britain (Canada on Aug 5) declared war on Germany and Austria-Hungary to uphold treaties with France and Belgium which were under German attack. This marked the beginning of World War I.

In December of 1914 son Billy married Isabella GRAHAM in Selkirk, daughter of Isabella and Robert GRAHAM from Scotland.
In the spring of 1916 eldest son Ernest enlisted at Winnipeg. His Attestation record indicates that he was a Storekeeper living in Selkirk at the time. Four days later, son Raymond enlisted; an Electrician living in Pinawa (MB).
In the 1916 Census of Selkirk, only Angus McLEOD (age 55), wife Mary (age 50) and daughter Eleanor (age 11).
November 11,1919, Armistice Day (Remembrance Day) marked the end of the First World War.
========================== // ==========================
In 1923 daughter Eleanor married Leroy Henry RIDDELL in Winnipeg, son of Susan JEPHSON and Henry John RIDDELL (1860-1938).
In 1927 son Raymond married Edith Irene OLIVER in Winnipeg, daughter of Christina McLEOD & Ernest Augustus Henry Algernum Knight OLIVER (born 1861 in England). ** Looks like Raymond married his first cousin. Edith's mother was Raymond's Aunt (sister of his father, Angus).
On April 26, 1947 Angus George McLEOD died in West Selkirk (buried in St Clements Cemetery, Mapleton).
In 1957 Mary Ellen (nee THOMPSON) McLEOD died.
Comments and queries at this link: FORUM DISCUSSING the ANGUS GEORGE McLEOD FAMILY
=========================== Family Details ===========================
Children:
1. Oct 21, 1885 ERNEST EDWARD McLEOD (m. Beatrice May CARRUTH)
2. Jul 4, 1887 RAYMOND ANGUS McLEOD (m. Edith Irene OLIVER)
3. Jun 13, 1888 WILLIAM HUGH McLEOD (m. Isabella GRAHAM)
** FAMILY PAGE for WILLIAM HUGH McLEOD
4. Jun 28, 1890 LUELLA VINELLA McLEOD (m. Eric Reginald GUNTER)
5. May 22, 1905 ELEANOR LOUISE McLEOD (m. Leroy Henry RIDDELL)