ALEXANDER McLEOD (1822-1894)
ELIZABETH JANE SULLIVAN (1832-1906)
(Last Updated: March 27, 2014)
On Apr 5, 1822 Alexander McLEODwas born in Kenyon, Glengarry County, Ontario, son of Catherine McLELLAN and Alexander McLEOD SR (born 1798 in Inverness, Scotland). ** MORE ABOUT ALEXANDER McLEOD SR
This Family Page is being developed in cooperation with Alex's great-great Grandson, Ross McLEOD.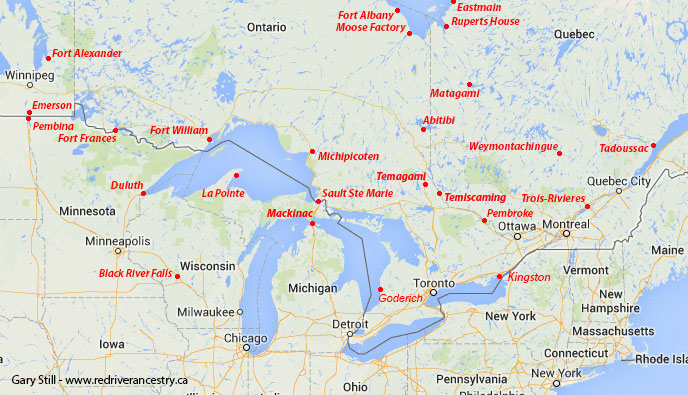 Marriage to Elizabeth Jane SULLIVAN
Renfrew County, Ontario
1848
Around 1848 Alec married Elizabeth Jane SULLIVAN in Renfrew County (ON), daughter of Elizabeth BUCHANAN & Edward SULLIVAN (1873-1920). In December of 1848 daughter Ann Jane was born in Horton (ON). This location is midway between Pembroke and Ottawa.
In the 1851 Census the family was recorded in Renfrew County; Alexander McLEOD, a carpenter, age 31; Elizabeth (age 21). Children: Ann Jane (age 3) and Sarah (age 1). Two more children were born there; Elmira in 1855 and Alexander in 1856.
Black River Falls, Jackson County, Wisconsin
1860
From the 1860 US census at Albion (WI): Alexander McLEOD, Millwright, age 41; wife Elizabeth, age 28. Children: Ann Jane (age 10), Elizabeth (8), Elmira (6) and Alexander (age 4). Albion is located west of Milwaukee; SE of Black River Falls.
In 1860 son Angus George, and in 1863 daughter Margaret Eleanor were born in Black River Falls.
In 1866 daughter Sarah married Elijah SMITH in Jackson County, said to be a son of Clarissa WEBSTER and Jesse Elsworith SMITH (1813-1894).
In 1868 eldest daughter Ann Jane married Oliver DARWIN in Horton, Renfrew County, Ontario, son of Emily and Lewis DARWIN (b-1780).
Selkirk, Manitoba
On July 15,1870 Manitoba became the fifth province of Canada, the Canadian Government having acquired the territory previously governed by the HBC. The Red River Rebellion was essentially over.
On May 13, 1874 their last child, daughter Arminda was born in Selkirk, Manitoba, their last whereabouts prior to moving to Minnesota some five years later. In 1874 their un-married children would have been Almira (age 19), Alex (16), Angus (14), Margaret (11), Emma (9), Christina (8), Nettie (4) and baby Arminda.
In 1877 daughter Emma married George RYDER in Selkirk, son of Mary McCREADY and Christopher RYDER (1816-1868)

In 1878 Margaret married Edward TOOMBS in Winnipeg, son of Emma Elizabeth BARBY and William TOOMBS (1831-1857)
Hallock, Minnesota
1879
In 1879 Alex moved to Hallock (Kittson County), Minnesota where in the 1880 Census their children were recorded as Edward (age 22), Angus (21), Christie (14), Nettie (10) and Arminda (age 5). Hallock, Kittson County is located SE of Pembina (ND).
In 1880 daughter Almira married John Rickard CLEMENTS in Minnesota, son of Mary Ann RICKARD and William CLEMENTS (1814-1889).
Around 1885 son Angus married Mary Ellen THOMPSON (Ross's Great Grandparents) and moved to Hallock, MN, where they had five children by 1891 (all born in Hallock).
In 1889 daughter Christina married Ernest Augustus OLIVER in Carleton (MB), son of Sarah and Jason OLIVER (1830-1916).
In the 1891 Census Alexander McLEOD (age 70) was recorded with his daughter Emma and son-in-law George RYDER in the Carleton district of Manitoba. Interestingly, he is indicated as widowed and his wife Elizabeth is not with them. This must be an error because Elizabeth was apparently still living, probably in Black River Falls where she died in 1906.

In 1894 daughter Nettie married Joseph James O'CONNOR (1865-1944) of unknown origins.
On Dec 24, 1894 Alexander McLEOD died in Altamont, Manitoba. Altamont is located west of Morris (MB).
=====================================================================
In 1895 son Alexander married Miriam Elizabeth BYNE in Florida.
In the 1895 Census in Kittson County, Widow Elizabeth Jane McLEOD (age 65) was recorded with her son Alex Edward (age 36) and daughter Arminda (age 21).
In the 1900 Census at St Thomas, North Dakota, Widow Elizabeth Jane McLEOD was recorded with daughter Nellie and son-in-law, Joseph O'CONNOR. St Thomas is SW of Pembina.
In 1901 youngest daughter, Arminda married Henry OKE (1877-1961) in Minnesota, son of Elizabeth THOMPSON and William OKE (1838-1915).
On Apr 24, 1906 Elizabeth Jane (nee SULLIVAN) McLEOD died in Black River Falls, WI.
Comments and queries at this link: FORUM DISCUSSING this ALEXANDER McLEOD FAMILY
=========================== Family Details ===========================
Children:
1. 1848 ANNE JANE McLEOD  (m. Oliver DARWIN)
2. 1851 SARAH ELIZABETH McLEOD (m. Elijah Floyd SMITH)
3. Sep 24, 1855 ALMIRA McLEOD (m. John Rickard CLEMENTS)
4. April, 1858 ALEXANDER EDWARD McLEOD (m. Miriam Elizabeth BYNE)
5. Sep 9, 1860 ANGUS GEORGE McLEOD (m. Mary Ellen (Eleanor) THOMPSON)
** MORE ABOUT ANGUS GEORGE McLEOD
6. Feb 28, 1863 MARGARET ELEANOR McLEOD (m. Edward TOOMBS)
7. 1865 EMMA MAY McLEOD (m. George RYDER)
8. Mar 26, 1866 CHRISTINA (CHRISTIE) McLEOD (m. Ernest Augustus Henry Algernon Knight OLIVER)
9. 1870 NETTIE McLEOD (m. Joseph O'CONNOR)
10. May 13, 1874 ARMINDA MULUINA McLEOD (Henry OKE)