ALEXANDER McLEOD SR (1798-1885)
CATHERINE McLELLAN (1800-1885)
(Last Updated: March 06, 2015)
Alexander McLEOD SR was born Jan 26, 1798 in Inverness, Inverness-shire, Scotland, son of Janet ROSS and William McLEOD (1778-1866).
This Family Page is being developed in cooperation with Alex's Great-great-great Grandson, Ross McLEOD.

Web searches frequently reveal that Christine RATZINGER has done extensive research on this lineage.
A possible relative was Alexander McLEOD, a Captain of Militia in the War of 1812 in the Regiment commanded by Alexander MACDONELL of Greenfield (1762-1842) with whom he was closely related. Each of these families received a grant of two hundred acres from the Crown.
Our Alexander McLEOD emigrated from Scotland at some time before 1820 at which time he was in Upper Canada at Lochiel in the County of Glengarry.
From the book 'The People of Glengarry' by Marianne McLean: Only one large-scale emigration to Glengarry occurred between 1815 and 1855, and it was a government-sponsored experiment in colonization at the war's end. More typical of this period were the families that emigrated singly or in small groups. They came from the same or adjacent districts of western Inverness and were very often related to those who had emigrated to Glengarry before them. Was our Alex perhaps related to the previously mentioned Captain Alexander McLEOD?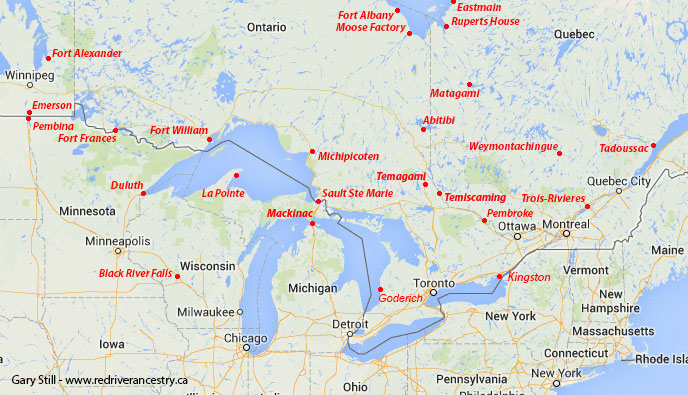 Marriage to Catherine McLELLAN
1820
Census information reveals that in 1820 Alexander married Catherine McLELLAN, and that at various times he worked as a surveyor, a carpenter and a farmer. On Apr 5, 1822 son Alexander Jr. was born in Kenyon, Glengarry, Ontario.
In 1850 Alex Sr. built a log home at Lochiel.
From the 1861 Census at Lochiel: Alexander McLEOD, farmer, age 66; wife Catherine, age 62. Children: William (age 35), Catherine (22), Hugh (21), John (18) and Lilly (age 16).
I have prepared a preliminary, tentative list of children (at bottom) based on my own findings. This listing will undoubtedly need some refinement and validation, hopefully from viewers who will help us via the Forum Topic indicated below.
Canadian Confederation
1867
On July 1, 1867 the British colonies in North America were united under the British North American Act to become the Dominion of Canada. Sir John A MACDONALD (1815-1891) was appointed as Canada's first Prime Minister.
From the 1871 Census at Lochiel:Alex McLEOD, age 70; wife Catherine, age 71; son Hugh, age 37.
Around 1871 son Hugh married Isabella McRAE b-1847, daughter of Margaret MUNRO and Duncan McRAE (1801-1880).
From the 1881 Census at Lochiel: Alexander McLEOD  (age 83) and Catherine (age 82). They're with son Hugh (age 43) who is now married with children.
On Dec 3, 1885 Alexander McLEOD died at Lochiel, Glengarry County.
Catherine died after 1881. She was no longer recorded with son Hugh in the 1891 census..
This page is under construction. Expect changes.
Comments and queries at this link: FORUM DISCUSSING the FAMILY OF ALEXANDER McLEOD SR
============================= Family Details =============================
Children:
1. Apr 5, 1822 ALEXANDER McLEOD JR (m. Elizabeth Jane SUTHERLAND)
** MORE ABOUT ALEXANDER McLEOD JR
2. Mar 25, 1824 MARY McLEOD
3. Feb 26, 1826 ANN McLEOD
4. 1827 WILLIAM McLEOD
?5. Sep 28 1828 ANGUS McLEOD (m. Elizabeth)
6. 1839 CATHERINE McLEOD
7. 1840 HUGH McLEOD (m. Isobel McRAE)
8. 1843 JOHN McLEOD
9. 1845 LILLY McLEOD