JOHN INKSTER (1806-1864)
ISABELLA SANDERSON (1813-1860)
(Last Updated: June 27, 2016)
Note: These are the ancestors of Ken Lang from Calgary who has done a lot of excellent research about his INKSTER ancestors. His Lang Family Tree on Ancestry.com has been a primary source for much of the information found fir this narrative.
John INKSTER was born June 6, 1806, probably at Brandon House, the eldest son of Mary (Cree) and James INKSTER (1773-1854), a Hudson's Bay Company cooper from the Orkneys of Scotland. ** MORE ABOUT JAMES INKSTER
On Jan 23, 1821, John was baptized at Brandon House by Reverend John WEST (1778-1845).
** MORE ABOUT REVEREND JOHN WEST and the FIRST RED RIVER CHURCHES AND SCHOOLS
On May 18, 1821 John began to work for the Hudson's Bay Company (HBC) as a Laborer in the Upper Red River District.
Union of the North West Company with the Hudson's Bay Company
1821
In 1821 the union of the North West Company (NWC) and the Hudson's Bay Company (HBC) occurred, ending the years of bitter rivalry for dominance of the fur trade in Western Canada. After the merger, almost 1,300 employees lost their jobs since the single HBC organization that emerged had no need for most of the voyageurs and fur traders.
John Retires to Red River
1824-25
In 1824-25 John retired from the HBC in the Upper Red River District.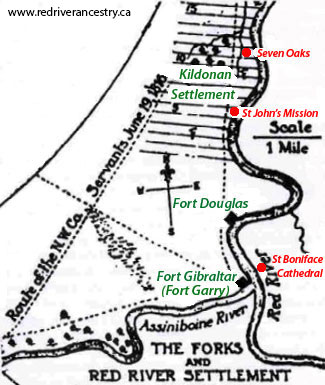 Marriage to Isabella SANDERSON
1833
On Jan 31, 1833 John married Isabella SANDERSON at St Johns (Wpg), daughter of Betsy TINNECASSO and Robert SANDERSON (1794-1847).
On Feb 15, 1834 daughter Mary J was born in Kildonan. ** Note: Various sources provide conflicting information regarding the birth dates and locations of John's children, often confusing dates of baptism with dates of birth, etc.
Most of their children were born in the general area of Kildonan and St Johns (Upper Church).
In 1853 daughter Elizabeth Nellie married Henry HOWSE at St Johns, son of Jane SPENCE and Henry HOWSE SR (1797-1891).
Portage la Prairie
1856
On May 22, 1856 son Robert married Harriet GILL in Portage la Prairie, daughter of Sophia HARPER and Robert GILL (1820-1848) from Scotland. ** These are Ken Lang's ancestors.
On Sep 12, 1856 Eliza Jane, their last child together, was born in Portage la Prairie where John is said to have worked as a carpenter as well as farming. By that time they had about nine children still living (four had died in infancy). These would have been Mary (age 22), Robert 20), Elizabeth Nellie (19), Charlotte (17), Matilda (10), Isabella (9), Harriet (2) and baby Eliza Jane.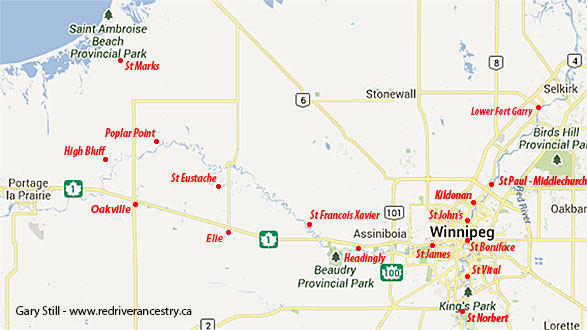 On Mar 2, 1860 Isabella (nee SANDERSON) INKSTER died in Portage la Prairie.
Around 1860 eldest daughter Mary married Angus SMITH (1837-1901) from Scotland, an HBC labourer at Norway House, son of Margaret MacIVER and Malcolm SMITH (1814-1883).
Around 1862 daughter Charlotte married John McDONALD (1823-1912), son of Donald McDONALD of uncertain origins. ** MORE ABOUT JOHN McDONALD
In 1863 daughter Isabella married in High Bluff to Alexander McLEOD (1839-1916) from Scotland.
On Aug 2, 1864 John INKSTER died in Portage la Prairie.
Sometime after 1860 daughter Matilda married Duncan McPHAIL (1833-1894) from Scotland, son of Mary and Angus McPHAIL (b-1786).
Canadian Confederation
A Red River Rebellion
Manitoba becomes a Province
1867-1870
On July 1, 1867 the British colonies in North America were united under the British North American Act to become the Dominion of Canada.  Sir John A MACDONALD (1815-1891) was appointed as Canada's first Prime Minister. William McDOUGALL (1822-1905) became the Minister of Public Works, and he began negotiations to acquire Rupert's Land from the HBC; surveyors were sent to Red River to prepare the way for an expected influx of settlers.
In 1868 daughter Jane married at Norway House to Murdoch McRAE of uncertain origins.
On Oct 11, 1869, Louis RIEL (1844-1885) placed his foot on the surveyors' chain to tell them their work was finished! This marked the beginning of the historic Red River Métis Rebellion.
On July 15, 1870 the Rebellion ended when RIEL's Provisional Government accepted the terms of the Manitoba Act and Manitoba became the fifth province of Canada.
In 1872  daughter Eliza Jane married in High Bluff to John DYER (1848-1929) from Scotland.
In 1887 daughter Jane married a second time to Joseph COOK at Moose Lake, son of Mary BEARDY and William COOK (1815-1885). ** MORE ABOUT WILLIAM COOK
Comments and queries at this link: FORUM DISCUSSING THE FAMILY OF JOHN INKSTER
=========================== Family Details ===========================
Children:
1. Feb 15, 1834 MARY J INKSTER (m. Angus SMITH)
2. Sep 19, 1836 REVEREND ROBERT INKSTER (m. Harriet GILL)
3. Sep 27, 1837 ELIZABETH NELLIE INKSTER (m. Henry HOWSE)
4. Jul 17, 1839 CHARLOTTE INKSTER (m. John McDONALD)
5. 1840 JANE INKSTER (m1. Murdock McRAE, m2. Joseph-Arthur COOK)
6. Sep 12. 1841 HARRIET INKSTER (Died in infancy)
7. Sep 12. 1841 MARGARET INKSTER (Died in infancy)
8. Nov 19, 1843 PETER INKSTER (Died in infancy)
9. May 12, 1846 MATILDA INKSTER (m. Duncan McPHAIL)
10. Aug 29, 1847 ISABELLA MARY INKSTER (m. Alexander Roderick McLEOD)
11. Dec 26, 1849 JAMES INKSTER (Died in infancy)
12. Jan 8, 1854 HARRIET ANNE INKSTER
13. Sep 12, 1856 ELIZA JANE INKSTER (John DYER)