JAMES INKSTER (1773-1854)
?MOLLY NICOLSON (1769-)
MARY CREE (1790-1870)
(Last Updated: October 01, 2015)
James INKSTER was born 1773 in Orphir, Orkney.
It is alleged that James was first married Jan 21, 1796 in Orphir to Molly NICOLSON. (b-1769) and that they had a son named James Jr, born Aug 14, 1796 in Orphir.
Albany Post on James Bay
A Cree Wife named Mary
1796
On Aug 25, 1796 (about 2 weeks after his alleged son was born in Orphir) James arrived at Albany Factory aboard the Prince of Wales as an employee (a cooper) of the Hudson's Bay Company (HBC). ** Traditionally, a cooper is someone who makes wooden, staved vessels (barrels & buckets) which are bound together with hoops and possessing flat ends or heads.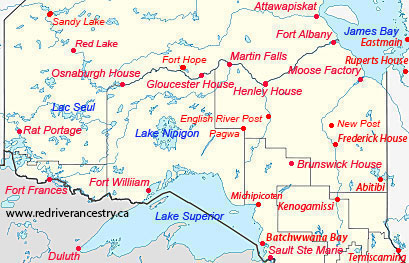 Albany River District
John LYONS (1786-1875) began his HBC service as a voyageur at Albany the same year as James. It seems the two were soon travelling inland as far as Brandon House during their first years. In 1800 William RICHARDS (1785-1811), an artist of note, began his apprenticeship working under cooper James INKSTER. (See his painting below)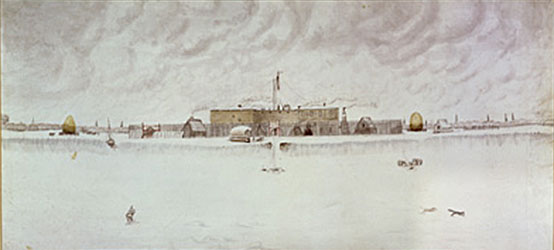 Albany Factory from the south east, 1804-1811. © Hudson's Bay Company Archives,
Archives of Manitoba, Artist William Richards. P-118
Brandon House – A Cree Wife named Mary
1805
In 1805 the Brandon House journals indicate that both John LYONS and James INKSTER had been living at Brandon House for about 10 years (Research by Margaret L. Clarke). By that time James had a Cree wife named Mary, and on June 6, 1806 their first child, John, was born, possibly at Brandon House or somewhere between there and Albany Fort.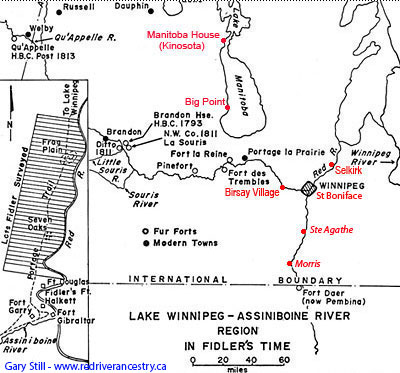 James and his Cree Wife Mary would have two more children at Brandon House; James in 1809 and Mary in 1811.
Arrival of the First Selkirk Settlers
1812
In the fall of 1812, Peter FIDLER (1769-1822) became the Postmaster at Brandon House (Manitoba), but he was soon sent to assist Lord SELKIRK (1771-1820) by bringing in homesteaders, survey river lots for settlement, and building houses.
** MORE ABOUT PETER FIDLER
** MORE ABOUT LORD SELKIRK in DCBO
Cuthbert GRANT on a Rampage
The Sacking of Peter FIDLER's Brandon House
The Seven Oaks Massacre
1816
June 1, 1816 from Peter FIDLER's Brandon House Journal: "about 48 Half Breeds, Canadians, Freemen & Indians came all riding on horseback with their Flag flying blue about 4 feet square & a figure of 8 horizontally in the middle." They turned and rode full speed into the yard. Cuthbert GRANT then came up to me in the yard & demanded of me to deliver to him all the keys of our Stores, Warehouses, &c. I of course would not deliver them up. They then rushed into the House and broke open the warehouse Door first, plundered the Warehouse of every article it contained, tore up part of the cellar floor, & cut out the parchment windows, without saying for what this was done or by whose authority. - - James INKSTER was also very badly used by them, till he was at last obliged to tell them where the things were hidden to save his life. - - James INKSTER has lost private property to above 40 sterling value in England & all the others considerable—myself was the next sufferer to a large amount." ** MORE ABOUT CUTHBERT GRANT
This continuing conflict eventually led to the massacre of Hudson's Bay Company Governor Robert SEMPLE (1777-1816) and twenty of his men at Seven Oaks on 19 June 1816. ** MORE ABOUT GOVERNOR ROBERT SEMPLE in DCBO
On Jan 20, 1821 Reverend John WEST (1778-1845) arrived at Brandon House, the first HBC chaplain in Rupert's Land. On Jan 23 he baptized James INKSTER's children; John (age 15), James (12) and Mary (age 10).
** MORE ABOUT REVEREND JOHN WEST
Hudson's Bay Company and North West Company Merger
1821-1825
In 1821 the union of the North West Company (NWC) and the Hudson's Bay Company (HBC) occurred, ending the years of bitter rivalry for dominance of the fur trade in Western Canada. George SIMPSON (1786-1860) became the Governor of Rupert's Land. ** MORE ABOUT GOVERNOR GEORGE SIMPSON

After the merger, almost 1,300 employees lost their jobs since the single HBC organization that emerged had no need for most of the voyageurs and fur traders. Retirees were offered free land in Red River (Assiniboia) and the newly restructured HBC. The Nor'Westers (NWC retirees) and those retirees of French Canadian origin tended to settle in areas to the south and west of the Forks of the Red and Assiniboine Rivers. Orkney Scots and Englishmen settled mostly to the north of the Forks, where they established the Parishes of Kildonan, St Johns, St Paul (Middlechurch), St Andrews (Lockport and Little Britain) and St Clements.
On May 20, 1822, George SIMPSON reported to the board of governors of the HBC that he had established a fort at the junction of the Red and Assiniboine Rivers. He named it Fort GARRY (the Upper Fort). Around this fort was to grow the city of Winnipeg.
James Retires to Red River (Kildonan)
1823
In 1823 James retired from HBC service and settled in Kidonan, Red River, and on Oct 26, 1824 he and his Cree wife Mary were church-wed at the St John's Mission Church.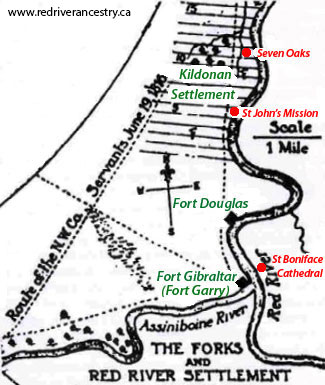 Red River Census of 1827: James INKSTER, age 53; married with two adult sons and a young daughter. He had a house, barn and stable; three horses, a mare, a bull, nine cows, five oxen, three calves and six swine. He had two carts, two ploughs, two harrows and a boat and he had 10 acres of land under cultivation. By the standards of that period, we would have to say that James was prospering very well.
In 1828 daughter Mary married James TAYLOR, an HBC voyageur from the Orkneys.
In 1833 eldest son John married Isabella SANDERSON at St John's, daughter of Betsy TINNECASSO and Robert SANDERSON (1794-1847).
Also in 1833, son James married Letitia SUTHERLAND, daughter of Jane FLETT and James SUTHERLAND (1777-1844). ** MORE ABOUT JAMES SUTHERLAND
On Feb 16, 1854 James INKSTER died in Red River. 
In December of 1870 James' Cree wife Mary INKSTER died.
Comments and queries at this link: FORUM DISCUSSING this JAMES INKSTER FAMILY
=========================== Family Details ===========================
Alleged Child by Molly NICOLSON:
1. Aug 14, 1796 JAMES INKSTER
Children by Mary CREE:
1. Jun 6, 1806 JOHN INKSTER (m. Isabella SANDERSON)
2. Apr 6, 1809 JAMES INKSTER (m. Letitia SUTHERLAND)
3.June 9,1811 MARY INKSTER (m. James TAYLOR)