JAMES SUTHERLAND (1777-1844)
SARAH (Cree Indian) (1783-1815)
JANE FLETT (1785-1835)
(Last Updated: August 30, 2017)
James SUTHERLAND was born around 1777 in Ronaldshay (Orkneys of Scotland), son of George SUTHERLAND.
Recruited by the Hudson's Bay Company
1798
In 1797 James entered HBC service as a Writer at York Factory. From 1798 to 1803 he worked inland posts.
** HBC ARCHIVE BIO for JAMES SUTHERLAND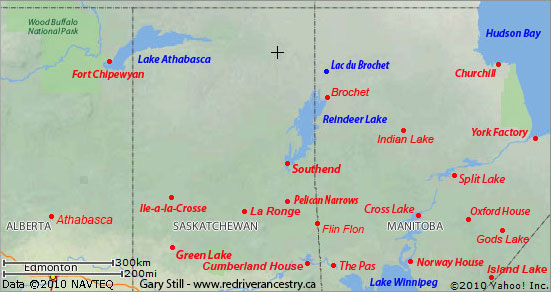 James marries Sarah (Indian)
1800
Not long after he arrived at York, James was "country wed" to Sarah, a native woman. Around 1801 daughter Sally was born, Nancy in 1804 and William in 1806.
From 1803 to 1811 James was in the Cumberland House district. He was "Writer in charge" (at Green Lake 1805-1808). In 1808 he was promoted to Trader and Master, based at Cumberland House.
In 1810 daughter Elizabeth was born, his last child with Sarah.
From 1811 to 1813 James was a Master and Trader in the (Lake) Winnipeg District.
1811 was the year that the first of Selkirk Settlers arrived at York Factory, bound for Red River.
** MORE ABOUT LORD SELKIRK SETTLERS in DCBO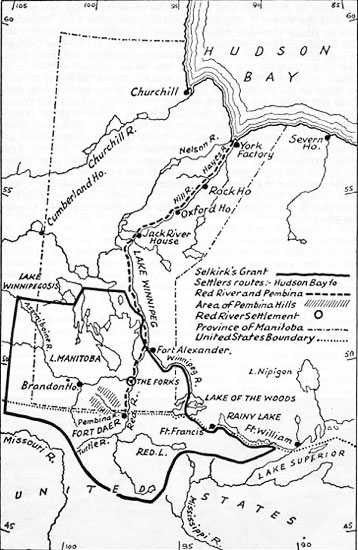 Map of 1817 showing Lord Selkirk's Grant of 116, 000 square miles, known as Assiniboia

On Oct 2, 1813 James went home (furlough) to the Orkneys on the Prince of Wales (taking his seven year old son William to stay with his father (George) and his brother (John) to be educated).

Winnipeg District
Sarah dies and James marries Jane FLETT
1814-15

It seems that Nancy must have died before 1814, perhaps while James was away in Scotland on furlough leave, because around that time his wife was Jane FLETT. According to HBCA (and Sprague & Frye), Jane FLETT was an "Indian woman" born around 1785, but the Bio makes no mention regarding who her parents were.

On Mar 14, 1814 James returned to Canada on the Nancy, via Quebec. Letter: Montreal, Jun 29, 1814 (the envelope is addressed to George SUTHERLAND (his father) in Ronaldshay, Orkneys): Dear Father & Brother - - It is eight days since I arrived at Quebec - - I wish to God I had no connection in Hudson Bay (his wife). I would certainly settle here, but I cannot resolve to abandon my children in that country (Sarah, Nancy & Elizabeth), although I firmly think that when I get there I will not remain long as I believe the HBC will not continue the trade long, for they are adopting such wild plans that they will get very few to remain in their service- - The War goes on here with the Americans vigorously but I do not think it will continue long. - - I have three Canadians engaged to accompany us; have also got a canoe built, and expect to start tomorrow and in about 25 or 30 days hope to arrive at Moose Factory but am rather afraid I shall not make it to York Factory before the Ship - - I never regretted anything I ever did in my lifetime as the bringing of my Boy home (this being his eight year old son William) , the thought of being separated from him has given me a great deal of anxiety ever since I left him but I hope it will be for the good of both his soul & body to get a little Education, and I flatter myself you will make him stick close to it.

Involvement with the Selkirk Settlers and the Metis Rebellion

During 1814-15 James was at Jack River (Norway House) in charge of the Winnipeg District (HBCA).
In 1814-1815 future son-in-law Roderick McKENZIE (1791-1859) from Stornoway spent time at Norway House and Red River.

In 1815 daughter Letitia was born, and according to her Scrip record her mother was Jane FLETT.

On May 9, 1816 James was taken prisoner by men of the North West Company under Cuthbert GRANT (HBCA). MHS: May 11, 1816 (Peter FIDLER's Brandon House Journal),:  - - a letter from James SUTHERLAND, written from near the junction of the Qu'Appelle with the Assiniboine, as follows: 8 o'clock AM, when we were attacked by about 50 Canadians & half breeds; this is the narrowest part of the river ... Two boats that was ahead of mine was disarmed & the men made prisoners ... when I landed there was upwards of 30 Guns pointed at me ... This has solely occurred through Mr ROBERTSON having liberated Bostonais (PANGMAN) who arrived the night previous to the attack. - - On 21 May, "Mr SUTHERLAND sent Mr. FINLAYSON over to the French House to ask liberty to go down to the Forks and after long hesitation they said those from Qu'Appelle might go, but to take no property from this belonging to this House."

** MORE ABOUT CUTHBERT GRANT and the FIRST RED RIVER METIS REBELLION


From 1817 to 1819 James was "in charge" at Fort Hibernia (later Fort Pelly) and the Forks, Red River District (HBCA)
Letter: Lake Winnipeg, Norway House, Aug 24, 1817: - - I however recollect you mentioned some discontent at the marriage of our father - - (His brother, John, having "come of age", apparently was thinking of coming to Canada. James tried to discourage him) If you think it for your advantage to come out here I would wish you to take out here with you my little boy William - - (It seems his brother decided not to come after all)

It was around 1817 that daughter Sarah became the country wife of Roderick McKENZIE (1791-1859), an HBC trader born in Scotland.

From 1819 to 1821 James was in charge of the Swan River District (at Swan River).

Union of the North West Company with the Hudson's Bay Company
1821

In 1821 the union of the North West Company (NWC) and the Hudson's Bay Company (HBC) occurred, ending years of bitter rivalry for dominance of the fur trade in Western Canada. At the time of the union, (Sir) George SIMPSON (1786-1860) became the Governor of Rupert's Land.

In 1821-22 James was Chief Factor of the Saskatchewan District at Edmonton. In 1822-23 he took a leave of absence, for medical reasons, to England.

From 1823-25 James was Chief Factor in charge of the Fort Severn District. On Mar 20, 1823 daughter Sarah was church-wed to Roderick McKENZIE, then the, Chief Trader at Fort Alexander.

From 1825 to 1827 James was on leave of absence for the benefit of medical advice, first at Red River and then to Europe via Prince of Wales.

Letters: York Factory, Aug 26, 1825: - - My son-in-law, Mr McKENZIE, has gone to Canada this year with his wife and family, still in the Company's employ. I was near to sending William home this year.
Ship Prince of Wales off the Lands End, Oct 16, 1826: - - Brought Bill home with me and am much at loss what to make of him now that I have done so - - My 2nd daughter married last summer - -
Hudson's Bay House, London, Nov 3, 1826: - - I have now been in London a fortnight have now the advice of several eminent Physicians and they all agree that a change of Objects, Air & Company with amusement is likely to do me more good than all the medicine - -

James retires to Red River
Church-wed to Jane FLETT
1827-28

On March 15, 1827 James was at Liverpool. On May 9 that year he was in Montreal, and on Aug 13 at Norway House. From there he retired to the Red River Settlement where he was church-wed to Jane FLETT on May 20, 1828.

In 1828 James' children still at home would have been Nancy (age 24), William (22), Elizabeth (14), Letitia (13), George (12), James (11), John (9) and Roderick (age 7).

James settled on River Lots 96-97, south of the Old St Andrews Church (Lamberts Point).

In 1829 daughter Nancy married Robert CLOUSTON (1794-1850) from the Orkneys.

In 1830 daughter Elizabeth married James INKSTER (1804-1865) from the Orkneys. Also in 1830, daughter Letitia married another James INKSTER, half-breed son of Mary (Indian) and James INKSTER SR (1773-1854), also from the Orkneys.

Letters from Red River to his brother (John SUTHERLAND) in Ronaldshay, Orkneys 1831-1842
(Alberta Archives)

Aug 8, 1831: -- - I have now got all my Daughters married, the last two (Elizabeth & Letitia) on one day to An Orkney man & a Half Breed, a native of this country, both of the name of James INKSTER – the first is from Orphir and a boat builder by trade – the second is the Son of an industrious good man has a good Farm well stocked – He connected a saw mill which  brings him money and in a very few years the whole will fall into the hands of my son-in-law. William is still with me and has been courting the Daughter of a Gentleman of this place - - My son-in-law CLOUSTON (married to daughter Nancy) is still in my neighborhood - - The only thing that gives me anxiety is my Grandchildren, the Children of my eldest daughter (Sally). They are all girls and require protection for many years. All the money and property of their Father has been left among them but it will not suffice to Educate and support them - - The two oldest are fine intelligent girls & I have them at school with the Parsons of this place - - the third lives with Myself. The fourth is in Canada as yet and Costs much money. I have however sent for her to com here the next year.

In 1831 son William married Elizabeth LOGAN, daughter of Mary O'MEARA and Robert LOGAN (1775-1866) from Scotland.

Aug 6, 1832:  - - he laments the death of his father - - Bill got married last Christmas, and his wife is in a fair way of adding to the numbers of my grandchildren.

In 1833 daughter Letitia married James INKSTER, son of Mary (Cree) and James INKSTER SR (1773-1854) from the Orkneys. ** MORE ABOUT JAMES INKSTER SR


Dec 19, 1833: - - Mrs. TAIT is very anxious to get her daughter out here - - I have a servant with me of the name William CORRIGAL - - My son-in-law Mr. CLOUSTON (married to daughter Nancy) also wishes that his relations be informed that he is well - - Brothers & Family – and begin with the youngest Roderick is at one of the best schools in the place and doing well – Philip is married to my Grandchild as before mentioned, Isabella is married to a half-breed of the name of SETTER – Alexander  poor fellow is the worst of the whole

Coutts:  By 1835 SUTHERLAND could boast 25 acres under cultivation, making him one of the most successful farmers in the district. According to the 1835 RR Census, he owned 18 head of cattle, 5 horses and 3 carts, material assets which put him among the elite of landowners at the Rapids. Characteristically, he placed considerable emphasis upon the education of his children.  His daughter Sally was once described by John WEST as "one of the best informed and most improved half-caste" women he had seen. While SUTHERLAND shared many of the attitudes of his race and class, it seems he remained faithful to his Native wife Jane.

On July 7, 1835 James' wife Jane died. (HBCA)

In 1838 son James married Maria BIRD, daughter of Betsy THOMAS & Joseph BIRD (1801-1878).

Letters cont'd: Aug 7, 1838:  - - for the greatest part of the winter I was very infirm - - confined to bed for upward of two months - - "I had one of my Orphan Grandchildren (that is a daughter of my oldest daughter (Sally) that died in Quebec) named Jessie McKENZIE married to a son of my Deceased Friend A. KENNEDY his name is Philip he was left with her Mother on the Departure of his Father he has since Kept the house & farm left them, and has by his exertions raised from it a Sufficiency to Maintain his Mother & Sister and himself, he is a very steady young man and altho' he is different in Education his brothers has, still I think he will be the most independent of the family - -  I now have four sons at the house with me - - My three married daughter are all well - - Bill's house is within a mile of mine - -
August 8, 1840(this letter is from Nephew John SUTHERLAND of Strawberry Point, NWT:  William my Brother is getting a large family, he is got another boy last month, and he has three boys and two girls. James got married with a daughter of Joseph BIRD, her name is Marie. They have a daughter also. J BIRD is a merchant - - rather fond of the bottle. Robert KENNEDY is going to Edinburgh to study medicine - -
August 10, 1840: - - I still have three of my sons with me, that is, John, Roderick and George.
August 10, 1841: - - Last summer a kind of mania got in the people here to go to the Columbia River on the West Coast and on the 1st of June about 100 souls start to go there with horses and oxen and carts - - one of my grandchildren is among the number, she is married to one John SPENCE. All I would do did not persuade them from going - - ** This is the James SINCLAIR party of settlers who left for Oregon that year.
August 10, 1842: - - My three youngest sons (John, Roderick and George), now men, are still with me – cannot earn a shilling for themselves - -

In 1843 son George died at the age of 27.

On Sep 30, 1844 James SUTHERLAND died in Red River at the age of 67.

In 1849 son Roderick married Mary Emily LOWMAN, daughter of Mary KELLY and John Goodman LOWMAN (1797-1834).

Also in 1849, son John married Catherine CUNNINGHAM, daughter of Nancy Ann BRUCE & Patrick CUNNINGHAM (1795-1831). ** MORE ABOUT PATRICK CUNNINGHAM

Comments and queries at this link: FORUM DISCUSSING the JAMES SUTHERLAND FAMILY

======================= Family Details ======================

Children by Sarah (Indian):


1. c1801 SARAH "SALLY" SUTHERLAND (m1. Roderick McKENZIE JR)
2. c1804 NANCY SUTHERLAND (m. Robert CLOUSTON)
3. Apr 27, 1806 WILLIAM SUTHERLAND (m. Elizabeth LOGAN)

** MORE ABOUT WILLIAM SUTHERLAND

4. Dec 1, 1810 ELIZABETH SUTHERLAND (m. James INKSTER)
Children by Jane FLETT:
1. 1815 LETITIA SUTHERLAND (m. James INKSTER JR)
2. c1816 GEORGE SUTHERLAND (Died 1843, age 27)
3. Jan 3, 1817 JAMES SUTHERLAND JR (m. Maria BIRD)
4.  Jan 8, 1819 JOHN SUTHERLAND (m. Catherine CUNNINGHAM)
5. Aug 12, 1821 RODERICK SUTHERLAND (m. Mary Emily LOWMAN)

** MORE ABOUT RODERICK McKENZIE SUTHERLAND