RODERICK McKENZIE SUTHERLAND (1821-1896)
MARY EMILY LOWMAN (1827-1917)

(Last Updated: August 27, 2017)
Roderick McKenzie SUTHERLAND was born Aug 12, 1821 in the Swan River District (MB), the son of Jane FLETT and James SUTHERLAND (1777-1844). ** MORE ABOUT JAMES SUTHERLAND
Inspiration to create this Page came from Jeremy WHITE who made a donation and is cooperating in research relating to his wife, Fiona, who is a great-great-great granddaughter.
Marriage to Mary Emily LOWMAN
1849
On Jan 18, 1849 Roderick married Mary Emily LOWMAN at St John's in Red River, the daughter of Mary KELLY and John Goodman LOWMAN (1797-1834). Mary Emily's mother (Mary KELLY-LOWMAN) re-married in 1835 to James Curtis BIRD (1773-1856). ** MORE ABOUT JAMES CURTIS BIRD
The Second Sinclair Party of Settlers to Oregon
1854
In order to rid Fort Garry of James SINCLAIR (1811-1856) and others who clashed with the HBC ideas, Governor George SIMPSON (1786-1860) proposed that he lead another party to Oregon. In return, SINCLAIR would be put in charge of one of the Oregon posts. The group set out from Ft Garry in May, 1854, and arrived at Walla Walla, Washington in November where SINCLAIR took over as Chief Trader. Among this party of settlers from Red Rover was Roderick SUTHERLAND, his wife Mary Emily, and three of his children:Alfred (4) and Edith (age 1). ** MORE ABOUT JAMES SINCLAIR
Jeremy: Amazingly, Alice Mary SUTHERLAND did not travel with her parents out west to Oregon. She stayed with her grandparents at the Red River Settlement -- we don't know why (perhaps she was ill). Then, at the age of 16, she traveled with her grandmother, Mary (Kelly LOWMAN) BIRD to England. Although she corresponded with her parents and siblings out in Portland, Oregon, I have not seen evidence that they ever saw each other again.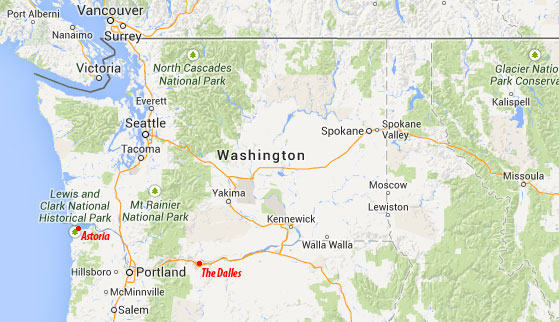 Oregon Territory
On Feb 1, 1856 daughter Annette Maria was born in Hillsboro, Oregon Territory.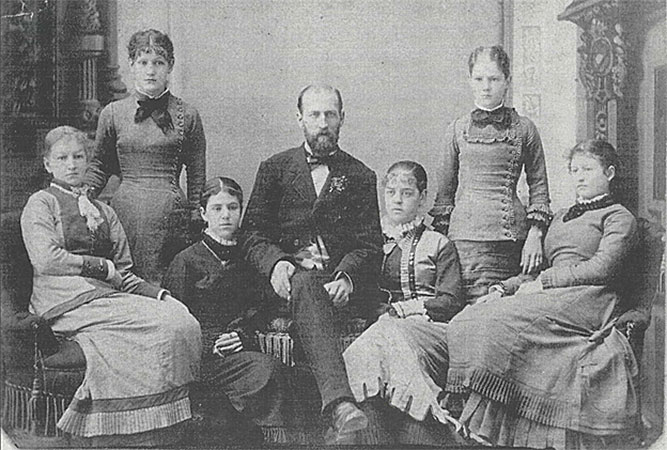 Roderick McKenzie Sutherland and Daughters (Shared by George Drake)
In 1875 daughter Alice married Herbert MASTERS in Cheshunt, Herfordshire, England, the son of 'Anna' Mary Ann STONE and John MASTERS (1810-1849). ** These are the Great-Great Grandparents of Fiona, wife of Jeremy WHITE.
On Sep 8, 1896 Roderick McKenzie SUTHERLAND died in Portland, Oregon.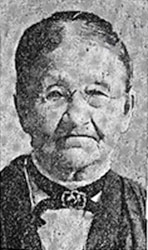 Mary (nee Lowman) Sutherland
(Courtesy Jeremy White)
On Apr 5, 1917 Mary Emily (nee LOWMAN) SUTHERLAND died in Portland, Oregon.
Comments and queries at this link: FORUM FOR DISCUSSING THE RODERICK SUTHERLAND FAMILY
========================== Family Details ==========================
Children:
1. Nov 11, 1849 ALICE MARY SUTHERLAND (m. Herbert MASTERS)
2. Oct 11, 1851 ALFRED JAMES SUTHERLAND (m. Clara LYMAN)
3. Apr 29, 1853 EDITH JANE SUTHERLAND (m. William Wilbur EASTER)
4. Feb 1, 1856 ANNETTE MARIA SUTHERLAND (m. Henry Lewis TIBBALS)
5. Dec 25, 1857 ARABELLA ELIZA SUTHERLAND (m. William Henry MORSE)
6. Nov 19, 1858 EMILY LETITIA SUTHERLAND (m. George Francis MEAD)
7. Sep 29, 1862 LUCY ANN SUTHERLAND
8. Feb 28, 1863 MARGARET L SUTHERLAND (m. Thomas P HOLMES)
9. Apr 30, 1865 MAURICE JOHN H SUTHERLAND (Died in infancy)
10. Feb 15, 1867 RODERICK W SUTHERLAND (Died age 17)
11. Dec 6, 1868 CURTIS GARRY SUTHELAND (m. Claudia Adelaide McFADDEN)