JAMES CURTIS BIRD (1773-1856)
MARY OO-MENAHOMISK (1777-1820)
ELIZABETH MONTOUR (1782-1834)
MARY KELLY-LOWMAN (1801-1873)
(Last Updated: August 25, 2017)
James Curtis BIRD was born Feb 5, 1773 Acton, Middlesex, England, said to be the son of Elizabeth CURTIS and James BIRD (b-c1840) of uncertain origins. ** MORE ABOUT JAMES CURTIS BIRD in DCBO
Recruited by the Hudson's Bay Company
1788
On Apr 23, 1788 James (only 15 years old) entered the service of the Hudson's Bay Company (HBC) as a "Writer". He served his first four years at York Factory working first under Humphrey MARTIN (1792-1729-1792) and then under Joseph COLEN (1751-1819). ** MORE ABOUT JAMES CURTIS BIRD in HBCA

In 1792-93 he accompanied William TOMISON (1739-1829) on a trip inland to Cumberland House (SK).
From 1793 to 1795 James was made a Clerk in Charge at South Branch House, Nipawewin and Carlton House (Fort Carlton on map below).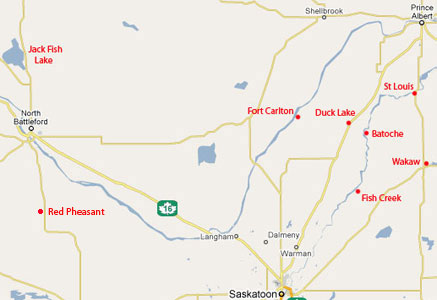 From 1795 to 1799 James BIRD was the Clerk in Charge at Carlton House.
James and Mary OO-MENAHOMISK
1795
Most sources seem to agree that around 1795 James' first wife was a Cree woman named Mary OO-MENAHOMISK born around 1777.
Around 1798 son James Jr. (Jimmy Jock) was born near Prince Albert (SK).
Virtual Crowsnest Hwy:  In the autumn of 1798, some 200 km upstream from Edmonton House, John McDONALD of Garth (1771-1866) built Rocky Mountain House for the NWC. Instantly, the HBC ordered James Curtis BIRD to build a post nearby which it called Acton House (No doubt named after JC's birthplace in England).
** MORE ABOUT JOHN McDONALD of GARTH in DCBO
Edmonton House
1799
In 1799 James was based at Edmonton and in 1803 he was placed in Charge of all Inland Posts along the Saskatchewan River.
In 1809 adopted daughter Margaret married John HOURIE (1779-1857) from the Orkneys.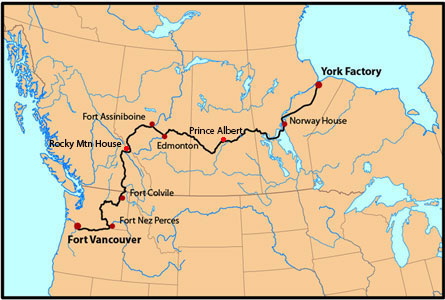 The main fur-trade route between York Factory and Oregon Territory
Arrival of Selkirk Settlers at Red River
1812-1817
In 1812 the first Selkirk Settlers arrived at Red River under the sponsorship of the HBC, and many more were on their way, much to the displeasure of the Nor'Westers (NWC) and the Metis people who considered this a serious threat to their way of life and an intrusion into their domain. A series of events ensued that would escalate this displeasure into rage and eventually a virtual war between the two factions.
In 1814 Miles MACDONELL (1767-1828) issued his historic Pemmican Proclamation. In 1816 the Seven Oaks Massacre occurred resulting in the death of Governor Robert SEMPLE (1777-1816) and in 1817 MACDONELL arrived with soldiers who recaptured Fort Douglas.
The whole affair is perhaps best described at this link: ** DCBO BIO for MILES MACDONELL
Cumberland House – Red River
1817-1820
This is a good place to introduce Thomas THOMAS (1765-1828) who was asked to serve as Governor-in-Chief locum tenens as a temporary replacement for the deceased Governor SEMPLE, but he declined. In his stead, our James Curtis BIRD accepted the responsibilityas Acting Governor of Rupert's Land during 1817-18.
 In 1818 James BIRD was replaced as Governor by William WILLIAMS (1770-1837). In 1818-19 BIRD resumed his position as Chief of the Cumberland District and that winter he and his fellow ex-Governor Thomas THOMAS and their families spent the winter together at Cumberland House. And that was the winter that romance blossomed between three of James' sons and three of Thomas' daughters as follows: George BIRD and Nancy THOMAS; Joseph BIRD and Elizabeth THOMAS; and Levi BIRD and Jane THOMAS.
Did Mary OO-MENAHOMISK Die in 1820?
In 1820, according to some sources, Mary OO-MENAHOMISK died in Red River.
In 1820 Thomas THOMAS retired to Red River and was church-wed to Sarah, the mother of his children. That same year his daughter Nancy married George BIRD and his daughter Elizabeth married Joseph BIRD.
1820 was the year that Reverend John WEST (1778-1845) arrived at Red River, the first HBC chaplain in Rupert's Land.
Union of the North West Company and the Hudson's Bay Company
Norway House
1821
On Aug 11, 1821 at Norway House, Nicholas GARRY (1782-1856) presided over the first Council of the Northern Department of the HBC. It was then that the first announcement was made of a merger agreement between the NWC and the HBC. ** MORE ABOUT NICHOLAS GARRY in DCBO

At the time of the Union James BIRD was made the Chief Factor for the Red River District with his headquarters at the Forks of the Red and Assiniboine rivers.
The new Company retained the HBC name and governing board in London, but adopted the NWC's partnership model, giving the 53 commissioned officers in North America a formal stake in the Company. It also gave them a larger decision making and coordinating role with the creation of annual, face-to-face "councils" of chief factors and traders. At the time of the HBC-NWC union, (Sir) George SIMPSON (1786-1860) became the Governor of Rupert's Land.
James and Elizabeth MONTOUR
On Mar 30, 1821, according to his HBC Archives Bio, James was church-wed to Elizabeth [MONOTUR] born c1789. Elizabeth MONTOUR is said to have been the daughter of a Cree woman named OO-MENAHOMISK (more confusion!) and Nicholas MOUNTOUR (1756-1808), a well-travelled but now retired North West Company (NWC) shareholder who was living in Montreal in the late 1790's. We have to assume that MONTOUR had left his Cree wife (and his daughter Elizabeth) behind in the Saskatchewan River country. In 1798 he married Genevieve WILLS in Montreal.
** MORE ABOUT NICHOLAS MONTOUR in DCBO

Around 1821 son James Jr (Jimmy Jock) married an Indian woman said to be a daughter of Chief PEGUIS (1774-1864). Jimmy Jock left the HBC that year to hunt and trap as a freeman in the territory on both sides of the Rocky Mountains, north and south of the 49th parallel. Except for a trip in 1823 to take privately owned horses to Red River, he travelled and lived with the Blackfoot tribes during the 1820s.
In 1822 a new HBC fort was built at the Forks of the Red River. It was named Fort Garry to commemorate the visit of Nicholas GARRY in 1821.
In 1822 son William married Venus "Bennie" HAY of uncertain origins.
It was in 1822 that James took a year's furlough. He returned in 1823 as the Chief Factor in charge of Upper Red River District until he retired in 1824.
In 1824 son Henry married Harriet CALDER, daughter of Sarah HUMPHREYVILLE & John CALDER (an HBC Surgeon born c1785 in the Orkneys).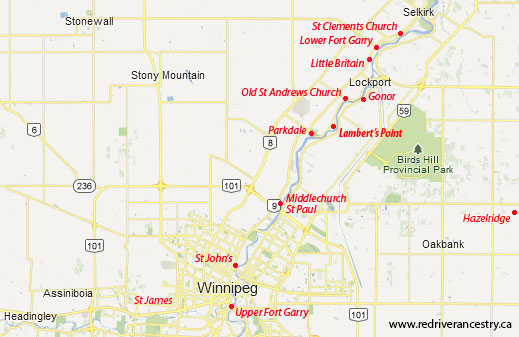 From Birds Hill Park History: When James BIRD retired in 1824 he received a land grant from the Company of 1,215 hectares (3,000 acres) on the east side of the Red River. Registered as River Lot 95, the property extended east from the river for about 6.4 km (4 mi.), taking in the hill area now known as the town of Birds Hill. On the banks of the Red, James built his home which came to be called "the White Cottage." The Red River served as the main transportation route at that time.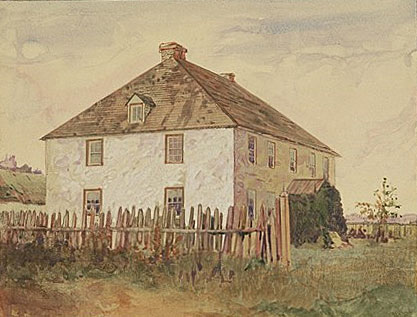 The White Cottage of James Curtis Bird
Around 1825 son Jimmy Jock remarried to a Peigan Woman somewhere in the foothills of the Rocky Mountains.
In 1826 son John married Mary McKAY, and in 1827 daughter Letitia married her then brother-in-law, Charles Richard McKAY. Mary and Charles were both children of Mary FAVEL and John McKAY (1758-1810).
In the Red River Census of 1827, James BIRD was recorded on Lot 754, age 53 with a wife and three adult sons, five adult daughters and two young daughters (that adds up to 10 children). He had a house, barn and stable; three horses, a mare. 12 cow, 12 oxen, eight calves and 12 swine. He had three carts, two ploughs and two harrows, a boat and a canoe and he had 16 acres under cultivation. By the standards of those times, he was prospering well.
In 1829 daughter Elizabeth Maria married James SINCLAIR (b-1810), son of NAHOVWAY and William SINCLAIR (1766-1818).  From Descendants of James Curtis Bird: James BIRD had been a close friend of James SINCLAIR's father, and this wealthy and influential retired Company officer welcomed the acquaintance.  The entree of James into BIRD's affluent home on a social footing did much for the young trader's prestige, for BIRD was recognized throughout the settlement as the official leader and spokesman of the Company's settlement of retired servants and officers.  Many important decisions rested on his word.  With a common interest, it was not unnatural that a close friendship should grow between young SINCLAIR and the clever, if somewhat irritable and eccentric, Chief Factor BIRD.
** MORE ABOUT WILLIAM SINCLAIR
In 1832 son Levi married his sister-in-law, Jane THOMAS.
In 1832, encouraged by George SIMPSON, Reverend David JONES (1796-1844) proposed a boarding-school or seminary at Upper Church "for the moral improvement, religious instruction, and general education of Boys; the sons of Gentlemen belonging to the Fur Trade." This establishment, which became known as the Red River Academy, the first English-speaking high school in the northwest, was privately financed by JONES but was dependent on SIMPSON and the HBC's Northern Council for students and patronage. Construction of the academy's buildings, begun in October 1832, was completed the following summer. As well, a female seminary was set up within the academy. In August 1832 JONES had asked the Church Missionary Society to find a "Governess. . . of matured Christian experience" and a Tutor. Mrs. Mary (nee KELLY) LOWMAN (born 1801 in England) and John MACALLUM (1806-1849) from Scotland arrived in the fall of 1833 to fill these positions.
In 1833 daughter Chloe married James FLETT, son of Margaret WHITFORD and George FLETT (1774-1850) from Scotland.
On Jan 22, 1835 Elizabeth MONTOUR-BIRD died in Winnipeg.
James Re-marries to Mary KELLY-LOWMAN
From the Book Tender Ties, pg. 189:  In Jan, 1835, shortly after the death of his Indian wife, James BIRD married the widow Mary LOWMAN.  The couple's whirlwind marriage was considered in bad taste, especially since Mrs. LOWMAN had left the girl's school without a teacher; but some contemporaries noted approvingly that BIRD had become "a reformed man in manner & vigor since his marriage to a white wife. -- Pg 200:  It was conjectured, probably with some justification, that money and position were the primary reasons why a "fresh morsel" such as Mrs. LOWMAN would put up with such an "old shrivelled bag of dry bones" as James BIRD:  "A widow with 2 children & without anything to depend upon, was not likely to let such an opportunity slip of getting £3, 000 secured to her."  Shortly after her marriage, it was observed that Mr.s BIRD was a clever woman and "fast rising to the top of the tree."  Both she and the new Mrs. PRUDEN were anxious to establish their position as the leaders of Red River society. ** Note: The Mrs. PRUDEN referred to here is Ann ARMSTRONG, the second wife of John Peter PRUDEN (1778-1868).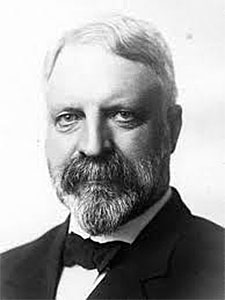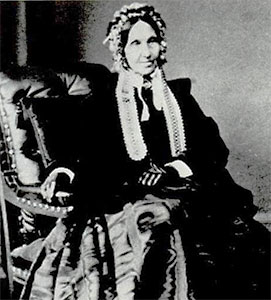 James Curtis Bird - Mary Kelly-Lowman
Mary KELLY was previously married (in 1823) to John Goodman LOWMAN (1797-1834) in England. Their daughter, Mary Emily LOWMAN (b-1827), would later (1847) marry Roderick SUTHRLAND (1821-1896), the son of Jane FLETT and James SUTHERLAND (1777-1844). ** MORE ABOUT JAMES SUTHERLAND
In 1836 son Thomas married Ellen McDERMOT, daughter of Sarah McNAB and Andrew McDERMOT (1791-1881), a retired HBC Trader form Ireland who became a wealthy businessman in Winnipeg.
** MORE ABOUT ANDREW McDERMOT in DCBO
In 1838 daughter Charlotte married her brother-in-law, John FLETT (Charlotte's sister, Chloe BIRD was married to John's brother, James FLETT).
Son-in-law James SINCLAIR Leads Two Parties of Settlers from Red River to Oregon
1841-1854
In 1841, and again in 1854, son-in-law James SINCLAIR would lead two parties of Red River Settlers to Oregon Territory. At least six children of James BIRD (and their families) were among the immigrants who settled there.
** MORE ABOUT JAMES SINCLAIR SETTLERS TO OREGON
Before 1842 daughter Mary married Hector McKENZIE, son of Mary McKAY and Charles McKENZIE (born around 1778) of uncertain origins.
In 1847 son Philip married Mary FIDLER, daughter of Nancy HALLETT and Thomas Jonathan FIDLER (1795-1875). ** MORE ABOUT THOMAS JONATHAN FIDLER

Oct 18, 1856 James Curtis BIRD died.
In 1862 son Curtis James married Frances ROSS, daughter of Mary McBEATH and Donald ROSS (1798-1852). In 1867, after Frances died Curtis re-married to her sister, Annabella ROSS. ** MORE ABOUT DONALD ROSS
In 1863 daughter Elizabeth married Charles GRIFFIN of uncertain origins.
On Jul 20, 1873 Widow Mary (KELLY-LOWMAN) BIRD died in Cheshunt, Hertfordshire, England.
Please post comments and queries at this link: FORUM DISCUSSING the JAMES CURTIS BIRD FAMILY
========================== Family Details ==========================
Children by Mary OO-MENAHOMISK:
1. 1798 JAMES "JIMMY JOCK" BIRD (m1. Elizabeth (Indian), m2. Sally (Sarah) BULL'S HEART)
** MORE ABOUT JAMES "JIMMY JOCK" BIRD
3. 1798 GEORGE BIRD (m. Mary Anne "Nancy" THOMAS)
4. Jan 1, 1800 JOSEPH BIRD (m. Elisabeth "Betsy" THOMAS)
5. 1801 LEVI BIRD (m. Jane THOMAS)
6. 1803 WILLIAM BIRD (m. Venus Bernice "Bennie" HAY)
7. 1805 HENRY BIRD (m. Harriet CALDER)
8. c1806 ELIZABETH MARIA 'BETSY" BIRD (m. James SINCLAIR)
9. 1808 JOHN BIRD (m. Mary McKAY)
10. Feb 20, 1810 LETITIA BIRD (m. Charles Richard McKAY)
** MORE ABOUT CHARLES RICHARD McKAY
11. 1815 CHLOE BIRD (m. James FLETT)
12. c1816 THOMAS BIRD (m. Ellen Helen McDERMOT)
13. 1818 PHILIP BIRD (m. Mary FIDLER)
14. 1820 ARTHUR BIRD
=============== Children by Elizabeth MONTOUR ?
15. 1821 CHARLOTTE BIRD (m. John FLETT)
16. 1824 NICHOLAS GARRY BIRD
17. c1825 MARY BIRD (m1. Hector McKENZIE, m2. William LANE)
Children by Mary KELLY:
1. 1837 DR CURTIS JAMES BIRD (m1. Annabella ROSS , m2. Frances  ROSS)
2. Jan 4, 1840 ELIZABETH MARGARET BIRD (m1. Charles GRIFFIN, m2. Charles VISCOUNT)
3. 1842 HARRIET ISABELLA BIRD (Died in infancy, before 1855)
Adopted Children:
?1. 1785 CHARLES BIRD (Died age 23)
2. 1787 MARGARET BIRD (m. John HOURIE)