HENRY BIRD (1805-1893)
HARRIET CALDER (1815-1889)
(Last Updated: May 15, 2016)
Born 1805 in Edmonton, Henry BIRD was the son of a Cree woman named Mary OO-MENAHOMISK and HBC Chief Factor James Curtis BIRD (1773-1856) from England.  ** MORE ABOUT JAMES CURTIS BIRD
It may have been around 1820 that Henry's mother died, because in 1821 his father, James Curtis BIRD remarried to Elizabeth MONTOUR and the BIRD family settled in Red River (Birds Hill).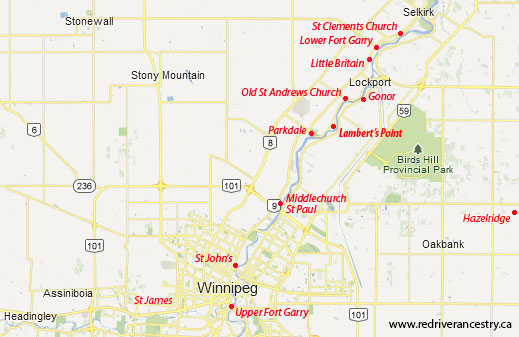 Marriage to Harriet CALDER
1824
On Oct 28, 1824 Henry married Harriet CALDER, daughter of Sarah (nee HUMPHRYVILLE) & John CALDER (1785-1850), an HBC surgeon from the Orkneys.  Their first child, Amelia was born around 1826 in St Paul (Birds Hill). 
In 1835 Henry's father (James Curtis) married a third time to Widow Mary KELLY-LOWMAN from England, the school mistress at the St John's School.
Brother-in-law James SINCLAIR Leads Two Parties of Settlers from Red River to Oregon
1841-1854
In 1841, and again in 1854, Henry's brother-son-in-law James SINCLAIR (1811-1856) would lead two parties of Red River Settlers to Oregon Territory. At least six of Henry's younger siblings (and their families) were among the immigrants who settled there. ** MORE ABOUT JAMES SINCLAIR SETTLERS TO OREGON
In 1847 eldest daughter Amelia married James TAYLOR, son of Sarah SABISTON and William TAYLOR (1788-1855), a retired HBC Trader from the Orkneys.
In 1856 Henry's father, James Curtis BIRD died.
By about 1862 daughter Harriet was married to John REID (1826-1897), an HBC post master from the Orkneys of Scotland.
In 1863 daughter Mary Anne married Peter BROWN, son of Isabella SLATER & Henry BROWN (1795-1875), a retired HBC voyageur from the Orkneys.
Canadian Confederation
The Riel Rebellion
Manitoba becomes a Province
1867-1870
On July 1, 1867 the British colonies in North America were united under the British North American Act to become the Dominion of Canada. Sir John A MACDONALD (1815-1891) was appointed as Canada's first Prime Minister. William McDOUGALL (1822-1905) became the Minister of Public Works, and he began negotiations to acquire Rupert's Land from the HBC, sending out surveyors to prepare the way for an expected influx of settlers.
Around 1867 daughter Caroline married John McDONELL (1831-1883), and HBC voyageur from Ontario.
On Oct 11, 1869, Louis RIEL (1844-1885) placed his foot on the surveyors' chain to tell them their work was finished! This marked the beginning of another Red River Métis Rebellion. In 1870 the Rebellion ended and Manitoba became a Province.
Census of 1870 in Poplar Point: Henry BIRD, age 66; wife Harriet, age 61.
In 1871 son John James married Widow Margaret (nee PEEBLES) JOHNSTON, half-breed daughter of Elizabeth MORRISON and James PEEBLES (1811-1882), a retired HBC voyageur.
In 1872 son Henry Morris married Sarah FIDLER, daughter of Amelia BIRD and Peter FIDLER (1820-1881).
Census of 1881 in St Andrews Parish:  Henry BIRD, age 72; wife Harriet, age 67. With them is a 13 year old James McDONALD (b-c1868). ** I think this is grandson James McDONELL, daughter Caroline's son by John McDONELL ?
On Oct 15, 1889 Harriet BIRD died in St Andrews, age 81.
Census 1891: Henry BIRD, widowed, age 89, a "Lodger" in Mapleton household of Harriet and John RIED (1826-1897).
On Dec 9, 1893 Henry BIRD died in St Andrews.
Please post comments and queries at this link: FORUM DISCUSSING the HENRY BIRD FAMILY
=========================== Family Details ===========================
Children:

1. 1826 AMELIA BIRD (m. James TAYLOR)
2. 1828 ELIZABETH BIRD
3. 1832 CHLOE BIRD
4. 1835 JEMIMA BIRD (Died age 4)
5. 1838 HARRIET BIRD (m. John REID)
6. July, 1840 MARY ANNE BIRD (m. Peter BROWN)
7. Oct 3, 1844 JOHN JAMES BIRD (m. Margaret PEEBLES)
8. c1848 HENRY MORRIS (MAURICE)  BIRD (m. Sarah FIDLER)
9. c1851 CAROLINE BIRD (m. John McDONELL)
10. 1855 EDITH JANE BIRD (Died age 8)