JAMES SINCLAIR (1811-1856)
ELIZABETH MARIA BIRD (1806-1845)
MARY CAMPBELL (1832-?)
(Last Updated: June 17, 2014)
James SINCLAIR was born around 1810-11 at Oxford House, son of NAHOVWAY and William SINCLAIR (1766-1818), an Orkney Scot. In the spring of 1818 his father died at York Factory when James was only about seven or eight years old.
** MORE ABOUT NAHOVWAY and WILLIAM SINCLAIR
When William SINCLAIR died, his executor Alexander KENNEDY (1781-1832) followed his instruction that his son James should be sent to school in Orkney. He took James SINCLAIR and his own two eldest sons, John and Alexander KENNEDY, to Britain on the 1819 HBC ship King George and lodged them with his sister Mary in St Margaret's Hope in South Ronaldsay. At the age of 17 James went to Edinburgh University and studied the arts and law. His father had hoped he'd enter business in Britain but he decided to return to Canada. ** MORE ABOUT JAMES SINCLAIR in DCBO
In 1824 his widowed mother (NAHOVWAY) moved to Red River.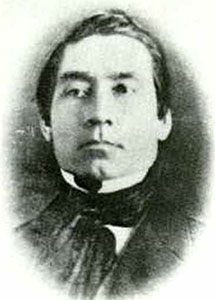 James Sinclair (1811-1856)
James returns to Rupert's Land
1826
James signed on as an apprentice for a year with the Hudson Bay Company (HBC) and sailed on the Camden in 1826 to Moose Factory. He served out his year under Chief Trader Jacob CORRIGAL (1772-1844) at Albany Post and then headed for Red River. Somewhere along the way he became acquainted with Andrew McDERMOT (1791-1881), a retired HBC employee who had established himself north of Lower Fort Garry (Red River Settlement) as a leading merchant and private trader. Like McDERMOT, James disliked the slow advancement offered by the fur trade and wanted to be his own master. In the summer of 1827 James the HBC and began a partnership with McDERMOT.
** MORE ABOUT ANDREW McDERMOT in DCBO
Marriage to Elizabeth Maria BIRD
1829
On Dec 3, 1829 James married Elizabeth Maria BIRD, daughter of Elizabeth MONTOUR and James Curtis BIRD (1773-1856). The marriage was performed by Reverend David JONES (1796-1844).
** MORE ABOUT JAMES CURTIS BIRD
On July 9, 1832 their first child, daughter Harriet was born in St Paul Parish (East St Paul; Birds Hill).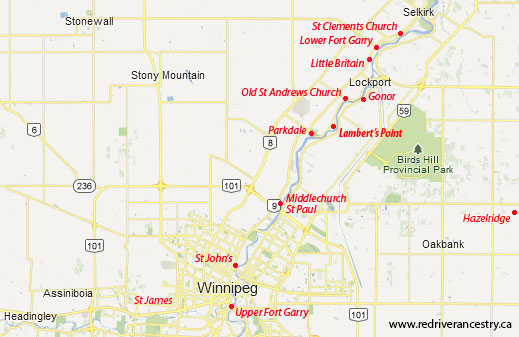 By 1840 (prior to his trip to Oregon) , according to most accounts, James would have had four surviving children: Harriet (age 8), Maria (6), Jessie (3), Alexander Christie (2).
First Party of Settlers to Oregon
1841-1842
In 1841 the HBC organized a party (The First James SINCLAIR Party) of 23 families from Red River to emigrate to the Columbia River, hoping that, as settlers, they would strengthen British claims to the Oregon Territory, then in dispute with the United States.
James' brother-in-law, John FLETT (1815-1892) would later write a detailed account of their journey. John was married to Elizabeth's sister, Charlotte BIRD. He was s son of Margaret WHITFORD and George FLETT (1774-1850).

** MORE ABOUT the 1841 SELKIRK EMIGRATION TO OREGON TERRITORY by John FLETT
On Oct 13, 1841 the party arrived at Fort Vancouver. The following year, in 1842 James returned to Red River.
Elizabeth Maria Dies
1845
In February (or April) of 1845 James's wife Elizabeth Maria died in Red River. Surviving children at that time: Harriet (age 13), Maria (11), Jessie (8), Alexander Christie (age 7) and Colin (age 1).
James Re-marries to Mary CAMPBELL
1848
Tit:  On Apr 20, 1848 James re-married at St Johns, Red River, to Mary CAMPBELL b-1830, daughter of Liza McGILLIVRAY & Colin CAMPBELL (1787-1853).  ** MORE ABOUT COLIN CAMPBELL
In 1852 eldest daughter Harriet married Dr. William COWAN (1818-1902) from Scotland, the newly appointed Chief Magistrate at Fort Garry. ** MORE ABOUT WILLIAM COWAN in DCBO

SECOND SINCLAIR PARTY TO OREGON
JAMES SINCLAIR DIES AT THE CASCADES
1854 1856
In order to rid Fort Garry of James SINCLAIR and others who clashed with the HBC ideas, Governor George SIMPSON (1786-1860) proposed to lead another party to Oregon. In return, SINCLAIR would be put in charge of one of the Oregon posts. The group set out from Ft Garry in May, 1854, and arrived at Walla Walla, Washington in November where SINCLAIR took over as Chief Trader.  Circumstances leading up to this event, and the ensuing death of James SINCLAIR, can be seen by revisiting this link:** MORE ABOUT JAMES SINCLAIR in DCBO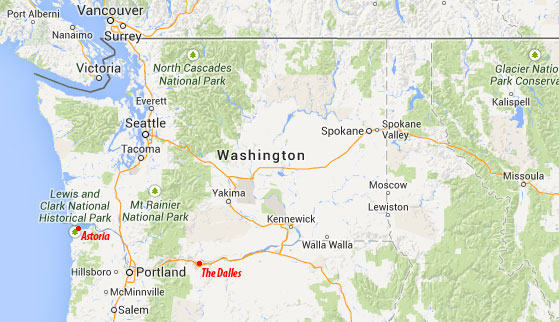 Oregon Territory
On March 26, 1856 James SINCLAIR was shot and killed at the Cascades (north of Portland on the Columbia River) during an attack by Yakimas Indians.
It is said that after her husband died, Widow Mary re-married to Indian Agent Nathan Hale OLNEY (b-1824), that they lived together only a week and divorced a year later.
In 1873 daughter Jane married Hardy Cole STANTON in Roseburg, Oregon.
In 1893 son Colin James married Mary Rowena PHILLIPS, daughter of Kootenay Chief Paul DAVID of the Tobacco Plains Indians and Michael PHILLIPS (d-1916). The Tobacco Plains Reserve is located south of Bernie (BC), about half way to the Montana border. ** MORE ABOUT MICHAEL PHILLIPS in HBC ARCHIVES
Please post comments and queries at this link: FORUM DISCUSSING the JAMES SINCLAIR FAMILY
============================= Family Details =============================
Children by Elizabeth Maria BIRD:
1. July 9, 1832 HARRIET (HENRIETTA) GOLDSMITH SINCLAIR (m. Dr William COWAN)
2. Feb 26, 1834 JAMES CURTIS SINCLAIR (Died in infancy)
3. 1836 MARIA SINCLAIR (Died age 20)
4. Mar 31, 1837 JESSIE SINCLAIR (m. Unknown COPELEY)
5. Mar 12, 1837 HENRY SINCLAIR (Died in infancy)
6. Dec 17, 1838 ALEXANDER CHRISTIE SINCLAIR
7. 1844 COLIN JAMES SINCLAIR (m. Mary Rowena PHILLIPS)
Children by Mary CAMPBELL:
1. 1850 MARY SINCLAIR (m. Hugh FOSTER)
2. 1852 JENNIE JANE MARGARET SINCLAIR (m. Hardy Cole STANTON)
3. 1854 AGNES LUCY SINCLAIR
4. 1856 UNKNOWN (BOY) SINCLAIR