JAMES "JIMMY JOCK" BIRD (1798-1892)
ELIZABETH INDIAN (Daughter of PEGUIS?) (1808-1846)
SARAH (SALLY) BULL'S HEART (Piegan Indian) (1809-18)
(Last Updated: December 05, 2016)
Around 1798 James "Jimmy Jock" BIRD was born on the Sturgeon River near present day Prince Albert (SK), the eldest son of Mary OO-MENAHOMISK and James Curtis BIRD (1773-1856). His father left the family there when the trader went upstream to establish Acton House in 1799-1800. ** MORE ABOUT JAMES CURTIS BIRD
** MORE ABOUT JIMMY JOCK in DCBO

Another good source of information is this book: Jimmy Jock Bird: Marginal Man on the Blackfoot Frontier (by John C Jackson).
Employed by the Hudson's Bay Company
1809
In 1809 Jimmy became an employee of the Hudson's Bay Company (HBC) as a clerk at Fort Edmonton. After five years he became an Assistant Trader in the Saskatchewan District based at Fort Qu'Appelle.
** MORE ABOUT JAMES BIRD in HBC ARCHIVES
Red River Metis Rebellion
Cuthbert GRANT on a Rampage
Jimmy Jock at Fort Qu'Appelle – Saskatchewan District
1814-1817
It was in 1814 that Miles MACCONELL (1767-1828) issued his historic Pemmican Proclamation that sparked a Red River Rebellion and a Metis uprising led by Cuthbert GRANT (1796-1854).
** MORE ABOUT CUTHBERT GRANT and the RED RIVER REBELLION
In the spring of 1916 Jimmy Jock was with the party from Qu'Appelle post that was captured by the NWC men during the hostilities between the rival fur companies. He was soon released, but the events of these years left him with enduring anti-French and anti-Canadian prejudices (DCBO).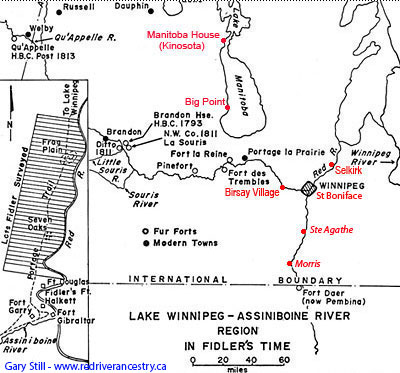 In 1818 Jimmy Jock returned to the Edmonton district where he worked as an Interpreter for the next few years.
Around 1820 Jimmy's mother, OO-MENAHOMISK, died in Red River country, and his father re-married to Elizabeth MONTOUR, daughter of Nicholas MONTOUR (1756-1808).
The Hudson Bay Company & North West Company Merger
Norway House
1821.
In early 1821 Governor Nicholas GARRY (1782-1856) was appointed as president of the newly created HBC's Northern Department. George SIMPSON (1786-1860) was appointed as Governor of Rupert's Land.  On Aug 11 that year, Nicholas GARRY (1782-1856) presided over the first Council of the Northern Department of the HBC at Norway House. It was then that the first announcement was made of a merger agreement between the NWC and the HBC. SIMPSON was appointed as the new Governor of Rupert's Land, and Jimmy's father, James BIRD SR, was made the Chief Factor for the Red River District with his headquarters at the Forks of the Red and Assiniboine rivers.
** MORE ABOUT NICHOLAS GARRY in DCBO
** MORE ABOUT GOVERNOR GEORGE SIMPSON
Jimmy Jock and Elizabeth (daughter of PEGUIS)
In Albert Edward Thompson's book 'Chief Peguis and his Descendants', page 20 refers to a letter written by Nicholas GARRY on Aug 3, 1821 in which he stated "The chief's daughter is very pretty. The Cut Nose (Chief PEGUIS) is anxious that Mr. BIRD's son (Jimmy Jock) should marry her." ** This would be the Elizabeth referred to in Sprague & Frye ID-378. ** MORE ABOUT CHIEF PEGUIS
Jimmy Jock becomes a Freeman along the Rocky Mountains
After the merger, almost 1,300 employees lost their jobs since the single HBC organization that emerged had no need for most of the voyageurs and fur traders. Jimmy Jock became a 'freeman' (no longer employed by the HBC). He left Red River country to become a hunter and trapper on both sides of the Rocky Mountains, north and south of the 49th parallel. Except for a trip in 1823 to take privately owned horses to Red River, he travelled and lived with the Blackfoot tribes during the 1820s.
Marriage to Sarah BULL'S HEART
1825
About 1825 Jimmy Jock married a Peigan woman, Sarah (Sally), and that year, with a large group of Peigan and Blood Indians, he encountered HBC chief trader Peter Skene OGDEN (1790-1854) in the Snake River country. Convinced of BIRD's influence over the plains Indians, whose way of life he had adopted, the company began to use him as an unofficial agent from the late 1820s. However, following a dispute over money, he broke with the HBC in 1831 to help consolidate the American Fur Company's newly established operation among the Blackfeet near the confluence of the Missouri and Marias rivers. His reputation for being able to influence Indian actions was deflated in October 1832 when Blackfoot Indians with whom he was travelling killed AFC trader William Henry VANDERBURGH.
Saskatchewan District
1833-1839
In June of 1833 Jimmy Jock left the American company and shortly rejoined the HBC as a clerk and interpreter in the Saskatchewan District. By 1839 he was again a retired 'Freeman' in the Saskatchewan District.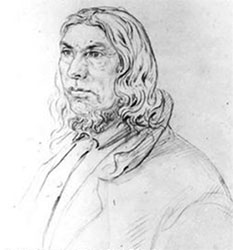 James "Jimmy Jock" Bird (Glenbow Archives)
James SINCLAIR Party of Settlers from Red River to Oregon
1841
In 1841 BIRD acted as guide for a group of settlers being taken from Red River to the Columbia River by his brother-in-law James SINCLAIR (1811-1856); he accompanied the party from Carlton House into the Rockies where he left them in the hands of another guide, Broken Arm (MASKEPETOON). ** MORE ABOUT JAMES SINCLAIR
Red River
Jimmy and Sarah are Church-wed
1856
In the spring of 1856 BIRD left Saskatchewan region for Red River where many of his relatives, including his father, had settled. He bought a lot and house on the Red River some twelve miles below Upper Fort Garry (Birds Hill area).
Jackson: Sally finally gained Christian legitimacy. During the years when she attended the preaching of Rev RUNDLE, he had refused to baptise her. Now the difficulty of the other wife was left behind and Sally could be accepted into the Church. She and James were married at St Paul's Anglican Church on Christmas Day, 1857. Six months later she was baptized there with the name Sarah. Determined to build a new life, the prairie wanderers put the children in school. Five of the six children born in the mountains accompanied their parents to the settlement. Twelve-year-old Thomas and his seven-year-old brother Philip were baptised at St Paul's Church on Apr 24, 1859.
In 1859 daughter Nancy married Peter KNIGHT in St Paul (Middlechurch), son of Sophia HALLETT and James KNIGHT (1783-1854).
In 1860 son Edward married Isabella SINCLAIR in Portage la Prairie, daughter of Elizabeth ANDERSON and William SINCLAIR (1790-1862). ** MORE ABOUT WILLIAM SINCLAIR
In 1861 daughter Agnes married Thomas HOURIE in St Paul (Middlechurch), son of Christina ANDERSON and Robert HOURIE (1815-1911). ** MORE ABOUT ROBERT HOURIE
In 1865 son Thomas married Anne McKAY at Fort Ellis, daughter of a William McKAY of uncertain origins.
Canadian Confederation
Red River Rebellion
Manitoba becomes a Province
1867-1870
On July 1, 1867 the British colonies in North America were united under the British North American Act to become the Dominion of Canada. Sir John A MACDONALD (1815-1891) was appointed as Canada's first Prime Minister; a month later he won the first federal election.William McDOUGALL (1822-1905) became the Minister of Public Works, and he begannegotiations to acquire Rupert's Land from the HBC, sending out surveyors to prepare the way for an expected influx of settlers.
In 1868 son Joseph married Sarah LEWIS in St Andrews, daughter of Isabella SPENCE and James LEWIS aka LOUIS (1807-1882). ** MORE ABOUT JAMES LOUIS
On Oct 11, 1869, Louis RIEL (1844-1885) placed his foot on the surveyors' chain to tell them their work was finished. This marked the beginning of a Red River Metis Rebellion.
** MORE ABOUT THE RED RIVER REBELLION in WIKIPEDIA
During the Rebellion Jimmy's half-brother, Dr. Curtis James BIRD (1837-1876) became involved as a politician. He twice represented St Paul Parish in the Council of Assiniboia (RIEL's Provisional Government).
** MORE ABOUT DR CURTIS JAMES BIRD in DCBO
On July 15,1870 Manitoba became the fifth province of Canada, the Canadian Government having acquired the territory previously governed by the HBC. The Rebellion was essentially over.
In 1871 youngest son Philip married Mary KIPLING in St Andrews, daughter of Angelique MARCHAND dit BERCIER and Peter KIPLING (1812-1891).
Back to the Saskatchewan District
1874
It is believed that Jimmy Jock and Sally left Red River in 1874 to return to the Saskatchewan region. In the 1881 Census they were recorded in Prince Albert; James BIRD (age 89) and his wife Sarah (age 80).
Gleichen, Alberta
1883
Jul 26, 1884: James BIRD made his will, leaving three-quarters of his estate to son Thomas and one quarter to son Philip.
In the spring of 1885 James applied for his Scrip. He was living near Gleichen, Alberta (east of Calgary) at that time. He declared four living children: Thomas, Agnes, Nancy and Phillip and seven children who died: Charles, Edward, Joseph, Mary, Letty, Maria and Catherine.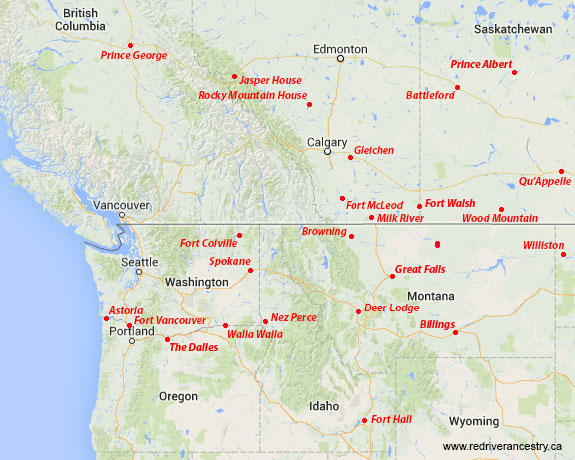 Even in their old age Jimmy Jock and Sarah travelled extensively. In the 1891 Census he was back in Prince Albert. He was enumerated as 100 years old; Sally, 85 years old.
On Dec 15, 1892 James "Jimmy Jock" BIRD diedat Two Medicine Creek, Montana (west of Browning). 
I will only list the children mentioned in Jimmy Jock's Scrip affidavit of 1885. However, some sources indicate that he  may have had other wives and other children (Elizabeth, James, John and William). Nobody mentions spouses for any of them which renders them somewhat irrelevant anyway for genealogical purposes.
Comments and queries at this link: FORUM DISCUSSING the FAMILY of JIMMY JOCK BIRD
======================= Family Details =======================
Children named in Scrip Affidavit:
1. 1832 MARY BIRD
2. 1834 LETITIA BIRD
3. 1836 MARIA BIRD
4. 1837 CHARLES BIRD
5. 1839 EDWARD BIRD (m1. Unknown American Indian, m2. Isabella SINCLAIR)
6. 1843 NANCY BIRD (m. Peter KNIGHT)
7. 1845 JOSEPH BIRD (m. Sarah LOUIS)
8. 1845 AGNES BIRD (m. Thomas HOURIE)
9. 1846 CATHERINE BIRD
10. 1849 THOMAS BIRD (m1. Anne McKAY, m2. Anne GABRIEL, m2. Isabelle METASKANIK-FLAMMAND)
11. 1852 PHILIP BIRD (m1. Mary KIPLING, m2. Louise LUCIER)