CHIEF PEGUIS (c1774-1864)
Several Indian Wives
(Last Updated: July 27, 2017)
There are many books and references about the life of Chief PEGUIS. The two books shown below are perhaps the best ones available; I have both and they have been my primary sources of information. Most of the documented information about him is imbedded in the journals and stories of early white fur traders, explorers and early settlers who knew of him, particularly those concerning Lord SELKIRK's Red River Settlers and the first Red River Rebellion. Online you can view a biography written by Hugh A. Dempsey: PEGUIS in DCBO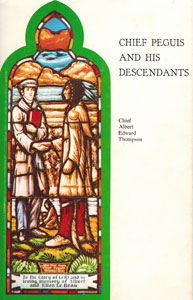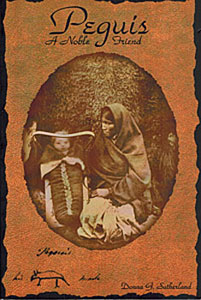 Chief Peguis and his Descendants by Chief Albert Edward Thompson (first published in 1937)
Peguis – A Noble Friend by Donna G. Sutherland (published in 2003)
PEGUIS himself did not speak much English and Indians of his generation did not keep written records. Most of what we know about his family comes from the recollections of his children and grandchildren (oral history).
Because of my genealogical interests, I was a little disappointed to discover that what the 'descendants' referred to in the book Chief Peguis and his Descendants by Chief Albert Edward THOMPSON are mostly those of his own particular lineage. However, that's my problem, not his. His book nevertheless provides the best information I have seen from the perspective of an actual descendant of the man (he was a great great-grandson of PEGUIS).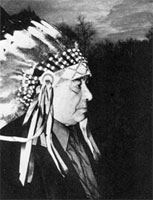 Chief Albert Edward Thompson (1900-1973)
The book Peguis - A Noble Friend, by Donna G. Sutherland is much more detailed, and further illustrates how difficult it is to accurately present a lineage chart for the man. Donna is an excellent story teller and has done a lot of careful research.
The main purpose of my narrative is to present a brief timeline of events that occurred during the life of PEGUIS; metaphorically, the soil in which the roots of his family tree are imbedded; that all important first generation of descendants. I will try to present them here the best I can from information I have accumulated over the years.
TIMELINE
In 1760, about 14 years before PEGUIS was born, WOLFE defeated MONTCALM in the Battle on the Plains of Abraham (Quebec). Following the British victory, French Forts on the northern lakes were given up to the British. At that time The Hudson's Bay Company (HBC), incorporated in 1670, still confined most of its fur trade activity to their posts around Hudson Bay and James Bay. They were only beginning inland explorations.
Around 1774 PEGUIS, an Ojibway Indian was born near Sault Ste Marie at the east end of Lake Superior. He is most commonly referred to as Little Chip or Chief Cut Nose.
He had a brother named RED DEER, who in 1817 was said to be from the Broken Head River (Scanterbury).
Beginning in 1781 a smallpox epidemic would kill thousands of Ojibway in the Great Lakes region. PEGUIS and his family moved westerly and became members of the Red Lake, MN, Ojibwe Band, and may have even travelled often to the Red River and Pembina areas. Henry Youle Hind (in 1857) described PEGUIS as an immigrant from Pigeon River, Lake Superior. Pigeon River is where the early NWC launched their annual fur trading expeditions from the Great Lake into the far reaches of the Northwest via Lake of the Woods and the Winnipeg River.
The Ojibway and the Sioux tribes were traditional enemies in this region when PEGUIS was just a youngster.
** MORE ABOUT OJIBWE and SIOUX BEGINNINGS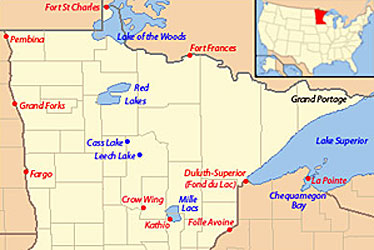 Formation of the North West Company
1783
In 1783 (when PEGUIS was about nine years old) the North West Company (NWC) was officially created, with its corporate offices on Vaudreuil Street in Montreal.The NWC soon dominated the fur trade around Lake Superior, but for the next 37 years they would become engaged in fierce competition with the HBC for control in the vast Northwest Territories. The NWC established their base of operations at the west end of Lake Superior.
In 1789 Alexander McKENZIE (1764-1820), 26 years old, made his famous expedition (for the NWC) to the Arctic Ocean from Fort Chipewyan, along the McKenzie River. 
Chief PEGUIS arrives at Red River
1792
By 1792 PEGUIS was recognized as a Chief amongst his people. He would have only been about 18 years old by that time. It is said that around this time he arrived along the Red River (Netley Creek) with a band of about 200 Ojibway who became known as the Salteaux of the Prairies.
PEGUIS and his band led a somewhat nomadic lifestyle during their first years along the Red River. They moved from place to place, camping when and where the best hunting and fishing opportunities were available. Netley Creek ultimately became the location of their main village.
In 1792 Fort Alexander (Bas de la Rivière) was built on the Winnipeg River by Toussaint Le SIEUR. This is also the year that Alexander HENRY the YOUNGER (1750-1818) entered the service of the NWC. He would spend his first few years trading with the Saulteaux. The HBC also had an active trading centre there.
By 1795 PEGUIS was about 21 years old. For genealogical purposes we might suppose that he had a wife, or even wives, by that time. It is certainly known that he had 'several wives' during his lifetime. One of his first children was WASASQUATO, his eldest son, probably born around this time. Native children did not have surnames and the surname of PRINCE was not assigned to his children until many years later when only those who were baptized were given that name. This is why it is so difficult to develop a complete family tree.
In 1797 Charles CHABOILLEZ (1772-1812), a French trader, working for Joseph FROBISHER (1715-?) of the NWC, opened a post at Pembina. CHABOILLEZ traded at Pembina for a couple of years but, under the threat of Dakota (Sioux) attacks, he was convinced to retreat to the north.
In 1800 Alex HENRYestablished a fur trading post at Park River (Pembina). In August that year at The Forks (Winnipeg), HENRY mentions PEGUIS in his journal as one of the Indians in his brigades. This was the same month that the daughter (Madeleine) of Chief BUFFALO became Alex HENRY's wife.
From Thompson's Book: In 1803 PEGUIS was one of a party of braves gathered at Fort Pembina to avenge a massacre there.  A minor Assiniboine Chief, (Beau Pere the BUFFALO) the father-in-law of Alexander HENRY the YOUNGER, who was in charge of the Nor'Wester's fort, had been shot as he sat in a tree scanning the prairie for signs of buffalo.  Before the party of raiding Sioux could be driven off, a number of men, women and children had been slaughtered.  When Alex HENRY returned from an inspection trip and found the people mourning, he supplied the avenging Assiniboine and the Saulteaux with guns and ammunition, to pursue and fight the Sioux.  PEGUIS and his warriors joined the battle to annihilate the invaders - - En-route to Ft Pembina to aid the Assiniboines, the Saulteaux left the old men, women and children in a grove of trees known as Seven Oaks, not far from the Forks, to await the return of the warriors.  After the battle at Fort Pembina when the Sioux were badly beaten, Chief PEGUIS and his braves rejoined their wives and children, and rested there for a time before returning to Netley Creek.
THE FIRST SELKIRK SETTLERS ARRIVE
1811-12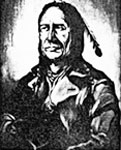 Chief PEGUIS, Courtesy of the Provincial Archives of Manitoba
This painting is most often used by historians to depict Chief Peguis
(Obviously this was before he got his nose "bitten off")
On Sep 24, 1811 Miles MACDONELL (1767-1828) arrived in Hudson Bay with the first group of Lord SELKIRK's Red River Settlers, too late in the season for a long overland trek inland. By spring of 1812, MACDONELL's group was reduced to 22 men who began their trek up the Hayes River. Three more men deserted, but at Oxford House, MacDONELL found an experienced Indian guide, and they didn't arrive at the Forks till late August of 1812.  Without food supplies and lodgings, they had to continue on to Pembina where they would be close to good buffalo hunting.  More settlers followed during the next two years.
In 1812 PEGUIS would have been about 38 years old. He most likely had at least several children by this time, particularly considering the fact that he has several wives. It is said that KECHIWIS or "BIG APRON" was one of his un-baptized sons. There are no accurate birth-dates for any of his children, only baptismal records (no one seems to know what their ages were when they were baptized).
The settlers soon found themselves in dire straits for lack of food and shelter. On numerous occasions PEGUIS and his band came to their rescue and it was primarily due to this that he was beloved and admired by so many of them and gained his place in the history books as a man of legendary fame, certainly the most famous Indian Chief in the Northwest during his lifetime.
Métis Rebellion
The Seven Oaks Massacre
1814-1817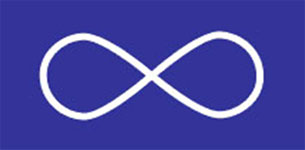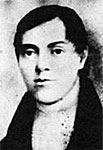 The Métis Flag and Cuthbert Grant
On Jan 8, 1814, seeking to solve the Colony's food problems (much of it created by the Nor'Westers and the Métis who bought and hoarded most of the available buffalo meat and pemmican), MACDONELL issued his historic Pemmican Proclamation. This was the spark that ignited a Métis Rebellion led by Cuthbert GRANT (1796-1854).
On June 7, 1815 GRANT established a Métis camp on the west bank of the Red River, four miles downstream from Point Douglas. He and his men began to harry the settlement, stealing horses and ploughs, and there were exchanges of fire between the Métis and the remaining settlers. Miles MACDONELL surrendered to GRANT and was taken away to the Great Lakes as a prisoner; the settlers were forced to abandon their colony to seek refuge at Norway House.
On Nov 3, 1815 the new Governor, Robert SEMPLE (1777-1816), arrived at the Forks. The settlers from Norway House returned to their farms.
On June 19, 1816 the Seven Oaks Massacre took place resulting in the death of Governor SEMPLE and 20 of his men at Frog Plain (Kildonan area). Fort Douglas, the settlement headquarters, surrendered the next day and the settlers again dispersed.
By the winter of 1815-16, Lord SELKIRK himself having learned about the settlement troubles was in Montreal preparing a rescue mission. He recruited an army of Swiss and German soldiers from the De Meuron Regiment who were overwintering in the city On August 12,1816 he and his soldiers arrived at Fort William where they arrested the NWC leaders, including William McGILLIVRAY (1764-1825).
The Selkirk Treaty
1817
On June 21, 1817, Lord SELKIRK arrived at Ft Douglas allowing the colonists to return from Jack River. In order to secure greater stability for his colony, he entered into an agreement with Chief PEGUIS and several other local chiefs by which some 300, 000 square km of land along the Red and Assiniboine Rivers were granted to George III for use of the colony. The ceded territory included land occupied by PEGUIS and his followers on both sides of the Red River, from Sugar Point north to the mouth of the river at Lake Winnipeg. This became the site of the St Peters Reserve. 
In August of 1817 Cuthbert GRANT gave himself up to Commissioner William COLTMAN (?-1826). He was taken prisoner east to stand trial on charges of murder, theft and arson. He was soon acquitted and released. On Sep 9, 1817, SELKIRK departed from Fort Douglas to return to Montreal via United States territory.
Around 1819 youngest son Henry PRINCE was born. By 1820 (assuming that Henry was his last child) PEGUIS would have been about 46 years old; we can guess that his wife Victoria was around the same age and perhaps was nearing the end of her child-bearing years. Any male child born before that time bearing the surname PRINCE was most likely a child of PEGUIS. His daughters are much more difficult to trace, particularly because they probably married very young.
The Hudson Bay Company & North West Company Merger
1821
In early 1821 Governor Nicholas GARRY (1782-1856) was appointed as president of the newly created HBC's Northern Department. On March 26, 1821 the HBC and the NWC signed an agreement that would merge the two companies into one. George SIMPSON (1786-1860) was appointed as Governor of Rupert's Land. 
GARRY embarked that summer to visit the united HBC posts from Fort William through to the Red River colony (Man.), Norway House, and York Factory. Chief Thompson's book (page 20) refers to a letter written by GARRY on Aug 3, 1821 in which he stated "The chief's daughter is very pretty. The Cut Nose is anxious that Mr. BIRD's son should marry her." The Mr. BIRD he refers to is James Curtis BIRD (1773-1856) who also participated in the meetings held by GARRY that year. The son he is referring to almost has to be James "Jimmy Jock" BIRD (1798-1892). Jimmy Jock was about 23 years old in 1821 and his first wife was an Indian named Elizabeth. The surname PRINCE had not yet been established.
Also at the time of the Union, Rev John WEST (1778-1845) arrived from England as the first Chaplain in the northwest.
In 1823 WEST departed Red River to be replaced by Reverend David JONES (1796-1844).
On Oct 4, 1825, Reverend William COCKRAN (1798-1865) arrived at the Red River with his wife as the assistants to JONES.
By the fall of 1833 a 20' x 40' house was built at Sugar Point that was used for a school room and store with the upper floor holding seed grain. Joseph COOK was the first schoolmaster. By the fall of 1835 there were 60 children enrolled in the school, polygamy was reducing and many people were receiving Christianity.
Family Baptisms
PEGUIS Marries
1837-38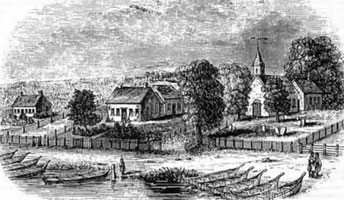 Indian Settlement at Red River, from G.J. Mountain's Journal, 1846 (Archives Manitoba)
Note: The stone church was not completed until after Rev COWLEY took charge in 1854.
In November of 1837 Rev William COCKRAN baptized three of PEGUIS' sons who would bear the surname PRINCE: William (No. 313), William (No.323) and George (No.328). The two Williams are particularly puzzling and problematic.
On Feb 7, 1838 PEGUIS was converted to Christianity (Anglican) by COCKRAN and baptized as William KING, his wife as Victoria. She took the name Victoria after the Queen of England. The surname KING was in recognition of his position in the tribe, and William in admiration of William COCKRAN. "My sons are now princes, and shall be known by that name." Thompson adds: None of his descendants used the name KING. We were all known by the name PRINCE.
In 1839 the arrival of Reverend John SMITHURST (1807-1867) relieved COCKRAN from the burden imposed by the exclusive charge of the Indian Settlement.
On Jan 11, 1840 SMITHURST wrote in his Journal: "I was sitting at breakfast when I learned that Chief PEGUIS' eldest son (WASASQUATO) had committed suicide - - From the time his father and three younger brothers embraced Christianity he had tried to deprive his father of the Chieftainship." On Oct 7, 1840 SMITHURST legally married Chief PEGUIS and his wife of many years.
PALLISER & HIND Expedition
Beginning of the St Peters Land Dispute
1857
By 1857 the Canadian Government had firmly established settlements in Upper Canada, and now politicians  were allowed to look to the prairies as a possible region to open up for immigrants. Two explorers, John PALLISER (1817-1887) and Henry Youle HIND (1823-1908), would set out that year on a "scientific expedition" to discover if this land was suitable for mass settlement.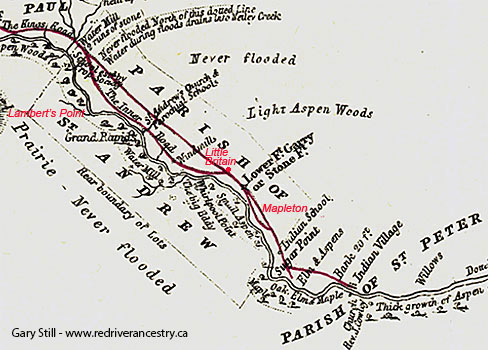 Part of Henry Hind's Map based on his observations of 1857
The Ojibwa of Western Canada by Laura Lynn Peers: Unlike the curiosity seekers who came to view the land and its people, HIND and PALLISER represented the end of the Native way of life in the West, for their reports laid the foundation for the beginning of agricultural settlement from eastern Canada and abroad. - - Two symbols of the intrusion of the outside world into the Northwest - he first steamboat from the USA, ushering Red River into the Industrial era, and the settlement's first newspaper (the Nor'Wester), run by Upper Canadian immigrants – arrived at Red River in 1859. Between 1860 and 1880, the very nature of the Northwest was altered.
PEGUIS was probably the first Native leader in the Canadian Northwest to grasp the implications of these changes. Throughout the 1850's, and until his death in 1864, he actively pressed the point of the Ojibwa' right to lands and resources at Red River - - notices posted around the settlement on PEGUIS' orders in 1851 and 1861, warning settlers not to cut hay outside the two-mile treaty limit was a continual reminder of the validity of the Selkirk Treaty and the rights to lands outside it that the Ojibwa had always claimed. In his efforts to entrench rights to land and resources during this era of uncertainty, PEGUIS also looked to authorities outside Red River. In 1857 and 1859, he dictated two letters regarding the land situation.
- - The conflicting claims that these stresses produced emerged in a series of letters in the Nor'Wester responding to PEGUIS' petition to the Aborigines' Protection Society. - - The debate raged on into 1861 and continued as an undercurrent of concern and discontent in the settlement for the remainder of the decade.
Death of PEGUIS
1864
Chief PEGUIS died on Sep 25, 1864. Archdeacon COWLEY and Reverend James HUNTER (1817-1882) officiated at his funeral.
After PEGUIS died his son, Henry PRINCE or RED EAGLE became Chief of the Saulteaux in the St Peters Reserve.
It is my hope that I anyone out there who would like to dispute what I have presented, or who simply would like to share information, will do so by participating on the Discussion Forum of this website. I have created a new Topic for that purpose; here's the link: PEGUIS – HIS SONS & DAUGHTERS
All of the Family Pages on this website are works in progress. Whenever I become aware of valid new information I do revisions and updates accordingly. Let's work together for the benefit everyone who is interested in establishing as accurately as possible that all important first generation of PEGUIS descendants.
========================== Family Details ==========================
Most people agree that there were at least four sons and several daughters based on baptismal records. It should be kept in mind that the surname PRINCE was not established until PEGUIS became a Christian around 1840. It is very possible that there were other children who were not baptized and who did not necessarily use the surname PRINCE, but who may have simply had Ojibwe names. Birth-dates of the following  children are mostly speculative.
Children of Chief PEGUIS:
1. c1795 WASASQUATO
2. c1798 KECHIWIS "BIG APRON"
3. c1800 GEORGE PRINCE (m. Nancy BEARDY)
?4. 1805 JOHN ASHAM PRINCE (m. Ann LEASK)
At this time it is uncertain if Asham was a child of PEGUIS ** MORE ABOUT ASHAM PRINCE
5. 1808 ELIZABETH (m. James "Jimmy Jock" BIRD)
** MORE ABOUT JAMES "JIMMY JOCK" BIRD
6.WILLIAM PRINCE No. 313
7.WILLIAM PRINCE No. 323
8. c1819 HENRY PRINCE (MIS-KOO-KE-NEW) "RED EAGLE" (m. Sarah BADGER)
** MORE ABOUT HENRY PRINCE